Stipe Miocic vs Francis Ngannou Pick: UFC 260 Predictions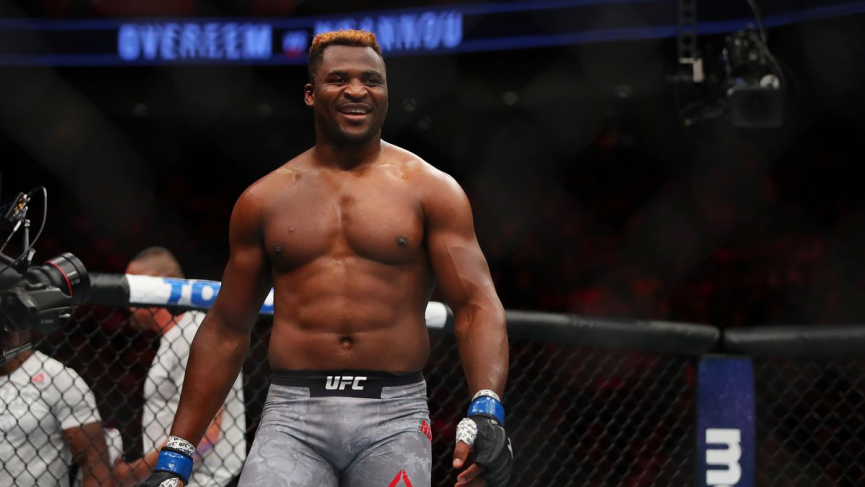 Stipe Miocic vs Francis Ngannou Pick – UFC 260 Predictions: UFC 260 closes out an enormous eight-week run of UFC events in a row with a bang. The long-awaited rematch between arguably the best UFC Heavyweight of all time, Stipe Miocic, and the hardest hitter the UFC has ever seen in #1 contender Francis Ngannou is finally here, and we need answers.
Ngannou has essentially cleaned out the UFC's Heavyweight division while waiting for his opportunity at a rematch while champion Stipe handled his business with future UFC Hall of Famer and 'champ-champ' Daniel Cormier.
For more UFC 260 predictions, check out the entire DieHardMMA Podcast for this Saturday's UFC event.
Stipe Miocic vs Francis Ngannou Odds
| UFC 260 Odds | Stipe Miocic | Francis Ngannou |
| --- | --- | --- |
| To Win Outright | +107 | -115 |
| Inside the Distance | +200 | +100 |
| by Decision | +450 | +1200 |
| Total Rounds | Over 1.5 (-138) | Under 1.5 (+115) |
| Fight Goes Distance | Yes: +325 | No: -400 |
| Where/When | UFC Apex, Las Vegas | Sat, March 27th, 10:00 PM ET |
The Fighters: Miocic vs Ngannou
| UFC Heavyweights | Stipe Miocic | Francis Ngannou |
| --- | --- | --- |
| Record | 20-3 | 15-3 |
| Finish Rate | 75% (15 Wins by T/KO) | 100% (11 Wins by T/KO) |
| Age | 38 | 34 |
| Height | 6'4 | 6'4 |
| Reach | 80′ | 83′ |
Stipe Miocic deserves our respect. This man has fought nothing but the best of the best in the UFC's heavyweight division for the past ten years, and at 38 years old, he stands on top of the mountain with gold wrapped around his waist. I will be completely honest when I say that I have disrespected Stipe multiple times myself in the past, and I have looked for opportunities to bet against him. You can poke holes in Stipe's resume if you want to look back on it, but the fact remains he has one of the most epic lists of wins we have ever seen. Stipe has defeated Mark Hunt, Andrei Arlovski, Fabricio Werdum, Alistair Overeem, Junior dos Santos, Francis Ngannou and defeated Daniel Cormier 2 out of 3 times. Stipe is a strong wrestler with heavy hands and a great gas tank. Extremely well-rounded and durable is the champion, and he is looking to turn back the clock again on Saturday. 
Francis Ngannou is terrifying. In the last three years, Francis Ngannou has fought four times and has spent under 3 minutes under the bright lights winning all four by first-round knockout, and only Junior dos Santos made it out of the first round. Francis has a scary level of power in a division full of monsters where anybody can win if they connect on the button; he still stands out head and shoulders above all the others. Francis is a freak athlete who is just built differently, and it seemed he was destined for UFC gold until he ran into Stipe Miocic. Francis is so damn powerful that he lacks some of the skills that you would expect to see a champion mixed martial artist have, and Stipe was just the man to expose those weaknesses.

The Match-Up: Miocic vs Ngannou
Stipe and Frances have fought once before, and it was a one-sided beating where the champion survived the power of the young gun and then showed him what the upper level of the UFC looks like. We have seen this fight before, so many people will believe it is a foregone conclusion how the rematch will look. The truth about this rematch is that it will come down to how the rematch will be different from the first fight. Since these men fought in 2018, many things have happened, and we need to look at them and how they pertain to this fight. 
Francis has fought five times, going 4-1, with the only loss being the most boring fight in UFC history against Derrick Lewis, where it's hard to argue either man won. What I want to see from Francis is that he is better equipped for this fight, and the fact is we just haven't seen that. Francis brings to the table ungodly power, and since losing to Stipe, he has done nothing but show that power off and build his resume. What Francis has done the last two years has been incredibly impressive, but we haven't seen him go to the 2nd round. We haven't seen him wrestle. We haven't seen him even defend a takedown. I know he technically defended a takedown from Cain Velasquez, but he just punched Cain so hard he came off it, so I am not giving him credit for that. 
Stipe has only faced one man since fighting Francis Ngannou, and that man was Daniel DC Cormier. Stipe Miocic was knocked out and lost his belt the next fight after defeating Francis Ngannou, and if you ask me, I think DC owes Francis a thank you for softening the chin of the champion a little bit for him. After losing his belt, Stipe was granted an immediate rematch and took the belt back in a beautiful performance that saw him returning the favor and knocking DC out deep in the 4th round of their fight. Finally, Stipe and DC fought for the final time and took their battle to the judges, where Stipe solidified himself as the true champion and sent Daniel Cormier into retirement. 
Age and damage are a factor in MMA. Stipe was only 35 when these men fought the first time, and now he is staring down the barrel of 40. Francis was a very young and inexperienced 31 and now is filling out at heavyweight at 34. Francis Ngannou may not have shown off his improved wrestling and cardio, but he has taken essentially no damage in the cage since they last fought. On the other hand, Stipe has done the exact opposite and has absorbed as much damage in his last three fights as the whole first half of his UFC career. 
If Instagram is to be believed, he has enlisted 170 champion and Kamaru Usman for this camp, and while we cannot believe that is enough to put him on the level of Stipe, it's better than nothing.  This is a spot where I honestly have to believe that Francis's youth and raw power will be enough to dethrone Stipe. I have doubted Stipe and paid for it before, and here I am doing it again. MMA is a young man's game, and the damage and miles will pile up eventually. Stipe was able to survive the first round in the first fight, but after getting knocked out and taking an additional 286 significant strikes in the following two fights, I think the damage may become a factor. If Francis has added any cardio measure or wrestling to his game, he should fare better after the first round if the fight lasts that long and there is always the chance he manages to land that big bomb. Stipe has to follow the game plan from last time and beat up Franic for a full 25 minutes again. Can he do it? I'm not so sure this time.
Stipe Miocic vs Francis Ngannou Pick:
UFC 260 Main Event Best Bet – Francis Ngannou -125 (UFC Odds via Bet365): From a sports betting perspective, we need to be clear that this fight's value is on the champ. Stipe was once again disrespected as the champion and was opened as a +190 underdog. Even since the line opened and the flood of money on Stipe, he is still a +100 underdog, and I am a firm believer that the champion should never be the underdog. Especially a champion of the caliber that Stipe is. I am picking Francis Ngannou to win this fight, and even though the line is better after the Stipe money has come in, I cannot justify saying that he is on the value side here. I might bet Francis Ngannou Saturday, but there isn't much more justification than my gut telling me that he is better this time.