Gillian Robertson vs Miranda Maverick Pick – UFC 260 Predictions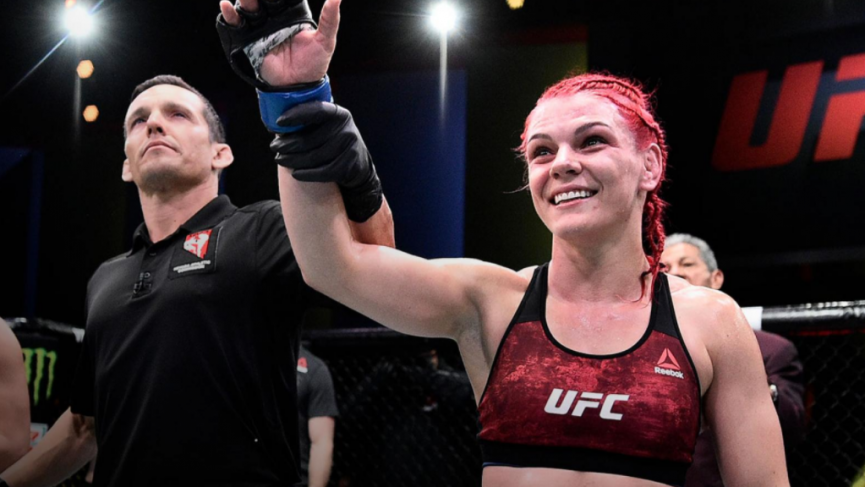 Gillian Robertson vs Miranda Maverick Pick – UFC 260 Predictions: The Underdog in the Women's Flyweight division has won 16 of the last 37 bouts going back to January of 2020, profiting +13.1 units on the moneyline in that stretch. On Saturday at UFC 258, Gillian Robertson looks to improve her 6-3 UFC record against rising star Miranda Maverick, as the two women meet in a flyweight bout that could be a 'crossroads' contest for both fighters headed into what could be two significantly different directions.
Gillian Robertson vs Miranda Maverick Odds
| UFC 260 | Gillian Robertson | Miranda Maverick |
| --- | --- | --- |
| To Win Outright | +123 | -135 |
| Inside the Distance | +305 | +350 |
| by Decision | +350 | +170 |
| Total Rounds | Over 2.5 (-175) | Under 2.5 (+158) |
| Fight Goes Distance | Yes: (-145) | No: (+120) |
| Where/When | UFC Apex, Las Vegas | Sat, Feb 13th, 6:00 PM ET |
UFC 258 is coming off the heels of UFC Vegas 18, where practically every underdog on the board cashed in. We have to go back to the drawing board and try to find another live dog and not be so affected by the recency bias that the "dogs are barking." I have done my research, and I believe I found one with all the pieces I am looking for and should start our night off right.
The Fighters: Robertson vs Maverick
| UFC Women's Flyweight | Gillian Robertson | Miranda Maverick |
| --- | --- | --- |
| Record | 9-5 | 8-2 |
| Finish Rate | 78% (6 Wins by Submission) | 76% (5 Wins by Submission) |
| Age | 25 | 23 |
| Height | 5'5 | 5'3 |
| Reach | 63′ | 65′ |
Miranda Maverick is the newest hottest prospect in the UFC. Miranda's freshman UFC appearance managed to stop Liana Jojua in the first round and looked very impressive on the feet. Miranda may be a bit undersized, but she is powerful and explosive. Miranda Maverick's aggression and power make her a very enticing fighter to bet on, and she looks to have a bright future in the UFC.
Gillian Robertson is one of the most aggressive grapplers that the UFC has seen in a long time. The BJJ black belt is just 25 years old, and she is already the most dangerous submission fighter in the women's 125-pound division. Robertson is more than capable of wrestling her way to a grinding decision or snatching an arm or a neck and forcing her opponent to tap for an early evening. The issue with Robertson is when she runs into more prominent, stronger wrestlers than her. If she cannot control the ground exchanges, she can be left without many options, which leaves many people doubting her.
» Beginners Guide to Betting the UFC
UFC Underdog Betting Criteria:
Fight IQ
I love this spot. Robertson is an example of a fighter who follows the game plan and follows it perfectly. She knows exactly where this fight needs to be, and she is willing to do whatever it takes to get it there. Once Gillian is in the driver's seat in the grappling, it is hard for anybody to take a fight from her. While Robertson is working on her striking, she has not fallen in love with it, as we see from time to time. She knows precisely where her win condition is and has no issues abusing it.
Chin
Gillian Robertson is a bit of a wild card to most bettors in this area, and I don't understand that. Gillian has been finished just twice in her MMA career once by TKO and once by submission. When Robertson took her first step up in competition against Mayra Bueno Silva, she ran into another black belt who was willing to scramble with her, and if you have ever taken a BJJ class, you would know that getting caught happens all the time. Robertson did run into the buzz saw that is Maycee Barber, and while she did get hurt on the feet and overwhelmed with Barber's aggression, she never got knocked out. The referee called a stop to the fight, and somehow people think Gillian has a bad chin. Robertson checks this box for me.
No Quit
Gillian Robertson is willing to sell out for the win. We have seen her attempt to jump on chokes, pull guard, and roll for legs to do anything she can to get a dominant position over her opponents. Robertson was seemingly dominated on the mat by Taila Santos in her last fight, but even deep in the fight in the 3rd round, Gillian fought as hard as she could to cause scrambles and attack submissions to win the fight. That's the kind of attitude I like when I am backing a fighter.
Power
As usual with the women's fighters, not all of them have that raw Francis Ngannou-Esque knockout power, but what Robertson does have is that nasty black belt. We discussed earlier that Gillian is a high-level submission artist and BJJ black belt, with 6 of her nine professional wins coming by way of submission. We are looking for a win condition with this one. We can rely on if our fighter is losing the fight for them to turn the tables and cash that ticket for us by coming from behind. With the ability to submit her opponent early in the fight or TKO them late with ground and pound, Gillian has more than enough finishing ability for me to check this box.
Gillian Robertson vs Miranda Maverick Pick:
UFC 260 Underdog Best Bet – Gillian Robertson (+110) via Bet365: Gillian Robertson has everything we are looking for in an underdog, and not only that, but she also has another essential box checked that isn't part of the usual criteria. Gillian is the more experienced fighter here, she is 25 to Miranda's 23 and has 14 professional MMA fights with 11 amateur fights and an Ultimate Fighter exhibition match. Maverick does have a seven-fight amateur career herself, but Robertson has been in that cage far more often and against better competition.
Miranda Maverick looked great in her UFC debut against Liana Jojua, but let's not forget that Liana is 8-4 and 1-2 in the UFC, with her only win coming over Diana Belbita by armbar in a fight she was very out-gunned in and a result many considered "flukey'. Maverick went toe to toe with Jojua in the first round of their fight and was clearly the more athletic striker, but Liana was landing some shots that she should not have. The fight was stopped due to a cut caused by Miranda so that the win will go down as a TKO, but it was a doctor's stoppage. Miranda was the beneficiary of Liana's low fight IQ, choosing to strike with her rather than grapple, her only UFC caliber skill set.
Miranda's best win is over Pearl Gonzalez in Invicta, a UFC drop out, and they had a scrambly back and forth 15-minute affair that didn't leave me very impressed. On the other hand, Robertson just submitted Peal Gonzalez in the first round of their submission underground match. While we cannot compare MMA to SUG, we have to note the difference in each woman's grappling prowess. Against Pearl Gonzalez, Miranda routinely gave up bad positions and was reversed on the mat. Pearl wasn't able to capitalize on the mistakes, but those windows of opportunity were wide open.
Gillian Robertson was last defeated by Taila Santos, a fighter who appears to have all the makings of a potential future contender. For some reason, that is enough for everybody to bury Gillian early. In addition to the experience advantage, Robertson will be the much larger woman in this fight, and I expect that size difference to become apparent when they clinch and grapple. This is a fade on the hype of Miranda as much as it is a bet on Gillian, and honestly, I believe this line is disrespectful of Robertson, who has earned her stripes in the UFC and should be the favorite in this fight. Give me that dog money.
---
UFC Betting Trends: Robertson vs Maverick
Gillian Robertson
Since 2017 UFC Debut
Record
Profit (Units)
to Win Inside the Distance
5-4
+9.55u
Fight Doesn't Go Distance
7-2
+3.87u
To Win Outright
6-3
+3.03u
Under
5-4
+2.14u
Miranda Maverick
Since 2020 UFC Debut
Record
Profit (Units)
to Win Outright
(Since 2020 Invicta FC)
2-0
+1.53u
to Win Inside the Distance
1-0
+0.91u
Under
1-0
+0.80u
Fight Doesn't Go Distance
1-0
+0.67u
The Underdog in the UFC Women's Flyweight division has cashed in 16 of the last 37 bouts at 125lbs, going back to January of last year. Based on that trend and using implied probability, any Underdog at the price of +131 or better would be a +EV bet to make in this division. Meanwhile, the 'Under' has cashed in 15 of the last 37 bouts at Women's Flyweight, profiting +5.29 units along the way. Based on implied probability, any 'Under' at a price of +147 or better would be a +EV bet in this division. Finally, the 'Coin Flip' Favorite has gotten the best of the dice roll over the last two years, going 12-7 for +2.02 units profit, going back to January of 2019.
UFC Betting Trends: Women's Flyweight Division
| Betting Trend | Record | Win % | Profit (Units) | Buy Price |
| --- | --- | --- | --- | --- |
| Since 2020: Underdogs | 16-21 | 43.2% | +13.1u | +131 |
| Since 2020: Under | 15-22 | 40.5% | +5.29u | +147 |
| Since 2019: 'Coin Flip' Favorites | 12-7 | 63.2% | +2.02u | -150 |