Max Griffin vs Kenan Song Pick: UFC Vegas 22 Predictions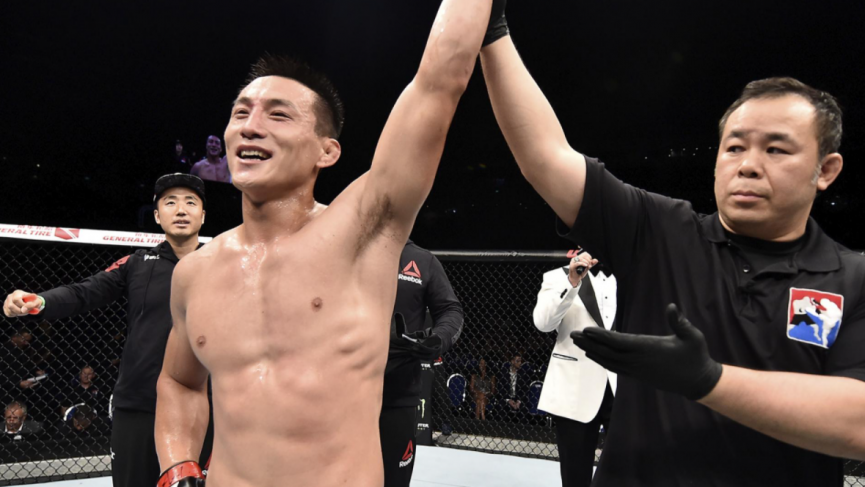 Max Griffin vs Kenan Song Pick – UFC Vegas 22 Predictions: UFC Vegas 21 seemed like the card that might flip the script on all these underdogs, but they decided they would not be stopped. 2021 has been the year of the underdog, and quite honestly, I see no end to it. Last week we were ROBBED of our Underdog play on Eryk Anders by a ref failing to stop the fight timely and Anders making a mistake throwing an illegal knee. We may not have the cash in our pocket, but we can at least trust that our reads are in the right zone and our criteria is leading to success. UFC Vegas 22 is another card full of favorites that might not be worthy of the prices they are commanding, and we will try to ride the hot streak of underdogs; and this week, I want to actually get to the window with a winner instead of a push. 
To learn how I find my underdogs in more detail, check out the full article here.
Max Griffin vs Kenan Song Odds
| UFC Vegas 22 Odds | Max Griffin | Kenan Song |
| --- | --- | --- |
| To Win Outright | -200 | +185 |
| Inside the Distance | +335 | +400 |
| by Decision | +110 | +455 |
| Total Rounds | Over 2.5 (-192) | Under 2.5 (+223) |
| Fight Goes Distance | Yes: -165 | No: +150 |
| Where/When | UFC Apex, Las Vegas | Sat, March 20th, 10:00 PM ET |
The Fighters: Griffin vs Kenan
| UFC Welterweights | Max Griffin | Kenan Song |
| --- | --- | --- |
| Record | 16-8 | 16-5 |
| Finish Rate | 63% (8 Wins by T/KO) | 88% (8 Wins by T/KO) |
| Age | 35 | 31 |
| Height | 5'11 | 6'0 |
| Reach | 76′ | 71′ |
Max "Pain" Griffin is a fighter who is hard to place in the UFC. Sometimes Max comes out and looks like a world-beater, and other times, he seems like he just never woke up. Max is a well-rounded fighter who honestly doesn't stand out anywhere. He is tough. He is durable. Max Griffin is a good striker and a good wrestler. But he isn't exceptional anywhere the fight takes place. Even though Max is coming off the destruction of the prospect Ramiz Brahimaj and riding high, he is just 4-2 in his last 6.
Kenan Song is a Chinese prospect who has been around the UFC for some time and is on a pretty good run. The Song is 4-1 in the UFC, with his only loss coming to Alex Morono, a common opponent between himself and Griffin, and neither of them could beat the Great White. Kenan Song is primarily a striker, and while he hasn't fought a high level of competition, he has been coming along well in his UFC run thus far.
UFC Vegas 22: Underdog Criteria
Fight IQ: Song is a bread and butter fighter. This man is a striker and won't be trying to get fancy on you. This man wades forward and throws big power shots down the pipe, hunting that knockout. Sometimes that's all you need. Don't expect Song to throw crazy spinning attacks or dance in the center of the Octagon, but you can expect he will methodically set up his money-making big right hand.
Chin: Kenan Song has five professional losses, and 2 of those come by knockout. Yes, this is a bit concerning, but let's look into those losses. Before making it to the UFC, Song ran into a couple of fighters who you may be familiar with. Back in 2015, Song was knocked out by Israel Adesanya, the current 185 pound champion in the UFC and an extremely high-level striker. In 2017 Song was matched up with Brad Riddell, the City Kickboxing Teammate of champion Adesanya and a world champion striker himself. These two knockout losses are forgivable, and beyond 2 of the best strikers in MMA today, nobody has been able to crack his chin in his 19 other MMA fights.
No Quit: Song is a fighter who will fight for our money, and that is what we are looking for. Against Derrick Krantz, he was shown that there might be an issue with his grappling, and Song refused to quit on himself in that fight. Song managed to come back from being taken down and win a decision even after facing adversity, showing he is not a round 1 or bust fighter.
Power: Here is the fun part. Eight of Song's 16 wins are by knockout. 6 of Song's remaining eight wins are by submission Song has only won 2 fights by way of decision and spots an impressive 88% finish rate! This is a man who can end the fight no matter where it takes place with a wide variety of weapons, and that is the kind of fighter we want to back at a dog price.
Max Griffin vs Kenan Song Pick:
UFC Vegas 22 Underdog Best Bet – Kenan Song +170 (UFC Odds via Bet365): I am still hot after last week's pick not coming through, but we have to shake that off and get the next one home. Kenan Song checks all the boxes for me as a bettable underdog. He will also be the younger fighter in the cage on Saturday, which does matter in the sport of MMA and gives me some additional confidence. I have never been high on Max Griffin. Griffin is a fighter who shows up when you least expect it or when his job is on the line. The UFC is actively looking at Griffin to prop up future talent such as Brahimaj and while Griffin did look good in that fight, let us not forget that it ended due to Max elbowing Brahimaj's ear straight off. The TKO Max gets on his record was a doctor stoppage due to a gruesome injury, and before that, Max was on a run of 7 straight decisions.
Don't let the record fool you. Max has more KO wins than decision wins, but the majority of those wins came out of the UFC, and when faced with UFC level competition, Max is middling at best. 
Kenan Song is still floating a bit under the radar, in my opinion, but this man has heavy, heavy hands, and his big right hand is the weapon I am looking to back here. I know generally speaking, in sports betting, you do not want to narrow your focus too much when it comes to predicting a fight, but Song's biggest gun is that right hand, and his game centers around setting it up. Max Griffin is a fighter who just hasn't figured out how to avoid or defend that right hand, and you see him get hit with it in every single fight. In fact, in Max's last three fights, you see the right hand on display from all 3 of his opponents with great success. Kenan Song hits harder than Alex Morono, Alex Oliveira, or Ramiz Brahimaj, and if they were able to touch him, then Song will too. I believe Song will connect with a big bomb after Max slows down ever so slightly and puts him away. Round 2 KO.