UFC Fight Island 5: Main Event Best Bets – Moraes vs Sandhagen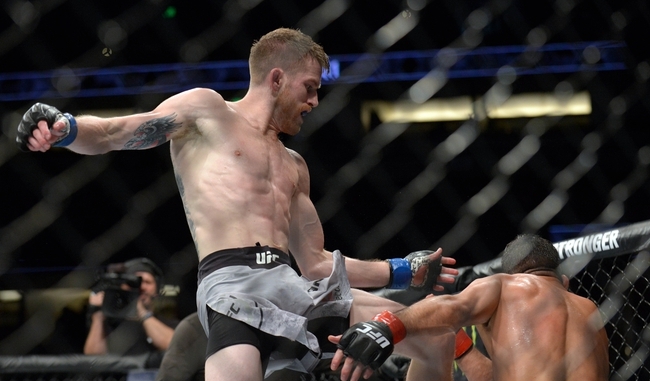 Odds.com's Marlon Moraes vs Cory Sandhagen Pick – UFC Fight Island 5: A top-ranked Bantamweight showdown takes place Saturday as #2 Marlon Moraes faces #4 Cory Sandhagen. Both fighters have won 4 of their last 5, and the winner of this match-up will likely face Petr Yan for the Bantamweight strap in 2021. Our picks and predictions for the main event of UFC Fight Island 5.
| | | |
| --- | --- | --- |
| UFC Fight Island 5 | Marlon Moraes | Cory Sandhagen |
| Best Odds | +110 | -137 |
| Total Rounds | Over 3.5 (+100) | Under 3.5 (-117) |
| Where/When | Fight Island, Abu-Dhabi | Oct 10th, 8:00 PM |
We have an absolute BANGER of a main event at UFC Fight Island 5. In a potential changing of the guard matchup Marlon "Magic" Moraes looks to regain glory as the #1 contender, but to do so he will have to take out the rising star Cory Sandhagen. Sandhagen is fresh off a loss, but he is a monster who can never be counted out. You won't want to miss this one.
The Fighters:
| | | |
| --- | --- | --- |
| UFC Match Up | Marlon Moraes | Cory Sandhagen |
| Age | 32 years old | 28 years old |
| Height | 5'6 | 5'11 |
| Reach | 67' | 70' |
| Wins by Method |  10 by T/KO | 4 by T/KO |
| Finish Rate | 69% | 58% |
| Win/Loss | 23-6 | 12-2 |
Marlon Moraes was poised to be the greatest fighter at 135 in the world just a few short years ago. Moraes is a ruthless finisher with explosive power and submissions who can finish the fight in the blink of an eye. Moraes was on a 4 fight win streak from 2017 – 2019 and had wins over John Dodson, Aljo Sterling, Jimmie Rivera, and Raphael Assuncao. There was no option left for Moraes but the title and then he ran headlong into Henry Cejudo. Moraes looked like he was going to win that fight early, but Cejudo was able to find that mythical 5th gear and turned the tables on him in the 2nd and 3rd rounds. Moraes then faced Jose Aldo in a fight that he won albeit narrowly and controversially. Moraes found himself on the 3rd wheel. The odd man out. Now he has a chip on his shoulder after having been passed up for a title fight and is facing yet another test to regain the place he feels he has earned at the top of the division.
Cory Sandhagen was the dark horse at 135. Cory came to the UFC following a short stint in the LFA and put together an impressive 5 fight run with wins over John Linker and Raphael Assuncao leading to a #1 contender eliminator with Aljo Sterling just a few short months ago. Cory is a tall and long striker with a BJJ brown belt who can mix in his ability to wrestle extremely well. Cory is the new breed. Unfortunately for Cory, he found himself outclassed on the ground against Aljo and now has to rebuild that momentum he carried into his last fight. Cory is just one or two wins away from a title shot and adding a veteran and former title challenger like Marlon to his record would do wonders for the young prospect.
The Matchup: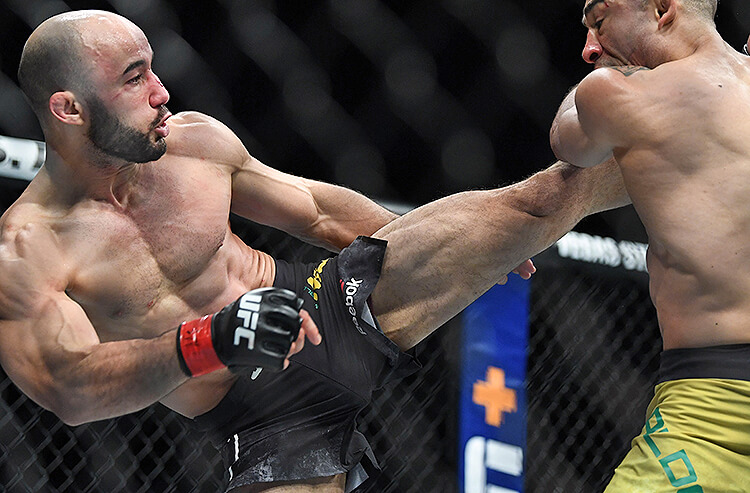 When I first looked at this line I thought it was a bit wild and disrespectful to make Marlon Moraes the underdog to a younger fighter coming off a loss. Marlon Moraes has done nothing but fight the who's who of the UFC's 135-pound division and has more often than not come out on top. How could he possibly be the dog here? You all know I enjoy betting on a live underdog, but before I loaded my bet up and clicked that button to lock it in I had to watch the tape.
Marlon Moraes is a twitch power fighter. He is extremely fast and explosive in round 1 and the beginning of round 2. After that, however, Marlon begins to fade. Recently it seems that Marlon has become aware of this himself and he has been working on the issue. The Aldo fight is a perfect example where when Marlon realized he wasn't going to be able to land that one big bomb to put the legend away he adopted a more counter striking offense. Moraes was able to play the matador and circle away from Aldo and made it the full 15 minutes and set a personal high for significant strikes at 59. So Marlon is improving and has an absolute wealth of experience with 29 professional MMA fights and sometimes I forget that he is just 32.
Cory Sandhagen trains at Elevation Fight Team in Denver which is renowned for its cardio. Monsters come out of Elevation like Austin Hubbard, Alistair Overeem, Curtis Blaydes, and Neil Magny. Cory is a very technical striker who can vary up his attack to keep his opponent guessing. He will enjoy a 3-inch reach advantage here and combined with his height I believe will cause issues for Marlon striking. Sandhagen has never been finished by strikes and is coming off of the only submission loss of his career against Aljo, who is likely the best grappler in the division.
Marlon lands 3.53 significant strikes per minute over the course of his career and absorbs 3.69 which tells us that he is essentially taking a punch to give a punch. Marlon really relies on his power to get his fights done. The run that he went on prior to his title shot had 3 first-round finishes in a row with less than 1 round of fight time between them. Marlon struggles however when he goes deep into fights. In the UFC Marlon has been to a decision 3 times and in those cases, all 3 were split. Marlon's record in the UFC is an impressive 5-2 but very easily could be 3-4 instead.
Cory on the other side of things lands 6.95 significant strikes per minute and absorbs 4.08 which shows us the wild output that this man has and it also shows how technically he is defensively. Most of the better UFC strikers outland their foes by roughly 1 significant strike per minute where Cory outlands his opponents by nearly 3 significant strikes per minute. Corey has a questionable takedown defense at just 33% which can be a bit of a concern, but Marlon has never been one to look to engage in the grappling averaging just 0.46 takedowns per 15 minutes in the UFC and given the previously mentioned gas issues I wouldn't expect him to Saturday.
Marlon Moraes vs Cory Sandhagen Pick:
What this all comes down to is that Cory might just be the worst-case scenario for Marlon. Cory has all the physical advantages which will make it hard for Marlon to land that big KO shot. Cory will be able to play the outside and punish Marlon every time he comes in. Cory is the better wrestler of the two and the bigger man. I do not see Marlon looking for a blast double and risking burning that precious energy he needs for the kill shot. Marlon is willing to trade, but Cory is elusive and will make him pay for every shot he misses.
We are back on Fight Island in the big cage which will allow Cory to use his footwork to out-move and angle off leaving me to believe that Marlon will struggle to cut off and corner Sandhagen. Finally, this fight is 5 rounds. Marlon has struggled to even make it through 3 rounds but has never gone 5. The one time Marlon has been in a 5 round UFC fight he was finished in the 3rd so he never even sniffed rounds 4 or 5. Cory has also never seen round 4 or 5 but coming out of the Elevation fight team and having 50% of his fights go the distance makes the extra rounds a huge advantage in my opinion.
I am left with the conclusion that Cory Sandhagen is a great bet for Saturday and I wouldn't hate taking him inside the distance. This is a very reasonable price to take the young fighter, so laying it straight is not a bad move just in case. Marlon's only path to victory here is an early finish. Yes, he is fully capable of that, but Cory is intelligent and durable. At this point, enough fighters have been able to get the better of Marlon that a blueprint exists for how to survive and expose Marlon Moraes.
Main Event Best Bet: Cory Sandhagen at -135 via Bet365