UFC 249 Odds: Cejudo vs Cruz Betting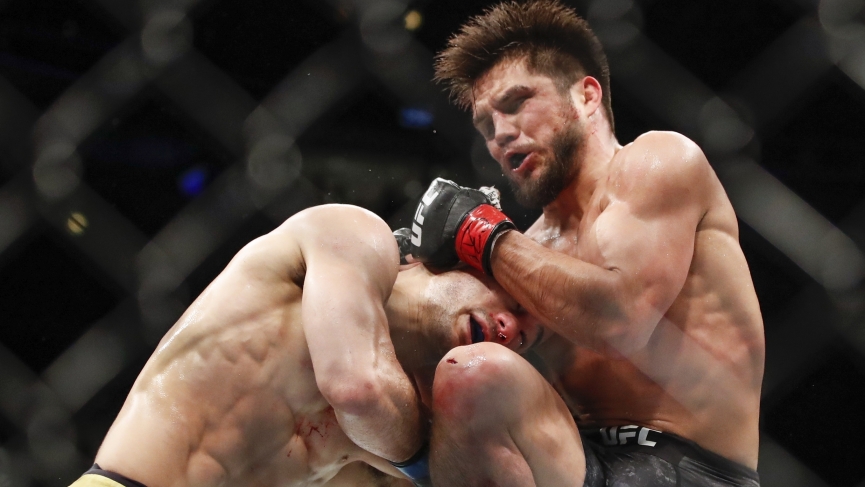 UFC 249: Cejudo vs Cruz
UFC Odds: Cejudo -218, Cruz +210
Time: Saturday, May 9th, 2020 6:00 PM EDT
Where: VyStar Veterans Memorial Arena, Jacksonville, FL.
TV: ESPN+
Dominick Cruz returns to the UFC octagon for the first time in four years and does so in a Bantamweight Championship bout vs "Triple C" Henry Cejudo.
Tale of the tape:
'Triple C' – Henry Cejudo
Age: 33
Height: 5ft 4in
Reach: 163cm
Fights: 17
Record: 15-2
Wins by KO: 7
'The Dominator' – Dominick Cruz
Age: 35
Height: 5ft 8in
Reach: 175cm
Fights: 24
Record: 22-2
Wins by Stoppage: 9
Styles Make Fights
Cruz is a fast-moving, in and out striker, that may cause Cejudo problems on the inside in exchanges. Cruz was one of the most confident fighters when he was at the peak of his career. He was known as being very agile, with quick footwork, fast head movement, and heavy use of feints and fakes. As for Cejudo, after his loss to Joseph Benavidez, Cejudo adopted a new karate-esque fighting style that brought him almost immediate success. Cejudo's striking style evolved rapidly between his 2nd round TKO victory over Wilson Reis at UFC 215, leading up to his dethroning of Demetrious Johnson in their rematch at UFC 227, and the 32 second TKO victory over Bantamweight icon T.J. Dillashaw in January of 2019. Cejudo has an incredible advantage as a striker because of his Olympic level of traditional wrestling. As many of his setups are based on the threat of a takedown, Cejudo has managed to combine aspects of taekwondo and karate into a unique fighting style, that complements his extraordinary wrestling ability. The matchup of Cejudo and Cruz is a match-maker's dream. Cruz is known for being a combination striker, using his lateral movement, along with his step-in jab and utilization of strikes from different angles. When matched up against the unique fighting style of Cejudo. It is a fight that has the potential to be, on paper, an instant classic. The only real question is, can Cruz live up to the name and ability that he was once known for? can he return to the level of fighting he was at, before the lengthy layoff?
Ground Game
To go along with his polished striking game, Cruz has comprehensive training in catch wrestling and a blue belt in Brazilian Jiu-Jitsu. His ground game is not as far-reaching as Cejudo's, but if Cruz is healthy and capable of fighting at the level he was at previously. He may be able to hold his own against Triple C on the ground.
Cejudo's Fight Trends
Henry Cejudo has won 88% of his professional MMA fights, with an official record of 15-2. Cejudo is currently at -218 favorite, and at that price, there is still some value if you think Triple C can pull off the win. Cejudo has won 41% of his 17 pro-fights inside the distance, and at +200 odds for him to finish this one, there is definitely value taking Cejudo on that prop. A prop with a little bit less value, but is more likely to happen is the 'Cejudo Wins by Decision' prop, currently, at best odds of +155, Cejudo by way of decision, has a ton of value.
Cruz's Fight Trends
Dominick Cruz has won 9 of his 24 professional MMA fights inside the distance, and at +715 best odds, this may be the most valuable prop to back if you think Cruz can get the job done within 5 rounds. The far more likely outcome is Cruz winning outright, as he has picked up wins in 91% of his pro-fights at 22-2 professionally. At +210 to win, there is a ton of value backing Cruz just to win the fight. I would suggest jumping on the ML over the 'Inside The Distance' prop. 'Dominick Cruz to Win By Decision' is a solid look as well, Cruz has won 54% of his pro-fights by decision, picking up wins in 13 of his 24 fights by the judge's scorecards. At +300, there is a decent amount of value backing Cruz by decision, but to be honest, I would much more comfortable just taking Cruz on the Moneyline at +210. You would hate to bet the +300 and Cruz end up miraculously finishing Cejudo somehow, I would prefer the ML over the 'ITD.'
UFC Picks: Early Prediction
It is incredibly difficult to handicap this fight, as there is a ton of volatile circumstances that are basically unprecedented. There is no real way to gauge how the coronavirus lockdown is going to affect the training camps of these two fighters. There is also no real way to gauge how a fight of this magnitude happening in front of no fans, is going to play out. The best direction I can give is based on the value of each prop, based on how you handicap the fight. If you're backing Dominick Cruz, even though 'Inside The Distance' might have the most value, taking Cruz to win outright at +210 would likely be your best way of approaching things. If you're backing Cejudo, I would suggest taking him to win outright rather than 'Inside the Distance.' Although the 'Cejudo ITD' prop looks juicy at +200, I remember exactly how tough Dominick Cruz is – and if anyone can withstand the onslaught of what Cejudo can bring, it is Dominick Cruz. My best bet currently, is 'Fight to Not go the Distance' at +140. Let's see where these lines end up.