Ivanov vs Sakai is this UFC's Value Prop And Best Bet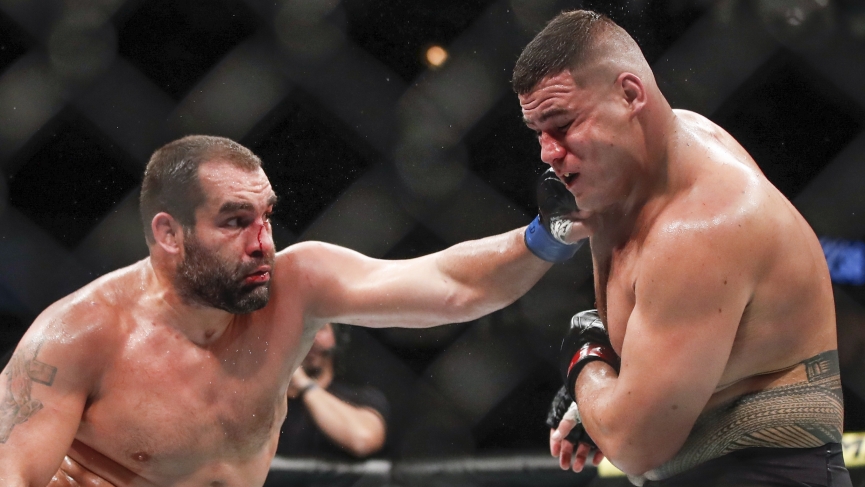 The Co-Main Event of UFC Apex is a heavyweight fight between a young prospect and a grizzled veteran. This fight can't quite be billed as a changing of the guard fight because both men are young enough to bounce back from a loss or two and continue in the UFC, but it feels like a spot where the younger fighter is supposed to surpass the older one. 
Blagoy Ivanov vs Augusto Sakai Odds
Blagoy Ivanov is a sturdy well-rounded fighter who refuses to go out quietly. I have attempted to fade him twice and paid for it in blood and cash both times. After a solid run in the WSOF, he received the UFC call and has gone 2-2 in the organization.
Across the cage is Sakai who was very successful in Bellator prior to entering the UFC and has a shiny 3-0 record so far. While Sakai has found success so far he had a hard fought battle with Andrei Arlovski in April of 2019 that could be used as a prelude for this match.
| | |
| --- | --- |
| UFC Fighter | Blagoy Ivanov   |
| Odds | -111 |
| Age | 33 years old  |
| Height | 5'11 |
| Reach | 73' |
| Wins by KO/TKO | 6 |
| Win/Loss | 18-3 |
| Finish Rate | 66% |
Blagoy Ivanov is experienced enough to be called a veteran of the sport at this point but somehow is only 33 years old. "Baga" has lived a hard life including surviving a knife stabbing some years ago to go on and be a successful MMA fighter. This man doesn't quit. Even though Baga is 2-2 in the UFC his losses came to Junior Dos Santos where he was out-landed 110 significant strikes to 51 and never quite coming forward and a split decision loss to Derrick Lewis that could have gone his way.
Blagoy can take a metric ton of punishment and just keeps moving forward. While his striking isn't flashy it gets the job done and he has a few sneaky little tricks that he can catch unsuspecting or green opponents with and his grappling is underrated. Blagoy is essentially a tank and even though he doesn't do anything amazingly well he is serviceable everywhere and extremely hard to stop, so he tends to fight close and makes the judges earn their paychecks.  
| | |
| --- | --- |
| UFC Fighter | Augusto Sakai    |
| Odds | -111 |
| Age | 29 years old  |
| Height | 6'3 |
| Reach | 77' |
| Wins by Decision | 11 |
| Win/Loss | 14-1 |
| Finish Rate | 79% |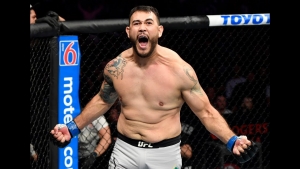 Sakai has done nothing but impress me since he made it to the UFC. Currently 3-0 he has finished both Chase Sherman and Marcin Tybura and managed to squeeze a decision from UFC vet and MMA legend Andrei Arlovski. While Sakai has been on the right track, that fight with Arlovski could very well have gone against him and he does have some improvements that need to be made.
Augusto's power can carry him against lesser competition, but he can be out-finessed by fighters like Arlovski. I expect a fighter in Sakai's position to be making constant improvements and he has a 88% takedown defense rate to keep the fight where he wants it. As long as Sakai can keep the fight on the feet he has a chance to put away anybody in the UFC and he moves surprisingly well for a man his size. I expect Sakai to have a hand speed and power advantage here.  
Sakai vs Ivanov: The matchup
This fight is extremely difficult to call. Sakai has excelled, but against a lower level of competition in the UFC and struggled with the one fighter who he wasn't able to put away. Blagoy has lost to fighters of a higher caliber but fought well with them and has proven his ability to take punishment and continue to work enough to get the nod from the judges.
If Sakai gets put on his back I will expect Blagoy to grind his way to a decision and the edge Sakai has is the power. If one of these fighters is going to end it before the final bell it is going to be Augusto. Something I have noticed with the judges while we are fighting during lockdown is that the fighters who are landing harder seem to be favored.
I believe that this has something to do with the fact that the judges can hear far more clearly sitting ringside without the crow noise, so the bigger shots landing hard and sounding like a baseball bat hitting raw meat stand out to them more. Given the edge in power, the takedown defense, and the 4 inch reach advantage I think Sakai will be able to do enough to get the nod here.
I do think there is a value play to be had by taking Sakai by decision rather than flipping the coin straight. Blagoy is incredibly durable and after walking through the shots of Lewis and Dos Santos I don't think that Sakai will be the one to crack his chin which means this fight is probably going to the judge's scorecards and that holds a ton of value for a fight that is a coin flip. 
The Pick: Augusto Sakai by Decision +200