Chookagian vs. Shevchenko Preliminary Card Best Bet UFC Fight Night 176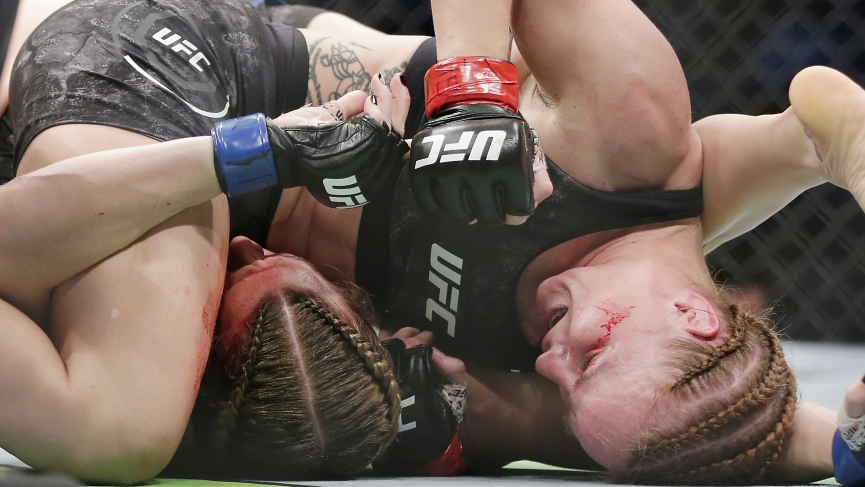 The early portion of UFC Apex has a lot of names you may not recognize, but the fight to close the preliminary card out is one that has significant stakes at women's flyweight. I pride myself on finding spots in women's MMA because much like women's basketball, it seems like an underappreciated market with lots of opportunities and this card has a beauty for us. 
Katlyn Chookagian vs Antonina Shevchenko Odds
Katlyn Chookagian is coming fresh off her loss to the current flyweight queen and Antonina's sister Valentina Shevchenko and is looking for revenge. Antonina has not seen the success that her older sister Valentina has in the UFC so far and had her hype train derailed by perennial underdog Roxanne Modafferi.
The UFC doesn't seem too concerned with that loss however since Antonina is finding herself in another high profile fight with the last women who we saw challenge for the strap. Katlyn is looking to rebound and if she can't beat Valentina maybe she can take out her little sister and Antonina is hungry to make her mark and step out of her sister's shadow in the UFC making for an extremely interesting dynamic. 
| | |
| --- | --- |
| UFC Fighter | Katlyn Chookagian   |
| Odds | +110 |
| Age | 31 years old  |
| Height | 5'9 |
| Reach | 68' |
| Wins by Decision | 10 |
| Win/Loss | 13-3 |
| Finish Rate | 23% |
Katlyn "Blonde Fighter" Chookagian is currently the #2 ranked fighter in the flyweight division and in my opinion she's a complete fraud. Chookagian is 2-2 in her last 4 and the two losses are to champion Valentina Shevchenko and #1 contender Jessica Eye however she somehow managed to rob me blind when she was gifted an undeserving victory over Joanne Calderwood in June of 2019.
Chookagian was outstruck, 112 significant strikes to 82 in that fight, but somehow managed to convince the judges she deserved the "W". Katlyn kia's when she strikes which gives the appearance of aggression and even when she misses on her strikes she appears to be landing more than her opponents, but the truth is that she is swinging at air.
Chookagian lands 4.11 significant strikes per minute on average and absorbs 4.49 which means she gives the appearance of outworking her opponents but doesn't actually hit them. She was exposed against JoJo and I still haven't gotten over that loss. Over the course of her UFC career, Chookagian has landed a stunning 0 takedowns meaning her only path to victory is a striking battle and I don't think that this is the best matchup for her. 
| | |
| --- | --- |
| Name | Antonina Shevchenko   |
| Odds | -139 |
| Age | 35 years old  |
| Height | 5'8 |
| Reach | 67' |
| Wins by Decision | 5 |
| Win/Loss | 8-1 |
| Finish Rate | 38% |
Antonina admittedly got a late start in her MMA career. She is an extremely well rounded and decorated striker, but her struggle so far has been the mat. Antonina has a 58% Takedown defense rate in the UFC courtesy of Roxanne Modafferi who put her on her back 5 times back in April 2019. Since then Antonina has worked hard on her defense and grappling with none other than her sister, the champion, who has a wicked ground game.
Antonina is older and thus that limits what she may be able to do in her UFC run, but her striking is already world class and if she can just patch that hole in her ground game she can still make some moves. Antonina has averaged 4.90 significant strikes per minute so far in her UFC run only absorbing 1.92, so she has significantly out-landed her opponents and has a higher world rate that Chookagian does. 
Chookagian vs. Shevchenko: The matchup
I believe that Chookagian is a mark in this UFC Fight Night fight. The UFC is looking to capitalize on the Shevchenko name and they are giving Antonina the one fighter in the women's division who has literally never attempted a takedown in her career ensuring she can fight where she can showcase her skills.
Chookagian reminds me of a female version of Jon Fitch. By that, I mean an incredible fighter with a great skill set but is essentially boring to watch and very difficult to defeat. There is a reason that the #2 fighter is fighting the #12 fighters in her bounce back.
The UFC wants to bury Chookagian in the rankings and allow the more fun and exciting fighters to rise, but they can't do that if Chookagian is playing gatekeeper at #2-5 and keeps winning split decisions. I fully believe that Antonina is being gifted an opportunity to shine.
Antonina is a better striker than Chookagian is and in the Apex without a crowd, something we will see the judges react to more heavily is the impact of strikes. The noise Chookagian makes will not be enough to overcome the sound of Antonina's kicks landing and the judges will be able to tell who is actually landing the more devastating strikes.
On top of that Valentina will be shouting "HEEEEY!!" every time her sister lands a shot that should be more than enough to pierce the smokescreen of Chookagian's kias. Both women are durable, so I don't expect a finish and I think you can squeeze some extra value by playing the decision prop to get Shevchenko around +115 but either way, she is the side here. 
The Pick: Antonina Shevchenko (-139)