UFC Betting Trends: 'The Notorious' Conor McGregor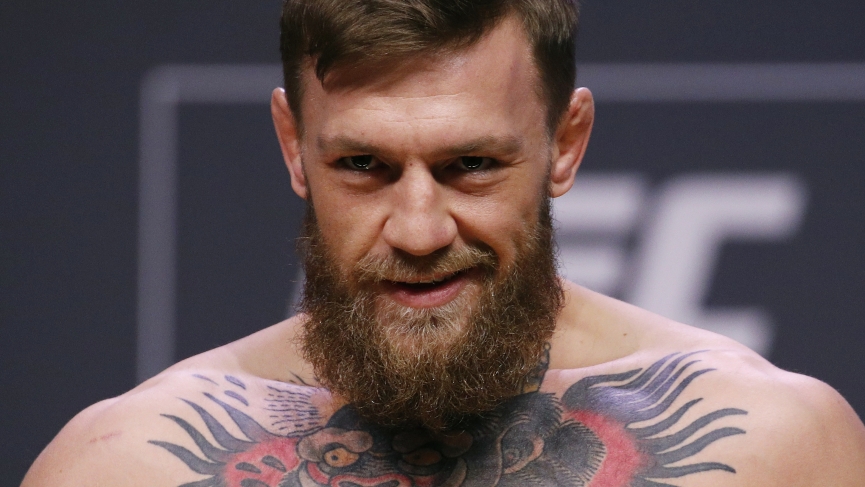 There's only one Conor McGregor, but there's more than one way to make a profit when betting on him. With his next opponent still undecided, we have more time to study McGregor's betting trends.
Next Opponent for Conor, not an easy answer.
   The most successful MMA star in history started his 2020 by declaring 'his season' was just kicking off. 'The Notorious' Conor McGregor made short work of his 2020 comeback fight, picking up the 1st round KO victory over Donald Cerrone in 40 seconds. McGregor was eager to return to the octagon in the spring of 2020, but the COVID-19 pandemic has complicated what McGregor was previously calling his 'year of 2020 vision.' After UFC 249, Justin Gaethje picked up the UFC interim Lightweight Championship with a win over Tony Ferguson. Immediately following the bout, McGregor put out a flurry of tweets calling out Gaethje. Prior to this point, McGregor had been adamant about not wanting to fight without a crowd. Dana White has also hinted multiple times, that the gate revenue that Conor McGregor generates, is far too high to pass up, for a fight with no fans. McGregor's tweets made it seem like he now felt differently, and would be willing to fight at an event 'behind closed doors.'
The fans make the sport!
Watching the other night I was against going in without them. But it will be my fucking pleasure to display the power I possess with zero background noise for them.
Its me and Justin next as khabib is the biggest bottle fighter in the game.
Guarantee it.

— Conor McGregor (@TheNotoriousMMA) May 11, 2020
Many future foes for McGregor.
   'The Notorious' McGregor is a hot ticket in many markets, especially in sports betting. Based on indexed odds provided by BestFightOdds.com, Conor McGregor is listed on multiple sportsbooks in the 'future events' section. Fights with the likes of Jorge Masvidal, Nate Diaz, Justin Gethje, and even a rematch with his arch-nemesis, Khabib Nurmagomedov. While Connor is the favorite (-250 and -110) vs both Diaz (+195) and Gaethje (+125). McGregor is listed at WilliamHill as a (+130) underdog vs welterweight Jorge Masvidal, and a (+240) underdog to UFC Lightweight Champion Khabib Nurmagomedov. It is an interesting set of bouts for McGregor, especially considering he has only ever been an underdog twice in his UFC career. The first time as a +105 underdog vs Jose Aldo where he managed to pull off the upset in 13 seconds and win the UFC Featherweight Championship. The second was the fight against Khabib Nurmagomedov as a (+215) dog at UFC 229.  McGregor dropped the bout to Khabib via 4th round submission (via neck crank). Since the Nurmagomedov bout, McGregor has only fought once. That one fight was against Donald Cerrone at UFC 246 which Conor won as a (-245) favorite. While we don't exactly know when Conor McGregor is going to step back in the UFC octagon, we can use this time off to examine the best way to approach his future bouts. Let's take a look.
Fights rarely go the distance.
   McGregor has had 26 pro-MMA fights in his career, with only 2 of them going to decision. Since 2013, bettors have gone 9-2 for +0.35 units, blindly betting the 'No' on Conor fights going the distance. Although it's a minimal amount of profit, the over still cashed at an 81% clip over the last seven years. Another interesting factor in this trend is that McGregor has never lost a fight that has gone the distance. With a 2-0 record on the judge's scorecards, bettors who have backed McGregor 'by decision' have only won 18% of their bets (2-9), but have profited +3.17 units. 'McGregor by Decision' cashed at +417 in 2013 vs Max Hollow, and again at +800 vs Nate Diaz, in the 2016 rematch. Although it's rare for any of his bouts to reach the distance, he has proven on more than one occasion he does what it takes to win in the judge's eyes.
 Under and 'Inside the Distance'
   In 26 professional fights, McGregor has finished 20 of them 'Inside the Distance'. He has never been knocked out, although his 4 losses have all come by way of submission. Since coming to the UFC in 2013, Conor has finished 7 of his 11 fights 'Inside the Distance'. Bettors who have backed the Conor 'ITD' prop in all eleven fights have gone: 7-4 for +1.3 units. The more profitable way to approach his fights has actually been the "Under' prop. Over 11 of McGregor's fights, the 'Under' has gone 7-4 for +3.34 units. At $100 per wager, bettors backing the Under since 2013, have profited +$30 per fight, win or lose.
Moneyline McGregor:
   Throughout the entirety of Conor McGregor's MMA career, he has 24 wins and 4 losses. That's a win percentage of 84% over 12 years of professional fighting. An impressive record to say the least, and a record that has earned him an implied probability 'break-even' point at odds as high as -525. McGregor has only been that high of a favorite twice in his career. He was a -550 favorite against Diego Brandao at UFC Fight 46, and a -950 favorite vs Dennis Siver at UFC Fight Night 59.
   Bettors who have blindly bet McGregor on the 'Moneyline' since 2012, have gone 13-2 for +5.01 units. If you bet $100 on McGregor in every MMA fight he's been in since the year 2012, from then until now, you would have profited +$33 per fight, whether he won or he lost the bout. That is called a +EV fighter. Better yet, McGregor is coming off of an extended hiatus, and backers of 'The Notorious' may be able to pick up some value on the false perception that McGregor may be 'rusty.' With a 1-1 record as the betting underdog and a 12-1 record as a favorite, McGregor brings a unique opportunity for bettors, almost every time he steps into an octagon or even a ring. We might not know exactly what 'the Notorious' does next, but we will definitely make money betting on him doing it. Win or lose.