UFC Odds – Division Betting Trends After 3 UFC Events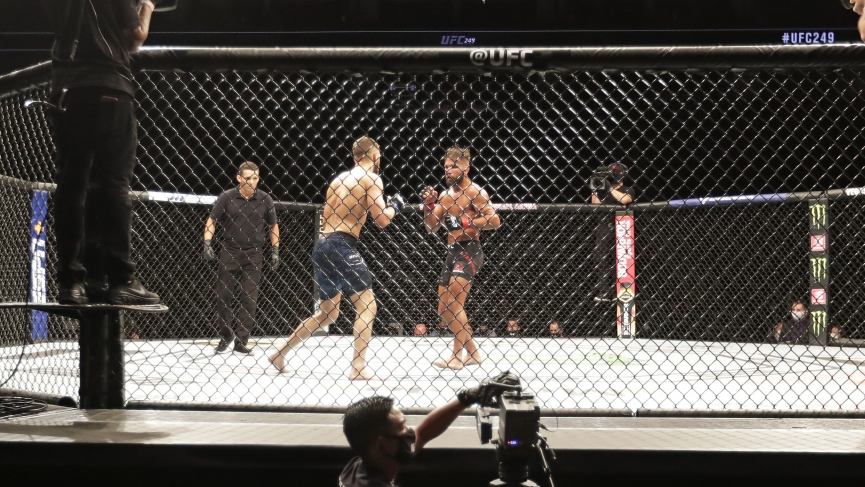 An epic week of events that included UFC 249, UFC Jacksonville, as well as UFC on ESPN 8, has finally wrapped up. With anticipation for more UFC events on the rise, we take a look at the most profitable betting trends in the UFC by division.
Big picture handicapping pays off, even in MMA.
As sports bettors, we've come to lean on, what the industry calls 'situational handicapping.' The home/road splits and the various ATS/ML trends that many of us have come to know and love. What some MMA bettors don't realize, is that even though MMA combat is not a team sport, the same ideas of tracking trends and situational records can be just as valid in fighting as it is on the field or on the court. Each division in the UFC has a set of tendencies that can be pointed out. While some of these tendencies are more explainable than others, the fact remains that they can be a valuable asset for MMA bettors when shopping for UFC odds, especially when the volume of events is as high as we've seen it as of late.
Trends Worth Tracking
Certain types of fights have a certain set of likely outcomes. Whether it be the over in women's divisions, the underdog in welterweight, or the favorite in lightweight. Whatever it may be, there is quantifiable data that we can analyze to find these trends, isolate and exploit them for profits. Let's take a look at the top three most profitable trends in the UFC over the last 18 months.
#3 – Men's Heavyweight: Coin Flip Underdogs
In the never-ending rat race that is the heavyweight division, the chase for UFC gold, as well as the allured title of 'baddest man on the planet.' has been heating up. Overall, the division may currently seem stagnant, especially because of the current hiatus of UFC Heavyweight Champion Stipe Miocic. However, the heavyweight division has proven to be a great one to track, notably due to the profitable success of the coin flip under.
Since the start of 2019, the underdog in the heavyweight 'coin flip' fight has gone 13-5, for +8.58 units. Over the course of those 18 fights, bettors backing the coin flip underdog managed a profit of +$48 per bet, win or lose. Unlike the other divisions, it's a little bit easier to explain exactly why this trend is so profitable. In the heavyweight division, about 99% of the fighters have the striking ability to end the contest in one blow. As any smart MMA gambler will tell you, the value is almost always on the underdog at heavyweight.
Any kind of 'pick em' fight, is sometimes way closer than it should be, because of bookies generating two-way action. Meanwhile, it's not just the coin flip underdog that has had success at heavyweight, but the outright dog has done a fair share of damage as well. Since January 2019, UFC odds for the outright underdog in the UFC Heavyweight Division has gone: 24-31-2, for +4.11 units. A simple rule of thumb for those high volume bettors, don't overthink it and take the underdog at heavyweight.
#2 – Women's Strawweight: Coin flip favorites
If you have bet on the UFC Women's Strawweight Division over the past 18 months, you best be betting on the 'coin flip' favorite. Since the start of 2019, there have been 12 'coin flip' strawweight fights, with the favorite closing at odds of -150 or better. In those 12 'coin flip' fights, the favorite has only lost one time, going 10-1-1 for +6.82 units. At $100 per unit over 12 bouts, that's an ROI of +$57 profit per wager, win or lose.
It's not exactly a great betting strategy to be laying it on the favorite in a coin flip contest, but for some reason, that rule is allowed to be broken in Women's Strawweight. The toss-up favorite seems to have enjoyed such a good run, partly because of the lack of knowledge concerning some of these higher ranked fighters.
While there are some notable names in this division, including the Strawweight Champion Weili Zhang, as well as former champs Jessica Andrade, Rose Namajunas, and Joanna Jedrzejczyk, the lower ranks of this division are not exactly household names. It seems that the lack of notoriety is actually helping these 'A-side' favorites in the coin-flip fight, garner more value than they would normally, in a higher profile division.
#1 – Women's Flyweight: underdogs
Since the start of 2020, the underdog in the UFC Women's Flyweight Division has been on an absolute tear. Bettors who backed in the dog in every Women's Flyweight fight so far in 2020 have gone 6-3 for +10.42 units. At a $100 unit size, that's an ROI of +$116 per wager, win or lose.
A big part of the run the Flyweight underdog has enjoyed in 2020 has come in part by way of two massive upsets early in the year. Roxanne Modafferi cashed as a +566 underdog vs Maycee Barber back in January, while Laurent Murphy picked up a +244 upset victory over Andrea Lee at UFC 247 in February. Those are UFC odds that any bettor will jump on.
This is the type of betting trend that seems like 'you had to be there' from the very beginning to get on top of the profits, that is not the case. The Flyweight Dog has faired well over the last 18 months, going 18-28 for +4.55 units since the start of 2019.