Ige vs Barboza Picks – UFC Fight Night 172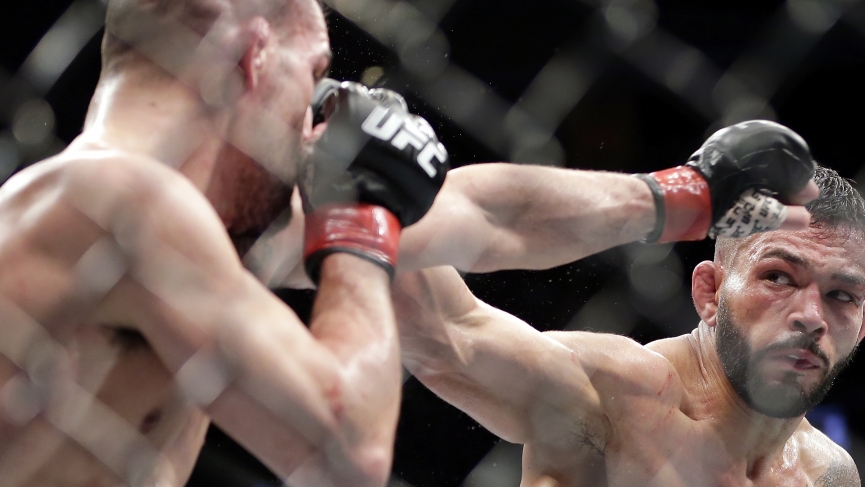 UFC Fight Night 172 is a card that is littered with fights that could go either way. You could make enticing arguments for every single underdog on this card. Saturday is going to be a bloodbath from a betting perspective because there are a lot of hot takes and strong opinions that are underestimating the other side of the coin. Myself included! Treat lightly, but I think there are several underdogs that are extremely live this week. 
Dan Ige vs Edson Barboza: The Basics
Edson Barboza is a legend at 155. Barboza has fought the who's who at 155 and has been flirting with title contention his entire career, but he has been falling on hard times lately. Dan Ige is headed in the opposite direction. He is entering the prime of his career and is riding a 5 fight win streak and has his sights set on the top 5. This is a crossroads fight where Edson is looking for new life 10 pounds south and Ige is looking to clear out a potential threat and put a BIG notch in his spear by taking out a huge name in MMA.
Dan Ige(+106) 
| | |
| --- | --- |
| Age | 28 years old |
| Height | 5'7 |
| Reach | 71' |
| Wins by Submission | 5 |
| Win/Loss | 13 – 2 |
| Finish Rate | 61% |
Odds provided by Fanduel Sportsbook
Dan Ige is an absolute tank! He has high-level offensive wrestling and he is a pressure fighter constantly looking to impose his will on his opponents. Once he gets his hands on you you are in for a long night because he has excellent top control, heavy ground, and pound, and high-level BJJ. Ige lands 2.38 takedowns per 15 minutes with a 35% accuracy which speaks to his ability to constantly threaten and look for the takedown even if he isn't going to get it. The constant threat of takedowns shells up fighters who have a heavy striking game because they do not want to end up on their back and that creates openings. Ige has tight boxing and fast hands, so if he gets in close he will be a serious problem. Over the course of his UFC career Ige has landed 3.89 significant strikes per minute and only absorbed 2.69 so not only is he landing regular takedowns but once he gets you down he is pummeling you. Ige is on fire right now. 
Edson Barboza (-124)
| | |
| --- | --- |
| Age | 34 years old |
| Height | 5'11 |
| Reach | 72' |
| Wins by KO/TKO | 12 |
| Win/Loss | 20-8 |
| Finish Rate | 75% |
Edson Barboza has been in the UFC since 2010 and has been fighting at a high level from the get-go. Every time Barboza was near a title shot he would slip up and drop a fight sending him right back down the ladder and there is a specific style that seems to cause him problems.
Tough and durable fighters that can put him on the mat have been his kryptonite and it just seems like the other UFC fighters and their coaches have figured him out. Barboza is 1-4 in his last 5 fights and he has been KOs 2 of those 4 losses. The beatings that he took from Khabib, Paul Felder, Kevin Lee, and Justin Gaethje is life changing. In the Kevin Lee fight alone Barboza absorbed 142 significant strikes and he was completely destroyed by Justin Gaethje.
After taking that kind of punishment after a long MMA career I simply don't think dropping a weight class is going to be the answer. Barboza is one of the most shredded fighters in the UFC. He doesn't have any more fat to lose and now he is cutting an additional 10 pounds to make the 145 limit. I am concerned. 
Dan Ige vs Edson Barboza Picks: The Matchup
This fight is very simple for me. I think Barboza is the favorite because he is the bigger fighter and the bigger name, but I don't see him coming through here. Ige is going to be able to hang with Barboza on the feet especially in boxing range and he will constantly be threatening that takedown that is the bane of Barboza's existence.
Ige has shown himself to be durable and with Edson dropping the weight class I believe he is losing muscle mass and I'm not convinced that he will be able to knock Ige out. Barboza might also have his gas tank cut into from the weight cut and you HAVE to wonder about his confidence at this point. If he is at all hesitant to pull the trigger Ige will make him pay for it. Ige is going to put him on the ground and will he have the gas to get back up? Ige is in his prime and I think he is the perfect storm to cause Barboza issues. 
The Pick: Dan Ige +110