Gadelha vs Hill Odds – UFC Fight Night This Saturday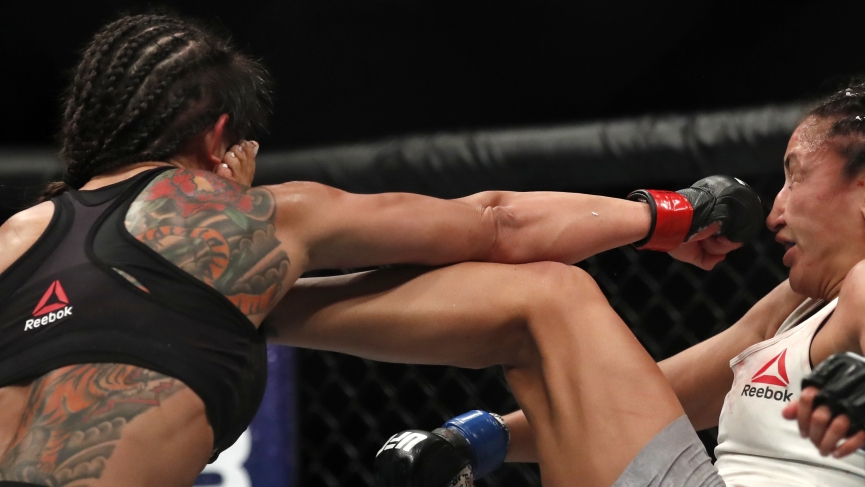 The UFC is the only show in town and they are parking it in Jacksonville until Nevada allows Dana White to put on fights at the UFC Apex. This may cause some confusion with the #UFCJacksonville as of right now we have UFC Jacksonville 1 and 2 differentiating Wednesday from Saturday. The Saturday show is far better than the Wednesday card and there are some SERIOUS fights for us to break down this weekend starting with Gadelha vs Hill. Sportsbook Bet365 has Gadelha listed as the favorite at -188.
Claudia Gadelha vs Angela Hill: The basics
Angela Hill is the women's version of Donald Cowboy Cerrone. She fought 4 times in 2019 and has already fought twice in 2020 not counting Saturday's event. She was a struggling .500 fighter until very recently and she appears to have finally put it all together. Hill is fighting a 3 fight win streak for the first time in the UFC and is looking to cap it off with a win over the perennial contender Claudia Gadelha. Gadelha has been hovering around the title for years and has fought Joanna Jedrzejczyk not once but twice and has come up short both times. Claudia is 2-1 in her last 3 and really needs a win over Hill to show that she still can be considered a contender at 115.
Claudia Gadelha (-188)
| | |
| --- | --- |
| Age | 31 years old |
| Height | 5'4 |
| Reach | 63' |
| Wins by Decision | 8 |
| Win/Loss | 17 – 4 |
| Finish Rate | 53% |
The first thing that you need to know about Claudia is she is an absolute MONSTER in round 1. Claudia has solid BJJ skills and her striking has looked much improved over the last several years. Her hands are incredibly fast and heavy, her wrestling is on point, and she is incredibly strong!
The issue I have with Claudia is that she relies entirely on her physical strength. She lifts and slams her opponents to the mat in order to complete takedowns using a ton of effort and strength. While this is impressive it really drains her gas tank. Claudia is an incredible grappler and a force of nature when she is in the driver's seat, but when you make her work and then force her to change her game plan she struggles.
The best example of this is when she faced Nina Ansaroff in December 2018. Nina was able to get back up after being taken down and landed some big punches on Claudia. It seemed like by the end of the first round of their fight Claudia wasn't able to summon the energy to put Nina on the mat and was simply out-classed over the next 10 minutes to lose a decision. She did bounce back with a win over Randa Markos, but Randa was fully content to play Claudia's game and without getting her outside her comfort zone it was a cakewalk win for Gadelha. I honestly believe that Claudia's best days are behind her and she is likely on the down-side of her career.
Angela Hill (+162)
| | |
| --- | --- |
| Age | 35 years old |
| Height | 5'3 |
| Reach | 64' |
| Wins by Decision | 7 |
| Win/Loss | 12 – 7 |
| Finish Rate | 42% |
Angela "Overkill" Hill has been on an absolute TEAR! If you had told me that I could potentially see Hill challenging for a belt in the next year or two I would have laughed in your face, but here we are. Hill's striking skills have improved leaps and bounds in the last 2 years.
She is currently training with hard hitting Jeremy Stephens and Dom Cruz and helped both fighters prepare for UFC 249. Despite both fighters losing last week they have incredible skills and knowledge to pass on and given that we are in the days of Corona having quality training partners is tough to come by and these two men will definitely be getting her used to the physicality of Claudia.
Hill's biggest advantage in this fight is her cardio. She never slows down and constantly pressures her opponents and when she has to give ground she is an excellent striker moving backward. She stays behind a very long jab and has excellent footwork and keeps a high offensive output. Should she get taken down Hill is good off of her back defensively, attacks with elbows from the bottom, and has a good get up game.
Gadelha vs Hill: UFC picks for the matchup 
I have been looking for an opportunity to fade Claudia for quite some time. She always shows up in shape and if you peep her Insta she always looks in shape and ready to go, but the reality is her performances in the cage have been suffering while Angela's are getting better.
Claudia averages 3.17 significant strikes per minute and has been largely out-struck by her opponents absorbing 4.38 significant strikes per minute. This stat is even more concerning when you consider that with a grappling heavy game plan you should be outlanding your opponents by a decent margin once you have them on the mat. These numbers support the fact that once she gets her opponents to the mat Claudia is not scoring or doing the damage needed to overcome what she takes on the feet and she is landing 3.34 successful takedowns per 15 minutes at a 47% accuracy.
Those takedown numbers are REALLY good! In her last 3 fights she has landed 115 significant strikes and absorbed 164. Claudia is 2-1 in her last 3 and I firmly believe that she was gifted a badly judged split decision against Carla Esparza, so she should be 1-2 instead. Hill is streaking and her confidence has never been higher. She averages 5.74 significant strikes per minute and even though she absorbs 5.13 she is still outlanding her opponents and that work rate is FAR higher than Claudia's.
Hill will have a reach advantage and even though Claudia has great takedowns Hill has a 72% takedown defense rating. I believe that Hill is a massively live dog here and I fully expect Claudia to win round 1, but Hill can escape and get back to her feet, and then the takedowns won't come so easily. I think Hill's work rate will drain the gas of Gadelha and she will run away in the 2nd and 3rd rounds! 
UFC Pick: Angela Hill +162