Gregor Gillespie vs Brad Riddell Pick: UFC Vegas 22 Predictions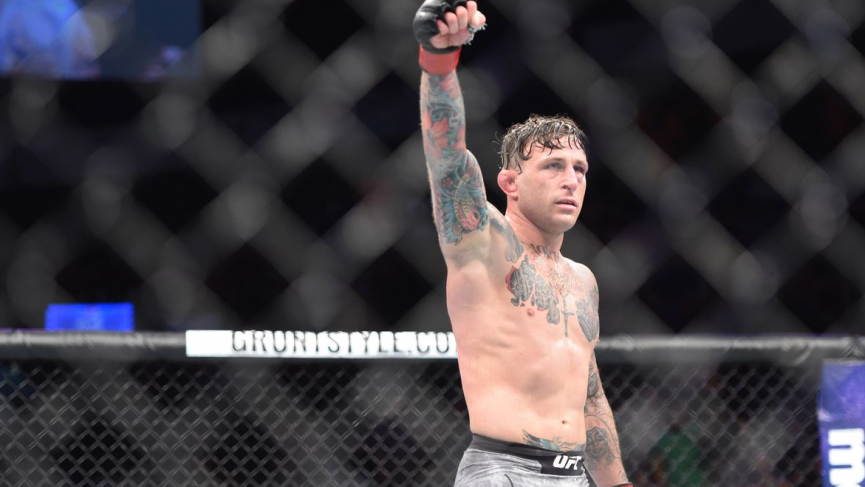 Gregor Gillespie vs Brad Riddell Pick – UFC Vegas 22 Predictions: I do a pretty good job of looking ahead at fights, and somehow this one flew right under my radar. I forgot that this co-main event was coming, and it is going to be a high-stakes match-up for two hopefuls in the most stacked division of all time. Gregor Gillespie makes his long-awaited return, and he faces City Kickboxing product Brad Riddell in a fight that will determine the career trajectory of these two fan favorites. 
For all the UFC Vegas 22 picks that you can handle, check out the entire DieHardMMA Podcast for this Saturday's UFC event.
Gregor Gillespie vs Brad Riddell Odds
| UFC Vegas 22 Odds | Gregor Gillespie | Brad Riddell |
| --- | --- | --- |
| To Win Outright | -230 | +215 |
| Inside the Distance | +130 | +460 |
| by Decision | +230 | +500 |
| Total Rounds | Over 2.5 (-108) | Under 2.5 (-108) |
| Fight Goes Distance | Yes: +110 | No: -138 |
| Where/When | UFC Apex, Las Vegas | Sat, March 20th, 10:00 PM ET |
The Fighters: Gillespie vs Riddell
| UFC Lightweights | Gregor Gillespie | Brad Riddell |
| --- | --- | --- |
| Record | 13-1 | 9-1 |
| Finish Rate | 84% (6 Wins by T/KO) | 56% (5 Wins by T/KO) |
| Age | 33 | 29 |
| Height | 5'7 | 5'7 |
| Reach | 71′ | 71′ |
Gregor "The Gift" Gillespie is back from the dead. The last time we saw Gregor was when Kevin Lee punted his head into the 3rd row and took the 0 from Gillespie. No longer undefeated and having taken more than a full year off from competition, Gregor returns to the cage on Saturday to restart his assault on the UFC lightweight division. Gregor combines physical strength, high-caliber wrestling, and slick submissions much like Khabib and has had similar success until he ran into Kevin Lee. I am very excited to see if Gregor comes back the same, a shell of himself, or better than the last time we saw him. 
Brad Riddell is a world-class kickboxer who has transitioned to MMA, much like many of his brothers at City Kickboxing. Riddell is on a six-fight win streak and is undefeated in the UFC, and will look to mark himself a true threat to the division on Saturday. Riddell is very strong, and literally, all of his opponents have attempted to take him down in order to avoid striking with him, but that has not stopped him. Riddell will look to defend the takedown and pick up where Kevin Lee left off. 
The Match-Up: Gillespie vs Riddell
This fight has me in knots. The big question for me surrounding this fight is what will Gregor look like on Saturday, and we have no way of knowing the answer to that question. Gregor took a life-changing knockout his last time out, and that is something that could derail him or make him double down and come back stronger. We do not know until we see him in there again. Physically Gregor looks like he has doubled down, and he appears to be in the best shape of his life, but you can't bench press your way to a better chin. 
This fight is a classic striker vs grappler match-up where Gillespie will have an enormous advantage on the mat, but Brad will be the slicker striker on the feet. We have seen time and time again that Brad Riddell's opponents want nothing to do with him on the feet and look to take him down. Gillespie will look to do the same, but not out of fear. That is just what this man does. Gregor is a finisher and ends the fight by TKO or submission after grinding his opponent's will out of them, but that was against a relatively mediocre level of competition. The one time Gregor stepped up was against Lee, and, again, we saw what happened there. 
Gregor Gillespie vs Brad Riddell Pick:
UFC Vegas 22 Co-Main Event Best Bet – Gregor Gillespie -250 (UFC Odds via Bet365): Brad Riddell has faced Alex da Silva, and Magomed Mustafaev in his last two fights, and both opponents took him down repeatedly. Brad could cause scrambles, get back to his feet, and do just enough to get the win. Money is currently pouring in on Gregor Gillespie, and I am curious how far out of hand this line will go. I am very tempted to take the underdog here in Brad, who has shown himself capable of defeating exactly this kind of fighter before, but grapplers just derailed City Kickboxing at UFC 259 and I think it might be Brad's turn to take an L. Unless Brad lands on the button and early, he will not be able to defend the takedowns of Gillespie. Brad is capable of getting back to his feet, but in the small cage in a 15-minute fight, the deck is stacked against him. I want to bet Brad because we never get this kind of line on him, but my gut tells me that the relentless takedowns of Gregor will be too much for him. I am more than likely to sit back and watch this one, but if you are looking to back Gillespie here, you need to do it sooner than later because that line is just headed up.