UFC 258: Gillian Robertson Odds Fighter Interview and Betting Profile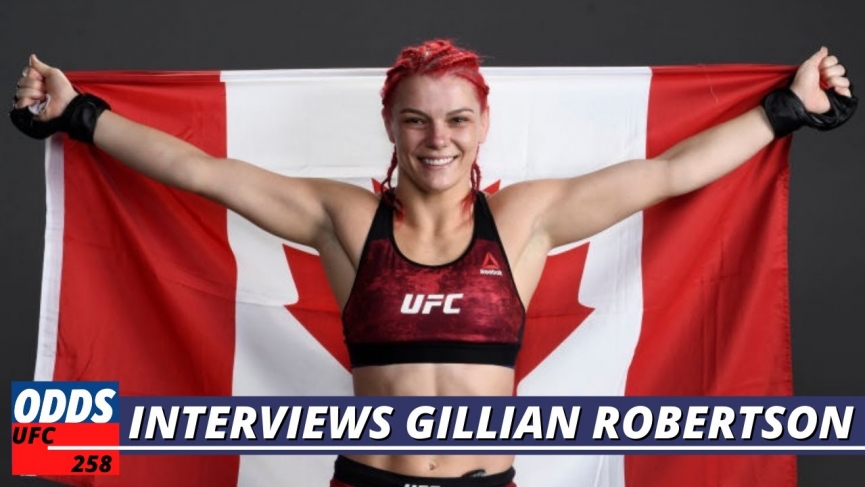 UFC 258 Gillian Robertson Odds and Fighter Profile: Gillian Robertson has won 5 of her 9 UFC bouts by way of stoppage, with the 'Inside the Distance' prop going 5-4 for +9.55 units in her UFC career, with the 'Fight Doesn't go the Distance' prop going 7-2 for +3.87 units profit along the way. On Saturday, Robertson is facing a cross bout against UFC prospect and former Invicta Phoenix Series winner Miranda Maverick.
Gillian Robertson Interview
Odds.com's James Lynch talks to Gillian Robertson (9-5) in the lead up to her UFC Women's Flyweight bout against Miranda Maverick (8-2) at UFC 258 on February, 13th.
Gillian Robertson: Tale of the Tape
| UFC Fighter | Gillian Robertson |
| --- | --- |
| Age | 25 |
| Professional Record | 9-5 |
| Weight Class | Flyweight (125lbs) |
| Height | 5'5 |
| Reach | 63′ |
| Finish Rate | 78% |
| Wins by Stoppage | 1 via T/KO, 6 via Submission |
Gillian Robertson Debuts:
Gillian 'the Savage' Robertson made her professional MMA debut at Island Fights 37 in 2016, losing to Hannah Goldy by decision. From there she made her way around the lower to mid-level promotions in North America, with a loss to Cynthia Calvillo at GKO 8 in November of 2019, followed up by a submission victory over Hannah Cifers at NLFC 7 in May of 2013.
Gillian Robertson UFC Record:
Robertson made her UFC debut against Emily Whitmire in a bout that was apart of the Ultimate Fighter Season 26 Finale event. Robertson defeated Whitmire in 2 minutes and 12 seconds into the first round via armbar, cashing as at underdog odds of +160. From there, Robertson pieced together a 6-3 UFC record from the time of her debut up until her most recent fight. She has 5 wins by stoppage, 1 by decision, 2 losses by stoppage, and 1 loss by decision.
UFC Betting Trends: Gillian Robertson
Gillian Robertson
(Since 2017 UFC Debut)
Record
Profit (Units)
Inside the Distance
5-4
+9.55u
Fight Doesn't Go Distance
7-2
+3.87u
To Win Outright
6-3
+3.03u
Under
5-4
+2.14u
The best way to back Gillian Robertson in her UFC career has been by betting her to win by stoppage. A $100 bettor who has backed Robertson to win 'Inside the Distance' in every fight in her UFC career has gone 5-4 for +$955 along the way. Robertson has a 6-3 record on the moneyline, for +3.03 units profit. Just 2 of Roberton's 9 UFC bouts have gone the distance, with the 'Fight Doesn't Go the Distance' prop in her career going 7-2 for +3.87 units, with the 'Under' going 5-4 for +2.14 units profit.
UFC 258: Gillian Robertson vs Miranda Maverick
| UFC Prop Odds | Gillian Robertson | Miranda Maverick |
| --- | --- | --- |
| To Win Outright | +123 | -135 |
| Inside the Distance | +305 | +350 |
| by Decision | +350 | +170 |
| Total Rounds | Over 2.5 (-175) | Under 2.5 (+158) |
| Fight Goes Distance | Yes: (-145) | No: (+120) |
| Where/When | UFC Apex, Las Vegas | Sat, Feb 13th, 6:00 PM ET |
If you're going to bet this fight, and plan on backing Gillian Robertson, the best way to do so is likely on the straight-up moneyline. While Robertson is 5-4 on the Inside the Distance prop, you're getting far less volatility on a +120-ish price on Robertson just to pick up the victory, as opposed to needed the finish at odds of +305. If you're feeling risky, by all means, take the 'Inside the Distance' prop, but the safer bet is likely on Robertson winning outright.
There is a decent amount of value on the 'Fight Goes Doesn't Go the Distance' prop at +158. 7 of Robertson's 9 UFC bouts have ended inside the distance, with the 'Under' in her 9 bouts going 5-4. If you're combining two plays at plus money, you can't go wrong with Robertson on the money, and the 'Fight Doesn't go the Distance' at +120. The only way you don't make money on that play is with a Miranda Maverick decision victory.
Miranda Maverick has just two losses in her career, but her competition is far less notable than that of Gillian Robertson, and while Maverick is likely bound for success in the UFC, she is coming off one round performance in her UFC debut, which was on the heels of recovering from a very serious undisclosed injury.
The longer this fight goes, the more it favors Gillian Robertson, as Maverick has yet to see the 2nd round in a UFC octagon. Without speculating on the specifics of Maverick's injury, you can still make the assumption that if Robertson gets this fight into the later rounds, the healthy and more experienced fighter will have the edge.
To put a bow on things, from a simple handicapping perspective, we take a look at the division betting trends, where Women's flyweight has some very intriguing angles. The underdog has won 16 of the last 37 bouts at 125lbs, going back to January of 2020. Based on those numbers, implied probability says that any fighter at odds of +131 or better in this division has been worth a play.
To lend more reasoning to taking the Under. 15 of the last 37 UFC bouts at women's flyweight have gone 'Under' the betting total, with a flat bet on the Under sing January of 2020 in this division going 15-22 for +5.29 units profit. Based on implied probability, any under at the price of +147 or better at Women's flyweight is worth taking a small shot on as a value play.
UFC Women's Flyweight Division
| Since 2020 | Record | Win % | Profit (Units) | Buy Price |
| --- | --- | --- | --- | --- |
| Dogs | 16-21 | 43.2% | +13.1u | +131 |
| Under | 15-22 | 40.5% | +5.29u | +147 |