Donald Cerrone vs Niko Price Pick: UFC Vegas 11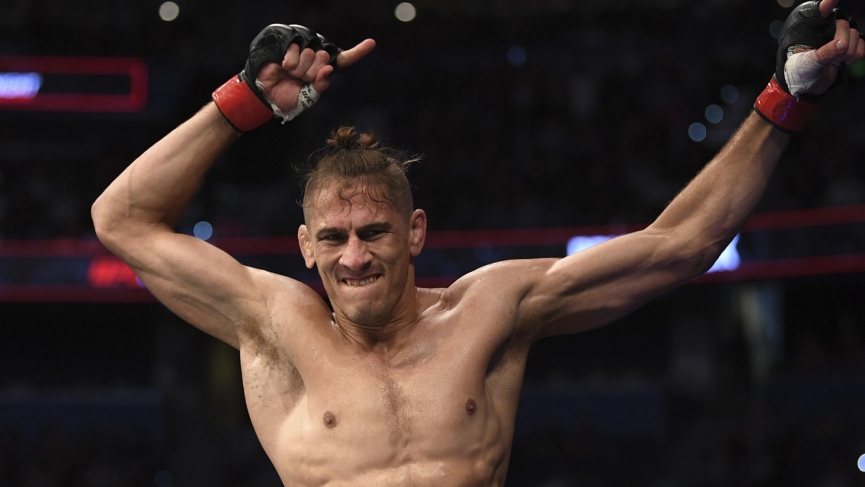 OddsHQ's Donald Cerrone vs Niko Price Pick for UFC Vegas 11: My heart cannot take it! Donald Cerrone is an absolute legend in the UFC and is almost never in a boring fight. Niko Price is one of my favorite fighters to watch and is an absolute warrior who either flat lines his opponent or goes out on his shield. This fight stands very little chance of being boring and is one of the best co-main events that we have had in a long time. 
| | | |
| --- | --- | --- |
| UFC Match Up | Niko Price | Donald Cerrone |
| Odds | -161 | +130 |
| Age | 30 years old | 37 years old |
| Height | 6'0 | 6'1 |
| Reach | 76' | 73' |
| Wins by Method |  14 Wins by T/KO | 17 Wins by Sub. |
| Finish Rate | 92% | 75% |
| Win/Loss | 14-4 | 36-15 |
Niko Price is one of my absolute favorite fighters. He hasn't been in a boring fight in his entire career and has the ability to finish the fight from any position. Niko is a constant pressure fighter who walks his opponents down and has insane power in every limb. Niko can scramble well and hunts for submissions and big ground and pound, so even if his fights hit the mat he is not out of place. Niko is coming off of an absolute war with Vicente Luque where he almost did the impossible and nearly KOd the ever durable Luque. The only drawback with Niko is that he absorbs so much damage. He is willing to take a shot to give a shot, but unfortunately, he is taking way more shots than he is giving. Niko averages 4.32 significant strikes per minute but absorbs 5.46 significant strikes per minute. Niko is being out-landed by more than a full significant strike per minute and this is by far the highest-profile opponent he has ever faced.
Cowboy is back! Maybe the biggest fan-favorite fighter in the UFC today Cerrone is always must-watch TV. Cerrone is insanely skilled absolutely everywhere the fight takes place and even in the latter stages of his career simply cannot be counted out. Cerrone has underrated wrestling, savvy striking, and is a savage submission artist when the fight hits the floor. The real question about Cerrone is his chin at this stage. Cerrone is the literal leader for the most significant strikes absorbed in UFC history and that is a problem when facing an opponent like Price who is capable of finishing from anywhere. 
The Matchup:
The big story in this fight is the gap inexperience. Niko is coming off of a loss to the highest level opponent he has ever faced in Luque where he was badly damaged and it was 4 short months ago. Niko kept the significant strikes close 129 to 130 in that fight, but he was still on the bad end of it. Cerrone has fought every name the lightweight division has to offer. Cerrone has fought the best of the best for years and his recent run of losses isn't truly showing what he is capable of. 
Cerrone arguably won his fight against Anthony Pettis back in May, but his losses against Ferguson, Gaethje, and McGregor were all showcase finishes. Cerrone at 37 years old is getting towards the twilight of his career and we do not see durability improving. That damage meter is mounting and Niko is a full weight class higher than Cerrone's last few opponents. It's hard to say if Niko hits harder than Gaethje and McGregor, but he appears to be in that ballpark.
Power vs Technique. Experience vs Youth. Finesse vs Explosiveness.
Personally, as a fan, I would love to see Cerrone get a W under his belt again and this might just be the spot where he can do it. Cerrone hasn't lost to a fighter who is outside of the top 10 in a long time and he might have some extra durability help at 170 vs when he is cutting weight down to 155. The only issue for me is that Cerrone is more than willing to brawl and that could be a death sentence against Niko. If Cerrone is able to use his experience to avoid the offense of Price then he might be able to pick the young gun apart for 15 minutes, but I don't see Cerrone winning via knockout. Cerrone could get this fight to the mat and win by submission, but again I don't know if he is big and physical enough to overwhelm a fighter like Niko. I think Cerrone needs an early finish because 15 minutes locked in a cage with Price is a very dangerous proposition.
Donald Cerrone vs Niko Price Pick: UFC Vegas 11
Honestly, the best move here is a pass. Just sit back and enjoy this fight as a fan, but if I had to make a bet on it I think I would take Niko Price. The line is off. If you are looking for value Cerrone is the side, so maybe his should be a dog or pass spot but my gut says at some point over the course of this fight Niko lands a bomb. 
Niko Price (-150) via Bet365