Colby Covington vs Tyron Woodley Pick – UFC Vegas 11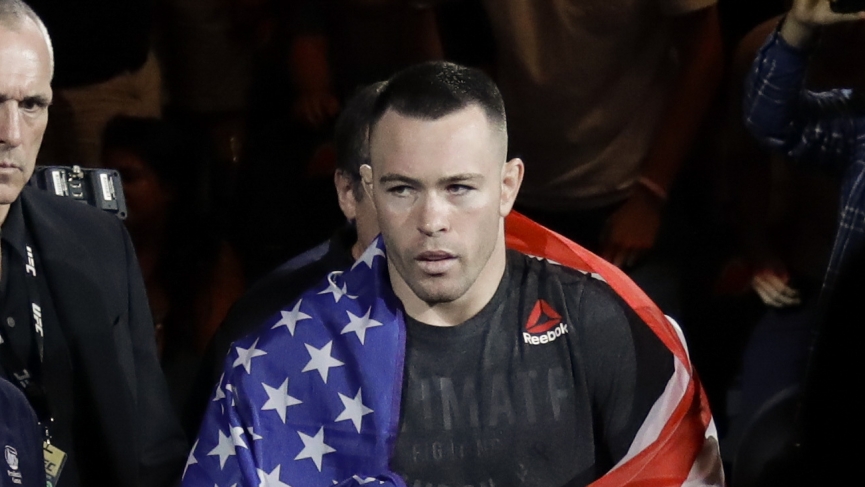 OddsHQ's Colby Covington vs Tyron Woodley Pick for UFC Vegas 11: Colby Covington is one of the UFC's most hated personalities. However, he is also one of the most effective, and high volume fighters in the promotion. Saturday night Covington takes on Tyron Woodley in a long-awaited grudge match.
| | | |
| --- | --- | --- |
| UFC Vegas 11 | Colby Covington | Tyron Woodley |
| Best Odds | -345 | +275 |
| Total Rounds | Over 4.5 (-200) | Under 4.5 (+165) |
| Where/When | UFC Apex – Las Vegas | Saturday, September 19th |
It's happening. It is FINALLY happening. Tyron Woodley and Colby Covington were supposed to fight multiple times for the past 2 years and this fight is absolutely epic on paper. The fact that these men do not like each other one bit only fuels the fire for this match up. Granted 2 years ago this fight would have been for a title and really should have been made at that point, but it is still an excellent match up and could easily produce our new #1 contender. Both men have a history with Kamaru Usman and both have tasted UFC gold. All the chips are down and victory is a must for whoever is looking to get that shot at the 170 strap. 
| | | |
| --- | --- | --- |
| UFC Match Up | Colby Covington | Tyron Woodley |
| Age | 34 years old | 38 years old |
| Height | 5'11 | 5'9 |
| Reach | 72' | 74' |
| Wins by Method |  (8 Decisions) | (7 by T/KO) |
| Finish Rate | 46% | 63% |
| Win/Loss | 15-2 | 19-5 |
"Chaos" is a lot of people's least favorite fighter on the roster and they want nothing more than to see him get punched in the face. Colby's schtick works so well that he gets people tuning into his fights just to see them lose, but unfortunately for the fans, he has a nasty habit of winning. Colby has excellent hands and top tier wrestling that allow him to contend at the top of the 170 division, but his greatest weapon is his cardio. Colby simply melts his opponents. So far only 1 man has been able to withstand the pace that Prime Colby puts on and that is your current champion, Kamaru Usman.
Colby averages 4.17 significant strikes per minute and only absorbs 3.02 meaning he is forcing his opponents to shell up and out-landing them by more than a full significant strike per minute over the course of his entire UFC run. These numbers are even more impressive when you realize that Colby isn't much of a finisher and generally dominates his way to decisions, so that margin of out-striking his foes is a constant. 
Tyron Woodley has extreme power in his hands. It's been a while since we have seen it put to use, but Woodley is one of those fighters with freak power and if he manages to uncork a bomb there is a good chance that the fight is over. Woodley is a high-level D1 wrestler and up until recently was able to predict his opponent's attacks well and find the opportunities to counter. Tyrone has climbed to the top of the mountain. He has been a champion and tasted gold before. Tyrone was a problem for the division for about 5 years and suddenly he is being completely looked over. 
Come Saturday which version of Tyrone Woodley is going to show up?
Tyron Woodley was well on his way to challenging George St. Pierre for the title of the greatest 170-pound fighter of all time, but then the wheels fell off. Woodley started rapping, acting, and simply believed his own hype. I'll prove you wrong attitude disappeared and it was replaced with an entitled one. Woodley has been fighting not to lose rather than fighting to win and that cautious approach has started to cost him. After losing his belt Woodley dropped a decision to the hottest contender at 170 in Gilbert Burns and now has a long road back to the title. 
Woodley has been training with fan-favorite Jorge Masvidal and it appears to have lit a fire underneath him again. Woodley has been on record recently talking about how Jorge is keeping him motivated and making him work where he previously had been taking the easy route. Considering the chip on Woodley's shoulder back and the personal investment he has in fighting Colby we might see a very different Woodley in the cage on Saturday. The question is will that be enough? 
Colby Covington is in his Prime and was 2-2 going into the 5th against Kamaru Usman. He has a very real claim to being the greatest 170-pound fighter alive right now. As much as I think that this line is wide I simply cannot stand in front of Colby here. Tyrone has shown hesitation and in his last 5 fights has not been letting his hands go. Every time he promises that he will, but the only fight he actually did was against Darren Till and it was a single bomb that landed so I'm not sure we can say he really "let go". Yes, he is fired up for this fight, but letting his hands go might be the worst thing for him here. If Tyrone doesn't KO Colby stiff with a single punch then Colby is going to work him and we know Tyron's gas tank is limited. Tyron explodes and then has to take time to reset, he has too much muscle to keep a pace for a full 25-minute fight and that's all Colby does. 
Colby Covington vs Tyron Woodley Pick
At this price, you are betting that Colby's chin is damaged or that Tyron actually has one left in him, but beyond that, I think that Colby is the better fighter and worthy of being parlayed at this price. If you don't want to risk that kind of chalk straight or trust Colby enough to parlay him then I would consider looking at Colby by knockout when the props drop. Colby isn't much of a knockout threat, but the pace he puts on him opponents I think will cause an old Tyrone to wilt. Tyrone has been iron clad his entire career, but he got rocked badly against Gilbert in the first round of their fight. Considering Woodley's age, the bad blood here, and the fact that Colby is capable of landing 140+ significant strikes in a 25-minute fight I think that Colby might be looking for that KO. Considering he always wins by the decision the price should be pretty good too.
The Pick: Colby Covington (-357) via Bet365