Six Leg UFC Vegas 11 Longshot Parlay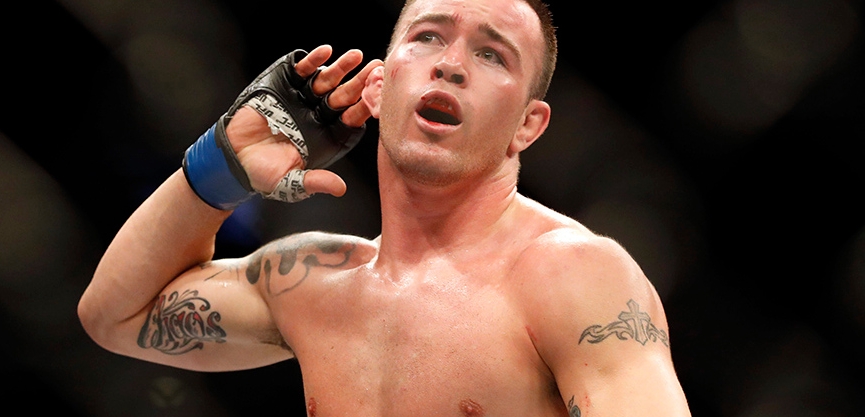 Odds.com's UFC Fight Night Parlay: 5-1 Longshot
| | |
| --- | --- |
| UFC Event | UFC Vegas 11: Covington vs.  Woodley |
| Date | Saturday, 19th September 2020 |
| Location | UFC APEX, Las Vegas, Nevada |
| Broadcast | ESPN+ (5pm/8pm EST) |
Normally speaking this article would be filled in with our Underdog breakdown, but this week… I don't really like any of them. We have very specific criteria when betting underdogs and none of the fighters this week check enough boxes for me to risk our hard-earned cash on. I agree with most of the favorites and even those dogs I can see getting it done have flaws that make them hard to trust. Rather than force a bet I have put together a parlay that should more than satisfy our need for a +$ line.
UFC Vegas Parlay Picks
| | | |
| --- | --- | --- |
| Vegas 11 Fight | Pick | Odds |
| Tyson Nam vs. Jerome Rivera | Tyson Nam | -175 |
| Darrick Minner vs. T.J. Laramie | T.J. Laramie | -303 |
| Andre Ewell vs. Irwin Rivera | Andre Ewell | -213 |
| Kevin Holland vs. Darren Stewart | Kevin Holland | -250 |
| Khamzat Chimaev vs. Gerald Meerschaert | Khamzat Chimaev | -400 |
| Colby Covington vs. Tyron Woodley | Colby Covington | -357 |
| | Total Parlay: | +568 |
Leg 1: Tyson Nam -175
Tyson Nam is welcoming Jerome Rivera to the UFC fresh off a solid performance on Dana White's Contender Series. This is a huge step up for Rivera and one I am not so sure he is equipped to win. Nam is a power puncher who does tend to rely on his power a bit too much but in order to exploit that you need to have savvy enough striking to stick and move. The big key is avoiding that big power shot which is a constant threat when fighting Nam. Rivera is more of a grappler than a striker and if he cannot get this fight to the mat I think he is going to be out of place in a big way. We have seen his striking and he is more than willing to take a shot to close the distance and that is just not a good strategy against a fighter like Nam. Nam has 100% takedown defense in the UFC and I believe he was robbed in his fight against Kai Kara France. Nam by 2nd round KO. 
Leg 2: TJ Laramie -303
TJ is fresh off of Dana White's Contender Series himself and comes with a ton of hype. Normally speaking I do not enjoy backing overly hyped fighters, but TJ seems to have the goods. TJ is facing Darrick Minner who does dwarf the young fighter inexperience but has a significant set of weaknesses that have been exploited time and time again. Minner relies on the finish to get a win and more specifically the submission. Minner has 21 wins via submission, most of which come early in the fight. Minner also has 8 losses by submission. This fighter goes for broke in round 1 every single time and when he cannot get the finish has nothing left to give. This spot reminds me of Kyle Nelson vs Billy Q last week where if TJ can survive round 1 he should take over and destroy Minner. 
Leg 3: Andre Ewell -213
Andre Ewell is one of our "Best Bet Parlay" legs, so I will give a shorter version of the breakdown since we have already discussed it. I believe Irwin's only path to victory will be the ground game and I don't know that he can get the fight there. Ewell has an 8-inch reach advantage and a significant speed advantage. If Irwin cannot hold Ewell down I believe he will be unable to close the range and get picked apart over the course of a 15-minute fight.

Leg 4: Kevin Holland -250
Once again we are going back to our "Best Bet Parlay" for this pick. Kevin Holland is one of my favorite rising fighters and I believe he holds significant value come Saturday. Similarly to Ewell, Holland will enjoy a 7-inch reach advantage over Darren Stewart and I believe he is the more technical striker of the two. Stewart will rely on his power to win him this fight, but against a longer, savvier striker I think he will be swinging at air more often than not. Holland outlands his opponents by a full 2 Significant Strikes per minute and more often than not finishes them. I expect him to run through Stewart on Saturday and is my favorite spot on the card.
Leg 5: Khamzat Chimaev -400
Okay, this is the one that has me a little nervous. Khamzat is the hottest prospect the UFC has ever seen. They are buying in on this kid big and even though he is taking the biggest step up in the competition of his life the UFC has already booked him for another fight just down the road showing they expect he will have no issues with Gerald Meerschart. GM3 is an extremely dangerous fighter, but he has struggled defensively and I honestly believe that Khamzat is the real deal. GM3's biggest threat is his submission game and the offensive grappling and pure power Khamzat possesses I believe will be enough to overwhelm GM3 and I expect Khamzat to win via KO or TKO. 
Anchor: Colby Covington -357
The long-awaited battle of Tyron Woodley vs Colby Covington is here. It's about 2 years late, but it is here. Honestly, this breakdown is rather simple for me. Tyron is old now, and fighters do not tend to age like fine wine. We have seen Tyron be hesitant to pull the trigger and that once legendary explosive power may simply be a thing of the past. Colby Covington has far superior boxing, a good chin, and a never-ending gas tank. Even if Tyron does what he is claiming and actually pulls that trigger and lets his hands go he better get Colby out of there. If Colby isn't staring up at the lights by round 2 he will melt Tyron and his gas tank over the course of a 25-minute fight and I fully expect him to. 
The best part about anchoring this parlay with Colby is that if you happen to get cold feet and want to lock up a win you can hedge out quite easily by betting on Tyron Woodley at a huge underdog price on fight night.