Darren Stewart vs Eryk Anders Pick: UFC Vegas 21 Predictions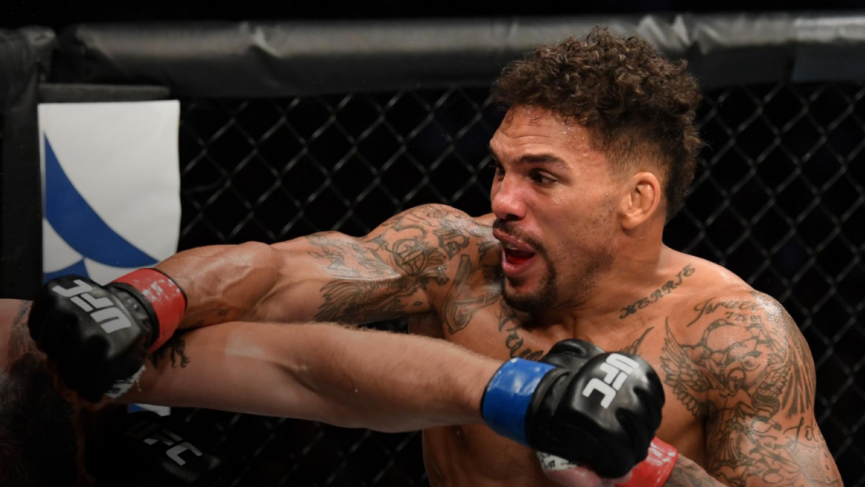 Darren Stewart vs Eryk Anders Pick – UFC Vegas 21 Predictions: We talked last week about how the underdogs have been ruling 2021. I didn't think there would be much success for the dogs at UFC 259 besides a select few, but boy was I wrong. The underdogs of the UFC are rolling in strong, and we need to take advantage while we can.
To learn how I find my underdogs in more detail, check out the full article here: Betting UFC Underdog Trends
The Fighters: Stewart vs Anders
Darren "The Dentist" Stewart is an absolute brick of a man. They call him "The Dentist" because he tends to knock out teeth when he lands. Stewart has been on a bit of a roller coaster in the UFC with a recent fight against Kevin Holland, where he impressed in a big way. Stewart was counted out against Holland, and he lost a very close split decision where he was able to take down and control Holland. Stewart could be 4-1 in his last 5 with a big win, but rather finds himself 3-2 and needs to prove himself again.
Similar to his opponent, Eryk Anders has been on a bit of an up and down run in the UFC. Anders brings freak athleticism and a big body into the UFC, making him perfect for a combat sport. The issue is Anders seems to have become a bit content with his position. In his evolution, a lack of urgency has found Anders in a bit of a gatekeeper role in the UFC's stacked and dangerous 185-pound division.
The Match-Up: Stewart vs Anders
Fight IQ
Anders is a fighter who sticks to the game plan. While his game may be limited, it is effective, and he doesn't stray far from it. Sometimes there is something to be said for a meat and potatoes approach to a fistfight. If you do what you do well and it works, you do not need to throw spinning heel kicks. 
Chin
Eryk Anders has only been finished one time in his entire career, and that was against Thiago Santos. A big name with enormous power was the first man in the UFC who could out-body Anders to the point he took a shot he could not handle. Anders has faced the likes of Lyoto Machida, Khalil Roundtree, Gerald Meerschaert, and Krzysztof Jotko without concern. 
No Quit
Anders is a fighter who carries his power and will to win deep into his fights. Against Tim Williams, Anders found an opening to attack at the 4:42 mark in the 3rd round and scored a late knockout. 
Power
Anders has 8 of his 13 wins by way of knockout. As we mentioned before, the former Alabama football player is an athletic beast, leading to his having explosive power in the cage. Anders is more than capable of finishing a fight at 185 against almost anybody, and that's exactly the kind of power we like to lean on. 
The Verdict: 
Some of you may be scratching your heads. I have been on record talking about how overrated Eryk Anders is and talking about his unwillingness to evolve. Anders has been a fighter who we have been given an excellent price to fade and have done so with great effect, but now the tables have turned. The stock on Eryk Anders could not be lower right now, and that helps us out. 
On the flips side, Darren Stewart's stock could not be higher, which helps us out. Let's take a look at the run Stewart has had in the UFC. Going back to 2018, when Stewart saved his roster spot after a three-fight skid Darren Stewart defeated Eric Spicely. Eric Spicely has been cut from the UFC not once but twice and is now on a two-fight skid on the regional scene. Stewart knocked out Charles Byrd next, an opponent who has a legendary bad chin and is also cut from the organization. After a loss to Edmen Shahbazyan, which at the time didn't look bad, Stewart defeated Bevon Lewis and Deron Winn. Two busted prospects who are struggling to stay off the chopping block and with one more loss will likely get their walking papers. After getting a back-to-back run, Stewart was out grappled by Bartosz Fabinski, a 170 fighter who moved up to save their last fight before the COVID shut down, for a decision loss. Stewart bounced back against Marki Pitolo, who is too small for 185 and would likely be cut if he wasn't so entertaining to watch in the cage. Then Stewart got his big moment against Kevin Holland and flipped the script. Stewart has always complained about his opponents refusing to stand and trade with him. He himself turned into the wrestler that night and surprised Holland, making the fight much closer than anybody expected. 
Here's the thing about that split. Holland is an exceptional talent, but his fight IQ is bottom of the barrel. This man comes to the cage to fight, and he doesn't care what you do; he will just take what you give him and beat you there. That makes him extremely exciting to watch, but you can't trust him, and when he was taken down by a man he expected to play on the feet with, he didn't have a plan B. On top of that, Holland is more than willing to play off his back, and with those big long skinny legs, he doesn't put up much of a fight when it comes to his takedown defense. 
Darren Stewart vs Eryk Anders Pick:
UFC Vegas 21 Underdog Best Bet – Eryk Anders +150 (UFC Odds via Bet365): Eryk Anders is not a fighter who is easy to take down. After his 10 UFC fights, Anders has an 80% takedown defense rating. Anders is going to be bigger than Stewart and will have a slight reach advantage. Eryk Anders was supposed to be a big star and was thrown into the deep end in the UFC, and because of that has a massive experience edge. Anders has fought former champions and championship contenders, while Stewart has fought the barrel's literal bottom in the 185 division. My biggest issue with Eryk Anders is that he has refused to evolve his game, and now he finally has made a move. Eryk Anders has moved to Fight Ready, which is the team that brought you none other than the CCC himself. UFC 'champ champ' Henry Cejudo and his team have been working with Eryk Anders for this camp, and they are well known for putting together great game plans and taking fighters physically to a new level. That's all I needed. This is a step down for Eryk Anders in the competition area, and he will be better prepared than ever before. At worst, this is a 50/50 fight, and for maybe the first time ever, Eryk Anders finds himself as an underdog when I feel he could hold a position as a slight favorite instead.