Danilo Marques vs Khadis Ibragimov Pick – UFC 253 Undercard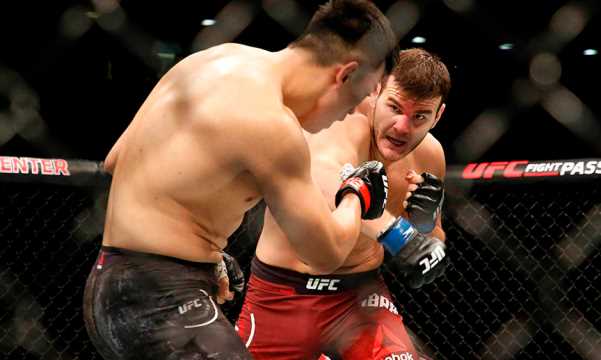 Odds.com's Danilo Marques vs Khadis Ibragimov Pick – UFC253: Undercard Preview: 
| | | |
| --- | --- | --- |
| UFC 253 | Danilo Marques | Khadis Ibragimov |
| Best Odds | +145 | -152 |
| Total Rounds | Over 2.5 (+116) | Under 2.5 (-120) |
| Where/When | Fight Island, Abu-Dhabi | Saturday, 26th September |
UFC 253 is a great card with lots of betting opportunities in my opinion. More so than betting opportunities I believe it's a card full of live underdogs! I believe the lines are too wide for the most part on this entire card and I am expecting several big upsets. Kicking off the night at UFC 253 I am hoping to get it started right. 
Tale of the Tape
| | | |
| --- | --- | --- |
| UFC 253 Match Up | Khadis Ibragimov | Danilo Marques |
| Age | 25 years old | 34 years old |
| Height | 5'10 | 6'6 |
| Reach | 78' | N/A |
| Wins by Method |  3 Wins by Submission | 4 Wins by T/KO |
| Finish Rate | 66% | 88% |
| Win/Loss | 8-3 | 9-2 |
The Fighters:
Khadis Ibragimov is one of the best fades in the UFC you will ever find. Khadis came to the UFC undefeated and since then has gone on a 0-3 run with 2 of the 3 by way of finish. Khadis has been choked out, knocked out, and beaten to a pulp over the course of 15 minutes by a near retirement vet. Now that we are returning to fight Island I am honestly flabbergasted to see that he is even still on the roster. I did not expect Khadis to still have a job after his last fight. 
UFC newcomer Danilo Marques is a Brazilian jiu-jitsu brown belt who trains with legends like Shogun, Demian Maia, and Fabricio Werdum. The thing that stands out about Danilo is just how big this man is. There are 205ers and then there are guys that look like they could be at home at heavyweight and Danilo is one of them. This man hits hard and is a very skilled fighter on the mat. It may have taken him some time to get to the UFC but he is surrounded by legendary fighters who know the territory and he should be more than prepared to make the jump. 
The Match-Up:
There are a lot of questions surrounding UFC newcomer Danilo Marques. Marques has been KOd once and lost a decision once. On top of that Danilo has not fought professionally since 2018. These are red flags and generally speaking I would not trust a fighter like this with my money, BUT I am going to take what might possibly be my last chance to fade Khadis. 
Khadis has not fought a very high level of competition and he has been essentially smoked by them in the UFC. Not only that but we are seeing him make a quick turn around. It was just 2 months ago that Khadis Ibragimov was used to springboard the UFC career of Roman Dolidze and suffered the first KO loss of his career and it was a bad one. I always like to see fighters take time off after getting knocked out, but he is doing just the opposite of that and is jumping straight back into the fire. Marques may not be a natural striker, but he is a big man who hits hard and I am not 100% certain that Khadis has made a full recovery. 
Danilo Marques vs Khadis Ibragimov Pick:
What we see time and time again from Khadis is that he gasses. This man is only capable of fighting for about 6 minutes before he runs out of steam and he looks to bully and grind his opponents against the fence. I don't see how this style will work against a natural grappler who is the much bigger man. I fully expect Khadis to do what he always does and stick his neck out to be snatched. So far he has only been made to pay for it once, but Marques is exactly the kind of fighter who will accept that invitation and put the struggling young fighter to sleep. 
The Pick: Danilo Marques (+137) via WilliamHill