UFC 253: Main Event Best Bets – Adesanya vs Costa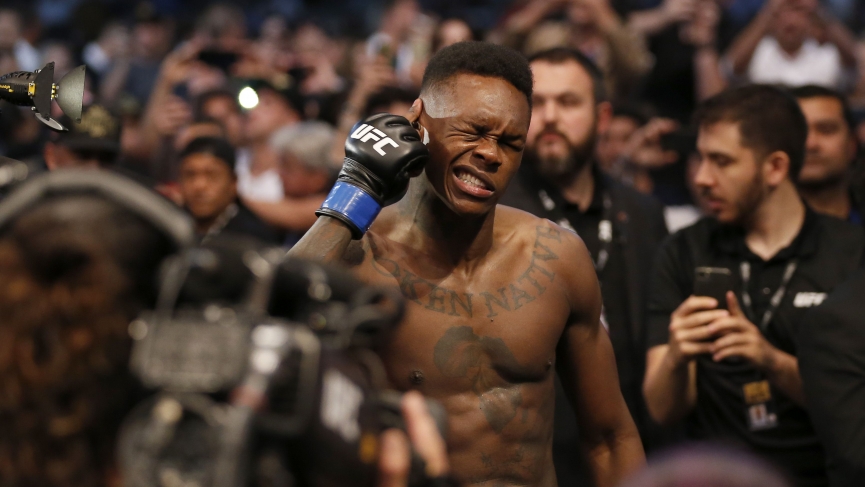 Odds.com's Israel Adesanya vs Paulo Costa Pick – UFC 253: Israel Adesanya is one of the most intelligent strikers in modern MMA. He faces the undefeated Brazillian Paulo 'Borrachinha' Costa for the UFC Middleweight Championship on Saturday in Abu Dhabi for UFC 253.
| | | |
| --- | --- | --- |
| UFC 253 | Israel Adesanya | Paulo Costa |
| Best Odds | -175 | +150 |
| Total Rounds | Over 2.5 (-125) | Under 2.5 (+107) |
| Where/When | Fight Island, Abu-Dhabi | Saturday, 26th September |
I have been waiting for this fight for so long. Israel Adesanya has quickly become one of my favorite fighters and he has always been hounded by fellow undefeated fighter Paulo Costa. Costa has simply been one step behind in his career and has been calling for Israel every step of the way. It is rare that an MMA fighter remains undefeated and we have an extremely exciting situation where the best two fighters in the 185-pound division have never tasted defeat. Somebody is going to walk away the loser on Saturday, and to raise the stakes even further there is a belt on the line.
| | | |
| --- | --- | --- |
| UFC Match Up | Israel Adesanya | Paulo Costa |
| Age | 31 years old | 29 years old |
| Height | 6'4 | 6'1 |
| Reach | 80' | 72' |
| Wins by Method |  14 by T/KO | 11 by T/KO |
| Finish Rate | 74% | 93% |
| Win/Loss | 19-0 | 13-0 |
Israel is a striker who has an extensive kickboxing background and brings that full-throttle into the UFC's Octagon. Since starting his career Izzy has done nothing but school MMA fighters on the feet and put men to sleep. Israel generally enjoys a height and reach advantage over his opponents and when combined with his athleticism and movement he is able to dominate on the feet. You would expect that the struggle for a fighter built like Israel would be the ground game, but the coaching staff at City Kickboxing has him more than prepared. Izzy has a 86% takedown defense rating and forces his opponents to stand with him which usually will lead to their demise. 

Paulo Costa is a wrecking machine. They call him The Eraser and the name is quite fitting. The power that this man possesses is truly unreal and he seems like Yoel Romero 2.0 and he is just now coming into his prime. I questioned Paulo because his path in the UFC has been rather light. Costa TKO'd Oluwale Bamgbose who is now a 6-4 fighter who may no longer have a job and hasn't fought since 2017. Then Paulo faced the shell of Johny Hendricks and they looked 2 weight classes apart. Paulo did KO Uriah Hall, but we have seen Hall be clipped before. The fight that opened my eyes was when he faced former title challenger Yoel Romero and went toe to toe with him for a full 15 minutes. Every single question you could ask about Costa was answered in one single fight. Paulo set a personal record for output landing 118 significant strikes per minute, dug deep and survived power shots from one of the hardest hitters in the division, and he overcame a veteran who has a claim to the title.
The Matchup:
This fight is insanely hard to predict. Let me start by saying that if you are a value hunter and you simply wish to get the best line, then your choice is easy. Bet Paulo Costa. 
This line opened as a near pick-em with Izzy sitting as a -135 favorite and Paulo just a +105 underdog, but money has come in on Izzy driving the line to where it sits now. I have long been a believer and supporter of Israel Adesanya and have made quite a bit of money backing him, but I really don't know what to do here. Paulo has been just as much of a money train and he is absolutely live in this fight. Paulo brings a marauding brawling style of fighting into the cage with him and he forces the engagement with his opponents. Izzy has more of a slick counter striking style that looks to exploit the openings of his foes. These two were built for one another. 
Yin and Yang: Aggression and Power vs Precision and Speed.
Israel is the taller of the two and will enjoy an 8-inch reach advantage. Paulo has a neck the size of a rhino and we have only seen him slightly stunned by Yoel Romero. We have actually seen Israel hurt and that leaves some doubt in my mind. Israel had a fight of the year war against Kelvin Gastelum back in 2019 and we have seen that fight has done irreparable damage to KG. Israel was hurt badly in that fight and even though it was prior to his UFC career Israel was knocked out in his kickboxing career years ago. Another piece of the puzzle is that we are back in the full-sized UFC cage since we are departing the UFC Apex. This will allow much more room for Israel to stick and move.
Israel Adesanya vs Paulo Costa Pick:
I honestly expect these fighters to respect one another more than they are leading on. When you have 2 strikers who are both capable of ending the fight on a moment's notice you tend to end up with a longer feeling out process and much more defensive strategies. Rather than picking a side in this fight, I will look to the total. Call me crazy but, the move here is the over. Costa went to war with Yoel for a full 15 minutes and Israel did the same with Kelvin for 25. I do not doubt Israel's ability to knock out Paulo Costa, but I do believe that he will prove to be more durable than expected. Similarly, we have seen the kind of punishment Israel is capable of taking. Paulo may hit harder than Kelvin, but he will have a much more difficult time getting to the target since he is much bigger and slower than Kelvin was. I will go ahead and say that this fight makes it to the championship rounds. This line is not available yet at all outlets, but the books that do have it available have the over 2.5 set at -125 and that's the way I will look.
The best price on the Over 2.5 is at -125 via Bet365