New York Yankees vs Cleveland Indians Series Predictions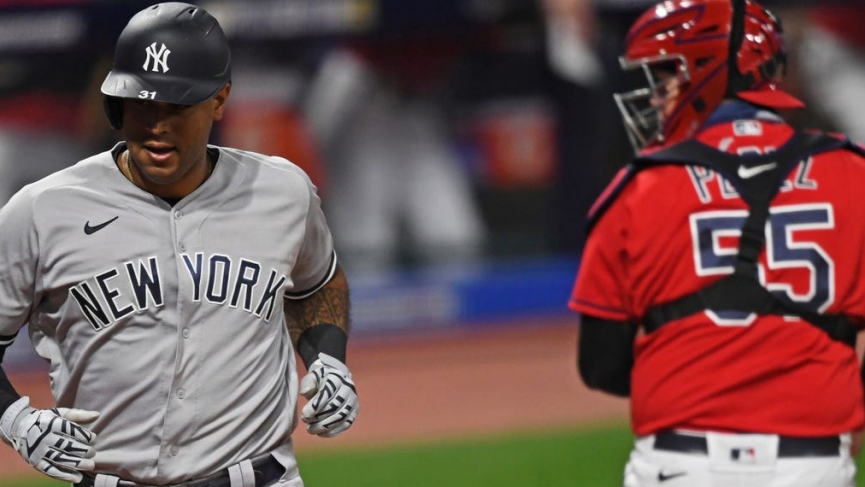 Odds.com's New York Yankees vs Cleveland Indians Series Predictions – AL Wild Card: Cleveland are the home dogs in a series which they hold home-field advantage in all three games. The Yankees had a .400 record on the road this season, going 12-18. While the Tribe were barely profitable at home going 18-12 for +0.17u. Can Beleiveland pull off the upset over the Evil Empire Yankees?

| | | |
| --- | --- | --- |
| (NYY Wins Series 2-0) | New York Yankees  | Cleveland Indians |
| Series Odds | -425 | +325 |
| Game 2 Odds | -125 | +115 |
| Where/When | Progressive Field | Sept. 30, 7:08 PM EST |
First-Ever Best-Of-Three Wildcard Series
New York and Cleveland are playing in the first-ever best-of-three Wildcard series. All three games are being played in Cleveland. Both teams finished second in their respective divisions, as the Yankees were 33-27 and Cleveland were 33-25. The winner of this series will play the winner of Tampa/Toronto, the best of five ALDS which starts on October 5th. After this opening series, all subsequent series will be played in a 'bubble format' at either Los Angeles or San Diego.
How They Got Here
This is interestingly the first time these clubs have faced off this season. The unique 60-game season kept clubs in divisional pods that saw them play nine opponents all year.
New York started the year 16-6 and it showed flashes of its potential, but injury de-railed its AL East division hopes, at one point going 5-15 and then ending the season on a 2-6 run (Tampa Bay dominated the Yankees this year by going 8-2 in the season series.)
Cleveland got hot near the end of the season and it took advantage of the White Sox late collapse to earn the No. 4 seed in the American League. The Indians swept a crucial four-game series over the White Sox last week and then went 2-1 in its final series vs. the Pirates to finish with an identical record as their division foe. Minnesota won the AL Central, but the Indians earned the No. 2 spot after winning the tie-breaker with Chicago. As mentioned above, the Indians were great down the stretch of the regular season, finishing 9-2.
The Pitching Match-ups
Game 2 will see Carlos Carrasco (3-4, 2.91) of Cleveland start the opposite of Masahiro Tanaka (3-3, 3.56) of New York. If Game 3 is needed, it will feature likely JA Happ (2-2, 3.47) for the Yanks and Zach Plesac (4-2, 2.28) of the Indians.
Important Stats
Home field advantage was big for the Yankees this year, as they were 21-9 in The Big Apple and only 12-18 on the road. New York was just 8-9 in day games and 25-18 in night games. Overall the Yankees averaged 5.25 runs per game, which was ranked fourth, while they posted a 4.25 ERA, which was ranked 14th.
Home field advantage was also significant for Cleveland, which was 18-12 in friendly confines (finished 17-13 on the road.) Cleveland was 8-4 in day games and 27-21 in night contests. Overall the Indians averaged 4.13 RPG, which ranked 25th, while posting a combined 3.29 ERA, which ranked second.
New York Yankees vs Cleveland Indians Series Predictions
This series features plenty of talent. When I look at teams coming into the playoffs though (in every sport), recent form plays a major factor in my decision-making process. For the most part, this series comes down to New York's heavily-weighted right-handed slugging versus Cleveland's three red-hot right-handed starters. New York hit an American League-leading 94 home runs, but Cleveland allowed the second-lowest amount of dingers in all of MLB with just 66. The Indians also have the best ERA+ and FIP (fielding independent pitching) in the league.
Luke Voit (22 homers) and DJ LaMaheiu (hit .364) filled the void left by Aaron Judge, Gleyber Torres, and Giancarlo Stanton (all of who are back in the line-up) for the Yankees this year, but the Indians feature plenty of power as well.
Cleveland third baseman Jose Ramirez led all AL position players in WAR (FanGraphs) after a red hot September which saw him hit .354 with ten home runs and a 1.262 OPS. Stanton, Torres, and Judge are three incredible talents, but I think it's asking a lot of them to immediately come in and make an impact after so much time off due to injury.
Recent form is a big reason why I like Cleveland in this series. They also feature the superior starting pitching in my opinion. The Yankees have been much better at home this year as well. Add those three key factors together and I expect Cleveland to advance to face either Toronto or Tampa Bay in the next round.
The odds on Cleveland to Win the Series are currently at +325 (via Bet365)