Houston Astros vs Tampa Bay Rays Series Prediction ALCS: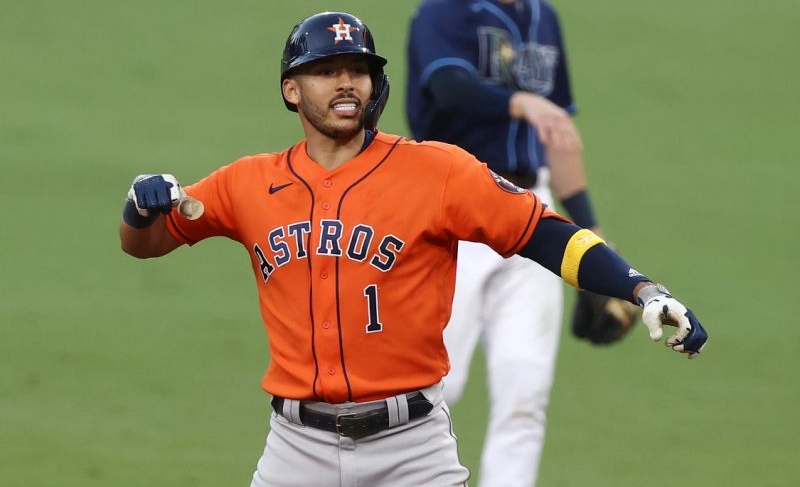 Odds.com's Houston Astros vs Tampa Bay Rays Series Prediction ALCS: The Houston Astros have sparked a comeback rally for the ages against the Rays in the ALCS. Houston has a chance to make history, becoming just the second team to come back from being down 0-3 to win a 7 game series.

| | | |
| --- | --- | --- |
| Series Tied 3-3 | Houston Astros | Tampa Bay Rays |
| Series Odds | +105 | -108 |
| Game 7 Odds | +105 | -108 |
| Game 7 Total | Over 8 (-102) | Under 8 (+102) |
| Where/When | Petco Park | Oct 17th, 8:37 PM EST |
Astros Advance To Fourth Straight ALCS
We're into the League Championship Series, which means that the Houston Astros and Tampa Bay Rays will play seven games to decide the American League's best.
Houston lost the services of ace Justin Verlander at the end of the regular season and the odds were against them to advance, but the Astros have gotten tremendous production at the plate and they're now on the verge of heading back to the World Series.
Tampa was No. 1 in the American League and it's advanced to the ALCS for just the second time in franchise history. The Rays have a deep hitting lineup and a talented pitching staff. Can Tampa get over the hump and punch its ticket to the World Series, or is a letdown in the cards here after beating the Yankees?
Tampa Bay Rays – Playoff Betting Trends
| | | |
| --- | --- | --- |
| Tampa Bay – Post Season | Record | Profit (Units) |
| MoneyLine | 8-5 | +2.03u |
| Under | 8-5 | +2.38u |
| 1st 5 Innings ML | 6-6-1 | -1.26u |
| 1st 5 Innings Under | 6-6-1 | -0.59u |
| 1st Inning Run: Yes | 7-6 | +0.69u |
| Run Line (-1.5) | 6-7 | +2.01u |
Houston Astros – Playoff Betting Trends
| | | |
| --- | --- | --- |
| Houston – Post Season | Record | Profit (Units) |
| MoneyLine | 8-4 | +3.92u |
| Under | 7-5 | +1.62 |
| 1st 5 Innings ML | 7-4-1 | +2.87u |
| 1st 5 Innings Over | 7-4-1 | +1.7 |
| 1st Inning Run: Yes | 6-6 | -0.67u |
| Run Line (-1.5) | 6-6 | +5.2u |
Trends Updated October 17th, 5:25 AM
How They Got Here
The Astros mashed their way into the ALCS, scoring 33 runs and hitting 12 home-runs in their four-game series win over the Athletics. Carlos Correa, instrumental in his team's World Series runs over the last few years, but who struggled throughout the regular season with consistency at the plate, has led the way offensively now that the playoffs are here with four homers, 12 RBIs, a .500 average and 1.715 OPS through six games. Houston has taken advantage of the expanded playoff format, as it was included in the mix despite finishing the regular season with a 29-31 record.
How has Tampa made it this far? The answer is simple. Great pitching. Great starting pitching and solid bullpen support as well. Brandon Lowe is a standout on offense, but overall the Rays lineup finished 12th in the Majors with 289 runs scored, while also producing a team OPS of .753.
The Pitching Matchups
Framber Valdez was 5-3 with a 3.57 ERA for the Astros during the regular season, but he's been even better in the playoffs so far,  posting a five-inning shutdown relief appearance against Minnesota, and a Game 1 victory over the A's. In total Valdez has conceded two runs and seven hits over 12 innings in the postseason. Zack Greinke, Lance McCullers, and Jose Urquidy round out the rotation. These four starters are solid, but there are plenty of question marks in the bullpen.
The Rays feature three "ace-like" starters in Tyler Glasnow, Charlie Morton, and Blake Snell. Ryan Yarbrough is the No. 4, while Rookie Josh Fleming was 5-0 with a 2.78 ERA in the regular season and could see action as well if needed. They're complemented by a strong bullpen and this entire group will have to be sharp to advance, as the Astros had the lowest strikeout rate in the majors.
Why The Rays Offer Great Value To Advance
Tampa was 40-20 in the regular season and its depth across its line-up, combined with its talented pitching staff is the reason why the Rays will advance to the World Series as the American League's representative. Depth in your line-up and pitching staff is crucial at this time of year, especially in a seven-game series with no days off.
Tampa can hit home runs, but it's equally adept at playing small-ball. Slugger Lowe was one of the best hitters in the regular season, finishing with a .269/.362/.554 line along with 14 homers. Randy Arozarena came over to Tampa from St. Louis in the offseason and while he didn't start playing until August 30th, the Cuban-born player has excelled since, hitting seven home runs in 59 at-bats, including an additional three more long-balls in the series win over the Yankees.
The Rays have an entire army of right-handed pitchers to go after the Astros primarily right-handed slugging line-up as well (note that right-handed batters hit .197 off Glasnow, .114 against Nick Anderson, .159 against Diego Castillo, .208 against Aaron Slegers, .224 against Pete Fairbanks, and .252 against John Curtiss.)
Additionally, Tampa can employ its right-handed lineup to face Valdez or its left-handed line-up against Houston's righty starters.
Houston Astros vs Tampa Bay Rays Series Prediction
Yes, Houston's bats have woken up in the playoffs (especially in the win over the A's), but note that the Astros offense finished 14th in the regular season with 279 runs scored (the pitching staff had MLB's 13th-best ERA at 4.31.)
Houston manager Dusty Baker won't be able to use his starters in relief the same way he did over the first two rounds, so this is another major advantage working in favor of Tampa.
The Astros have done better than expected, but their redemption tour comes to an end in this series. Tampa has a stronger starting rotation, bullpen, and closers. The Rays also have a deeper hitting lineup. Our pick to advance to the World Series is on the Tampa Bay Rays.
The odds on the Rays to Win the Series is currently at -20,000 (via Bet365)