William Knight vs Aleksa Camur Pick for UFC 253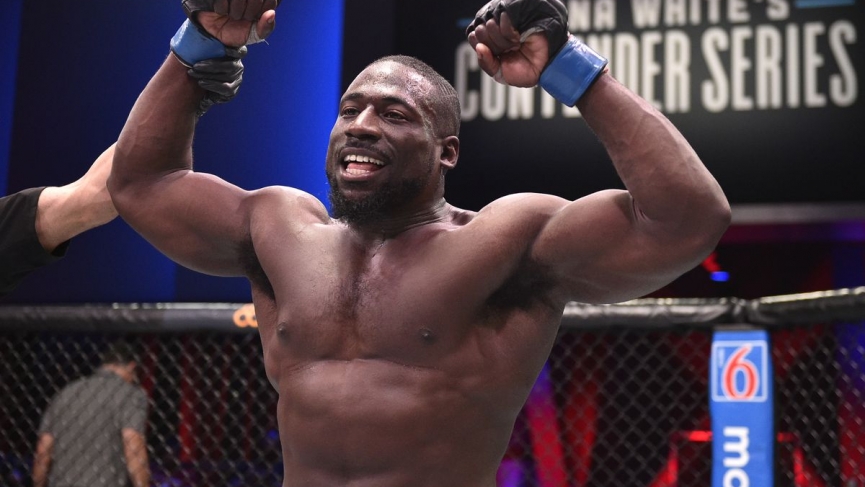 Odds.com's William Knight vs Aleksa Camur Pick for UFC 253: It's a battle of two contender series graduates as the undefeated prospect Aleksa Camur (6-0) takes on William Knight (8-1) in a light-heavyweight tilt at UFC 253.
| | | |
| --- | --- | --- |
| UFC 253 | William Knight | Aleksa Camur |
| Best Odds | -175 | +138 |
| Total Rounds | Over 1.5 (-117) | Under 1.5 (+100) |
| Where/When | Fight Island, Abu-Dhabi | Saturday, 26th September |
It's finally happening. We are headed back to Fight Island for UFC 253! The UFC has been on an outrageous run of incredible fights and great matchmaking and it's not slowing down. Hopefully, all of our COVID concerns will fall to the wayside now that we are headed back to Abu Dhabi. This week we are starting things big, by shaking it up and talking underdogs first! 
Tale of the Tape
| | | |
| --- | --- | --- |
| UFC 253 Match Up | William Knight | Aleksa Camur |
| Age | 32 years old | 24 years old |
| Height | 5'10 | 6'1 |
| Reach | 73' | 74' |
| Wins by Method |  8 by T/KO | 5 by T/KO |
| Finish Rate | 100% | 83% |
| Win/Loss | 8-1 | 6-0 |
The Fighters:
William Knight is a name that you may know from Dana White's Contender Series. Knight was a 2-time contestant on the series and was given a developmental contract allowing him to compete and grow before finally earning his entry to the UFC just a few weeks ago. Simply put William Knight is a monster. He has 1 professional loss and sports a 100% knockout rate. 
Aleksa Camur is a flashy new addition to the UFC's 205-pound division. Camur is a KO artist in his own right and uses spinning techniques and incredibly flexible kicks. Undefeated in 6 professional MMA fights Camur is a fresh face in the UFC with only 1 fight under his belt. Camur has a bright future in MMA and has a fan-friendly style that should take him far.
The UFC 253 Underdog Criteria:
Fight IQ
William Knight seems to have the goods. Granted he is extremely young and this will be his UFC debut, but from what we have seen he knows how to pace himself and stay safe. We have yet to see Knight make many "low IQ choices" or get out of his comfort zone in the cage. For a young fighter Knight has done everything we could ask him to, so I will call this one a win. 
Chin
Knight has already tasted defeat. In the sport of MMA, it is difficult for a fighter to remain undefeated because of the number of skills you have to master in such a short amount of time. Knights 1 loss did come by way of KO which is not overly comforting, but that KO loss appears to have come from a fellow rising monster at 205. Tafon Nchukwi is an undefeated 4-0 beast with a Contender Series win under his belt and also sports a 100% KO rate. We can take this one with a grain of salt because I have a feeling we will be seeing more of Tafon and I have a feeling that the KO streak is going to continue. It's hard to fault Knight when he was on the wrong side of a brawl between power strikers. 
No Quit
Heart! You have to have heart to qualify as a live dog based on my criteria and I absolutely feel that Knight fills this must-have in my model. Knight might be a KO artist, but he has had several fight get to the second and third rounds. He has had to face adversity and take the best shots his opponent has to offer. Knight has kept himself safe and bounced back every time finding a way to win even when things were not looking good. This kid doesn't quit and he is dangerous until the final bell. 
Power
Following up on my previous point many of the main ingredients apply here as well. Knight carries his power late and has not one, but two 3rd round knock out wins. Sporting a 100% knockout rate we should expect nothing but power shots from Knight since that's what he does best.
William Knight vs Aleksa Camur Pick for UFC 253
We have a live dog on our hands. This fight is lined incorrectly in my opinion. I feel that this fight is 50/50 and should be a pick 'em and that leaves us value on William Knight at +150. I can understand the line being where it is with Knight making his first-ever UFC appearance and being a bit raw, but we need to look at his opponent too. Camur has less experience than Knight does even though he is the fighter with a UFC fight already behind him. Camur is flashy, but he has yet to reign in his striking and he is extremely hittable. That's the one thing that you cannot be against a fighter like Knight. 
Camur fought Justin Ledet back in January and looked pretty good, but we saw repeatedly that he throws wild attacks in search of that knockout. Justin Ledet is always durable and was able to take everything the young fighter had to offer and keep coming. This visibly frustrated Camur who had never been unable to finish an opponent before. Camur was hit clean repeatedly by Ledet, but Ledet is not a power puncher. Both of these fighters are young and should be improving rapidly, but Knight has that kind of power you are born with and cannot teach. I don't believe that Camur will KO fighters in the UFC the way he did on the regional scene and his path to victory here is a decision. Camur will be playing with fire for a full 15 minutes and I like our chances. I fully expect that if those same shots land on Saturday that Knight will be able to put Camur down. 
The Pick: William Knight (+138) via WilliamHill