Top 3 UFC Parlay Picks for Fight Night 172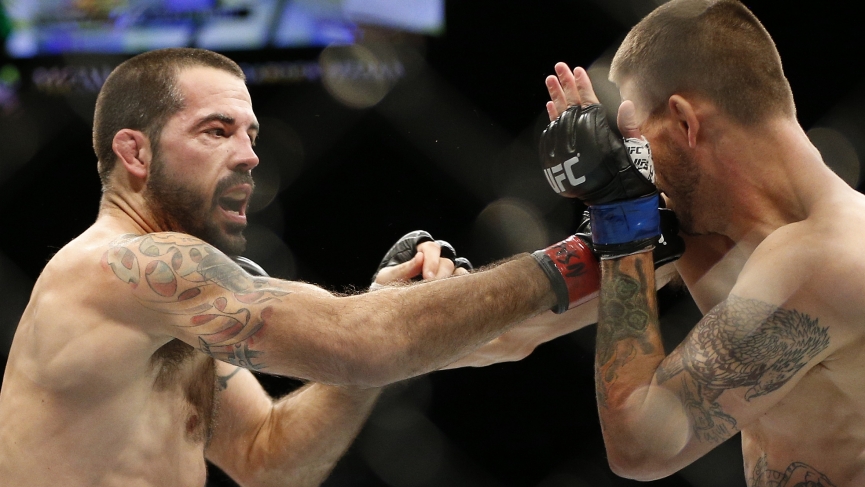 After the crazy action from UFC Jacksonville's Wednesday card, Saturday's UFC Fight Night 172 has a lot to live up to and we are going to go ahead and roll the dice here. Generally when doing parlays I like to include just 2 legs. My thoughts on parlays are low-risk low reward and I play them when I want the sportsbooks to bring the price down on a favorite I like in the event I feel the line is a bit too wide.
This week however we are going to take a bit of a shot! There are 3 decent sized favorites that I want to bet, but I don't want to lay the amount of wood that it would take so we are going to tie them all together and pray!
Mike David vs Giga Chikadze: The basics
Giga Chikadze is a kickboxing specialist with 2 world titles and racked up 38 wins prior to making the transition to MMA. Since he arrived in the UFC he has been seen as a prospect and standing with this man is a dangerous proposition. He is fast and has excellent range management with lightning-quick punches and heavy body kicks. Mike Davis is a high school wrestling standout who immediately transitioned to MMA. He has ran into 2 HUGE names from the UFC that have ruined an otherwise spotless record and I think there is some serious upside to this kid.
Mike Davis (-200)
Mike "Beast Boy" Davis is a physical monster. He had the unfortunate experience of running into standout Sodiq Yusuff on Dana White's Contender Series but managed to survive a gritty hard fought 3 round battle and lost a decision. Since that fight Sodiq has gone on to be extremely impressive in the UFC so Mike gets some credit for standing toe to toe with that monster and not going down.
| | |
| --- | --- |
| Age | 27 years old |
| Height | 6'0 |
| Reach | 72' |
| Wins by KO/TKO | 7 |
| Win/Loss | 8 – 2 |
| Finish Rate | 100% |
Once Mike made it to the UFC he was thrown to the wolves and had to fight one of the hottest streaking fighters right now in Gilbert Burns. Gilbert might find his way into a title shot very soon so there is no shame in being submitted by a BJJ black belt and top contender in your first time under the bright lights. In his 2nd UFC fight Mike bounced back with an impressive late KO finish of Thomas Gifford.
Giga Chikadze (+170)
| | |
| --- | --- |
| Age | 38 years old |
| Height | 6'5 |
| Reach | 77' |
| Wins by KO/TKO | 13 |
| Win/Loss | 13-7 |
| Finish Rate | 100% |
As previously stated Giga is an excellent striker. The issue is that he gasses hard if you press him and make him grapple. Giga is 2-0 so far in the UFC but honestly he should be 1-1. His last fight against Jamall Emmers was a hairy back and forth affair and I scored it for Jamall. His first fight in the UFC against Brandon Davis was extremely close as well. Even though Giga's record shows 2-0 he won both fights via split decision, there is a very real possibility he could be 0-2 in the UFC instead against an unimpressive level of competition.
Mike David vs Giga Chikadze: The matchup
I am unimpressed with Giga so far his UFC career and it doesn't seem like he is able to handle a well rounded MMA fight. Mike can hang on the feet with Giga as long as he needs to and may even pack a bigger punch, but his key is the grappling. If he can wrestle with Gige and make him tired he will be easy picking late in the fight and Mike doesn't stop. I like the Beast Boy here for our first leg!
UFC Parley Pick Leg 1: Mike "Beast Boy" Davis
Matt Brown vs Miguel Baeza: The basics
Matt "The Immortal" Brown has been a UFC staple for a long time and is an incredibly dangerous fighter but his career is winding down. He has already retired once but seems rejuvenated after a successful comeback in 2019. Miguel is a hot young prospect coming from the Contender Series with a shiny undefeated record and a vicious striking game. This seems to be billed as a "changing of the guard" kind of fight.
Matt Brown (+170)
| | |
| --- | --- |
| Age | 39 years old |
| Height | 6'0 |
| Reach | 75' |
| Wins by KO/TKO | 14 |
| Win/Loss | 22 – 16 |
| Finish Rate | 91% |
I cannot disrespect the work of Matt Brown. This man has been facing a high level of UFC competition for a very long time and just never quite got to the top. At the end of his run his body just appeared to have taken too much damage for him to continue his MMA career. He has strong wrestling, good submissions, and is a viciously powerful striker on the feet but he is weak to the body. Matt claims the time off has healed his body, but we will test that theory Saturday.
Miguel Baeza (-200)
| | |
| --- | --- |
| Age | 27 years old |
| Height | 6'2 |
| Reach | 74' |
| Wins by KO/TKO | 7 |
| Win/Loss | 8-0 |
| Finish Rate | 75% |
"Caramel Thunder" Miguel Baeza is one of the prospects coming off the Contender Series that I have had my eye on. This kid is slick on his feet. He manages range extremely well and rips off kicks extremely hard and fast. He mixes his targets up from the legs to the body to the head and it's hard to tell where he will attack next! In his first UFC fight he TKOd Hector Aldana with low calf kicks, forcing his opponent to quit from that one weapon.
Matt Brown vs Miguel Baeza: The matchup
This seems like a complete setup. Miguel is the side the UFC is looking to push. Matt's last 2 wins have come from Ultimate Fighter alumni who are just as broken as he is in Diego Sanchez and Ben Saunders which doesn't impress me at all. Matt's weakness is the body and Miguel's specialty is body kicks. This isn't a fight. It's a sacrifice. Remember when Donald Cerrone KO'd Matt Brown? He hurt him with body kicks and when Matt dropped his hands to protect his ribs he went high with a head kick. I wouldn't be shocked if Miguel tries to recreate that highlight.
UFC Parlay Pick Leg 2: Miguel "Caramel Thunder" Baeza
Song Yadong vs Marlon Vera: The basics
This is possibly the riskiest of the 3 legs just due to how volatile this fight will be. Both fighters are finishers and while we are riding the favorite here I have been a backer of Vera on multiple occasions. Song is a hot prospect out of Team Alphamale and seems to have everything going for him and all the skills of a contender at an extremely young age. Vera is a finisher who walks into battle hoping to finish his opponent before he gets cracked and so far has been able to do just that. This is going to be a banger.
Song Yadong (-189)
| | |
| --- | --- |
| Age | 22 years old |
| Height | 5'8 |
| Reach | 67' |
| Wins by KO/TKO | 6 |
| Win/Loss | 15-4 |
| Finish Rate | 60% |
Song "Kung Fu Monkey" Yadong is only 22 years old! He already has 19 fights under his belt and is 4-0-1 in his UFC career with some pretty solid names. Song is extremely well rounded with crisp accurate boxing and some serious power to back it up. He has good offensive and defensive wrestling and strong hips to defend takedowns. So far Song has a 100% takedown accuracy and averages just shy of 1 takedown per 15-minute fight, so when he decides to grapple he has excellent timing and has yet to be denied. This kid has the makings of a contender and possibly a champion someday.
Marlon Vera (+162)
| | |
| --- | --- |
| Age | 27 years old |
| Height | 5'8 |
| Reach | 70' |
| Wins by Submission | 8 |
| Win/Loss | 15-5 |
| Finish Rate | 80% |
Marlon "Chito" Vera has been VERY good to me over his last 4 fights. I have been riding the wave on this kid because he brings the fight every time out! His striking is lacking, but he makes up for it with big power. Once he has his opponents hurt he goes to work grappling where he truly shines. Vera is on a 5 fight win streak with all 5 coming by way of finish!
Song Yadong vs Marlon Vera: The matchup
Why would I step in front of a runaway freight train like Vera? Because Song has just the right set of skills. Vera needs the fight on the mat. Song is a much more polished striker and will be able to stay out of danger on the feet. When Vera attempts to get the fight to the mat Song has the grappling ability and physical strength to stop him and force him to strike. Additionally, Very has been facing names like a broken Frankie Saenz, UFC newcomer and short-notice replacement Nohelin Hernandez, and future UFC dropout Andre Ewell. He has been performing well but not against the greatest level of talent. Song however has been impressive against impressive names like Cody Stamann and Alejandro Peres. It might get scary, but I'm confident that Song will get the job done.
UFC 172 Parlay Pick: Song "Kung Fu Monkey" Yadong
| | |
| --- | --- |
| UFC Pick | Parlay +244 |
| Fighter | Mike Davis |
| Fighter | Song Yadong |
| Fighter | Miguel Baeza |