UFC Fight Island Parlay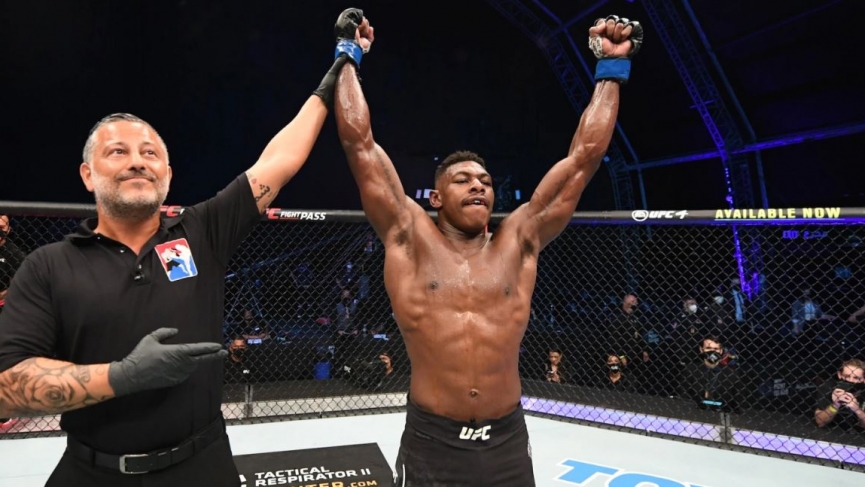 UFC Parlay Picks – Fight Island: The UFC is treating us to a Fight Week style three fights in 10 days event. We are spoiled with MMA returning in a big way, and to make up for the lost time, UFC Fight Island 8 will be on Wednesday to help hold us over until UFC 257. This week I have a two-leg parlay that is my Best Bet, and it will feature a fighter from UFC Fight Island 7 and roll into UFC Fight Island 8! 
UFC Parlay Picks
| UFC Fight | Parlay Pick | Odds |
| --- | --- | --- |
| Joaquin Buckley vs Alessio Di Chirico | Joaquin Buckley | -275 |
| Santiago Ponzinibbio vs Jingliang Li | Ricky Simon | -334 |
| UFC Fight Island Parlay: | J. Buckley, R. Simon | -130 |
Parlay Leg 1: Joaquin Buckley -275
The Fighters:
| | | |
| --- | --- | --- |
| UFC Match-Up | Alessio Di Chirico | Joaquin Buckley |
| Record | 12-5 | 12-3 |
| Finish Rate | 75% (5 Wins by T/KO) | 75% (9 Wins by T/KO) |
| Age | 31 | 26 |
| Height | 6'0 | 5'10 |
| Reach | 74′ | 76′ |
The world knows all about Joaquin Buckley now. He was an underappreciated commodity after making his short-notice debut against Fighter of the Year contender Kevin Holland, but he quickly fixed that issue. After Buckley's knockout of the year over Impa Kasanganay, there was no chance that he would be cheap in the betting market.
My concern is always that a fighter will be overvalued, and we will have to lay an excessive price, but what we have here is a UFC Middleweight who is incredibly dangerous and getting better, who the UFC wants to push up the division. Rather than Buckley getting a step up to put him on the title path, the UFC is giving him Di Chirico, who is coming off a loss and is likely fighting for his job.
Di Chirico might be better than Jordan Wright, but he is not a big step up from Impa. Alessio Di Chirico is a tough, durable, and well-rounded fighter, but he doesn't stand out anywhere. Impa will have a significant speed advantage, and we have already seen what Buckley does when he can outpace his opponent. I fully expect Joaquin Buckley to be the first person to knock Alessio Di Chirico out. 
Parlay Leg 1: Ricky Simon -334
The Fighters:
| | | |
| --- | --- | --- |
| UFC Match-Up | Ricky Simon | Gaetano Pirrello |
| Record | 16-3 | 15-5 |
| Finish Rate | 44% (9 Wins by Decision) | 93% (11 Wins by T/KO) |
| Age | 28 | 28 |
| Height | 5'6 | 5'7 |
| Reach | 69′ | N/A |
Ricky Simon is no stranger to the UFC fans. Simon is coming off a win over the ever durable Ray Borg, where he snapped a two-fight losing skid against Urijah Faber and Rob Font. Simon was initially slated to face Brian "Boom" Kelleher, but a positive COVID test forced Kelleher off the card.
The UFC is bringing in Gaetano Pirrello for his UFC debut against the veteran Simon to fill the slot, and this poor guy is in for a rough night. Pirrello is a slick striker with SERIOUS power and a reckless offensive attack. The big issue is that Pirrello is a fish out of water on the mat, and he throws knees every chance he gets.
Ricky Simon will gladly step into the fire and catch a knee or kick attempt and put Pirrello on his back. Once Simon is on top, it is tough to get back up. Simon is a grinder. Taking this fight prepared for a real UFC level challenge and knowing his game plan never changes, Simon will be on point and looking for a payday.
On the other hand, Pirrello is coming in on short notice, and who knows what kind of condition he will be in. On top of that, he will not have had a chance to prep for a grappler like Simon and will be a first-round knockout or bust. I think Simon smashes this man and rudely welcomes him to the UFC.
---
FAQ: Parlays
What is a parlay?
A parlay (also known as an accumulator, combo bet, or multi) is a bet that links two wagers and is dependent on all wagers involved winning in order for the entire bet to cash.
---