UFC Fight Night 177: Prelim Card Picks
UFC 250 absolutely delivered. We saw Amanda Nunes make history by becoming the first two-division champion to defend both belts. We saw the bantamweight elite show how exciting they can be. We saw raw emotion, upsets, big comebacks, and bigger statements. UFC Fight Night 177 is a free night of fights and we have a few spots to make some money that should help keep us entertained! It might not be the biggest card. and it might not have the best names. However, it has good betting opportunities and that's what we are looking for!
Jordan Griffin vs Darrick Minner: The Fighters
| | |
| --- | --- |
| UFC Fighter | Jordan Griffin   |
| Odds | -250 |
| Age | 30 years old |
| Height | 5'10 |
| Reach | 73' |
| Wins by Submission | 9 |
| Win/Loss | 18 – 7 |
| Finish Rate | 78% |
| | |
| --- | --- |
| UFC Fighter | Darrick Minner   |
| Odds | +200 |
| Age | 30 years old |
| Height | 5'7 |
| Reach | 69' |
| Wins by Submission | 21 |
| Win/Loss | 24-11 |
| Finish Rate | 92% |
Jordan Griffin vs Darrick Minner: The Matchup
Jordan Griffin is a fighter who struggled coming off of Dana White's Contender Series and saved his job in his last fight. He was thrown to the wolves at 145 facing Dan Ige and Chas Skelly right out the gates which started his UFC career 0-2. Griffin bounced back against TJ Brown in February, showing off that deadly ground game and reminding us why the UFC was interested in him initially. The "Native Psycho" faces Darrick Minner who is a fellow Contender Series alum trying to get his UFC career rolling as well.
Minner lost his Contender Series fight, but got the UFC call anyway but dropped his debut. This is a big spot for both fighters, but Griffin has a much higher level of experience after 3 UFC fights. Both fighters look to take it to the mat and both have slick submission games. Minner was willing to sell out for chokes and we saw him dive on Grant Dawson's neck repeatedly looking for the finish, but when it didn't come he was submitted himself. Minner has 21 submission wins on his record, but he appears to be playing with fire because 8 of his 11 losses have been by submission.
I believe that Griffin has the advantage on the feet and we know he has a great gas tank. This fight will inevitably lead to scrambles with both men able and willing to finish. However, I see Griffin getting the best of it. Minner may be a bit disrespected by this line, but I would lean to the side of Griffin coming through as a favorite. Another look on this fight be an under. If the line is favorable, I would be VERY interested due to both men being capable of ending the fight.
The Pick: Jordan Griffin (-250)
Ryan Benoit vs Tyson Nam: The Fighters
| | |
| --- | --- |
| UFC Fighter | Ryan Benoit  |
| Odds | -111 |
| Age | 30 years old |
| Height | 5'5 |
| Reach | 68' |
| Wins by KO/TKO | 8 |
| Win/Loss | 10-6 |
| Finish Rate | 90% |
| | |
| --- | --- |
| UFC Fighter | Tyson Nam   |
| Odds | -111 |
| Age | 36 years old |
| Height | 5'7 |
| Reach | 68' |
| Wins by KO/TKO | 10 |
| Win/Loss | 18-11 |
| Finish Rate | 62% |
Ryan Benoit vs Tyson Nam: The Matchup
Ryan Benoit vs Tyson Nam is a very interesting fight between 2 fighters who are struggling to gain their footing in the promotion. Ryan Benoit stormed onto the UFC scene when he stunned everybody by knocking out Sergio Pettis in 2015,and setting the bar high for himself. Unfortunately, since that fight he has alternated wins and losses in the organization against varying levels of opposition. We still aren't sure what to make of Ryan Benoit. Tyson Nam came to the UFC after a 6-1 run, and has not been able to enter the winners circle yet after losing to Sergio Pettis and Kai Kara-France in his 2 UFC bouts.
Nam is a highlight reel, always stalking forward and looking for the finish. The issue with this strategy is that he relies heavily on his power and can be out-finessed by quicker and more technical opponents. Benoit will be the slightly smaller fighter here, but he will match the reach of Tyson Nam closing that gap. Benoit is a high level muay thai fighter whose best weapons are the left hook and left body kick. He works well behind his jab and sets up his kicks with his hands. Nam has a weakness to the jab and will get outscored on the cards if he doesn't change his strategy. At 36 years old, I just don't see that happening.
The most interesting part about this fight is that both men are strong in the areas their opponents are weak. Benoit moves backwards and can get caught by right hands which is one of Nam's best weapons. Nam keeps a high guard and does not protect his long torso, and what Benoit does is work the body with power shots. If I had to pick a side I would bank on Benoit having a higher ceiling at this stage of his career, but I think this is another solid under look.
Nam could catch Benoit, and since Benoit is willing to trade he will prove the opening for it. Benoit can't be counted out here either, because he lands heavy body shots and jabs well which are both things Nam struggles with. I expect somebody to go to sleep and we will take a look at the totals later in the week.
The Pick: Under – Lines Pending
Julia Avila vs Gina Mazany: The Fighters
| | |
| --- | --- |
| UFC Fighter | Julia Avila   |
| Odds | -400 |
| Age | 32 years old |
| Height | 5'7 |
| Reach | 68' |
| Wins by KO/TKO | 3 |
| Win/Loss | 7-1 |
| Finish Rate | 57% |
| | |
| --- | --- |
| UFC Fighter | Gina Mazany   |
| Odds | +300 |
| Age | 31 years old |
| Height | 5'6 |
| Reach | 68' |
| Wins by Submission | 2 |
| Win/Loss | 6-3 |
| Finish Rate | 66% |
Julia Avila vs Gina Mazany: The Fighters: The Matchup
This is a big price for a WMMA fighter who is untested at the UFC level. Julia Avila impressed in her UFC debut against Pannie Kianzad, winning a convincing 3 round decision and hurting her opponent multiple times. The "Raging Panda" looks like the real deal and it seems like the UFC is trying to throw her a softball here. Gina Mazany is 6-3 but only 1-3 in the UFC. She was cut after a TKO loss to Macy Chiasson in March 2019, but bounced back with a regional win in January. Now she gets the call to fight on Saturday.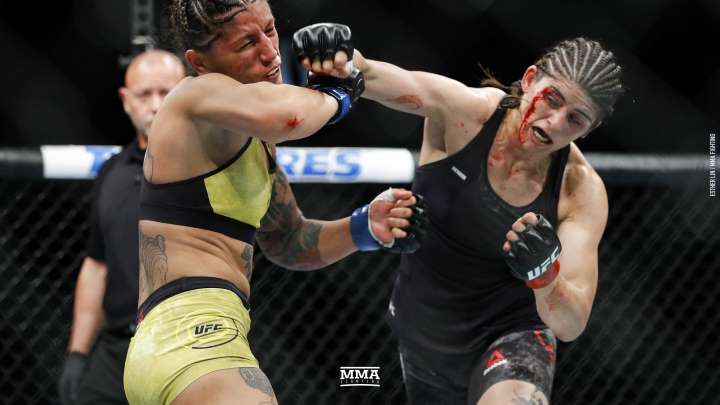 Julia is a strong muay Thai fighter with a brown belt in BJJ, making her dangerous everywhere. She has vicious elbows in close and fires big knees everywhere any time she clinches with her opponents. Julia has a stiff jab and attacks in combinations which is a higher level sign of striking with a killer instinct to boot. Gina has good in and out movement and a heavy left cross, but she is limited. Her heart is unquestionable and she is durable, but she has been finished in the UFC and was hurt badly by Lina Lansberg. Gina looks to grapple against the fence and bully her opponent. I just don't see her being able to do that here.
Julia uses her forearm to frame the face and lands big punches / elbows. If Gina gets reversed and has her own back against the cage, she struggles to get off. If the fight hits the mat Mazany is serviceable, but Avila has a stifling top game with heavy ground and pound. I believe that Mazany is outclassed everywhere and the price is justified, but it's hard to lay that kind of chalk on a lower level fight. Avila may be a parlay piece if you like to play that way, but I think there are some better spots on the card. I may look at the Avila inside the distance prop since we don't see finishes often in WMMA and she seems to have the kind of power we have seen Mazany wilt to before. If the price is right, there may be some sneaky value there.
The Pick: Julia Avila (-400)