UFC Fight Night 177 Picks | Editor's Main Card Predictions
Everyone thinks this  UFC fight card is dreadful. At this point you can walk up to a stranger on the street and they will tell you this fight card sucks. I'm not going to do that. Instead, I'll try to do what Odds.com does, and find the winners. Main card picks from the Editor's desk. Enough small talk, let's get it!
Jessica Eye (15-7) vs Cynthia Calvillo (8-1-1)
I have gone back and forth on this fight all week long. I actually wrote a main event breakdown for another publication before the weight cut and picked Jessica Eye. I have never flipped a pick after it's in print, but I have to do it here. Jessica Eye looked dreadful and could barely walk at the weigh-ins. That's an issue.
We know that Eye has he striking advantage. If she stays upright she probably wins. However, in a small cage that's a big issue against someone that is a skilled wrestler/grappler. Cynthia Calvillo has her own path to victory. She needs to get it to the ground and keep it there. If Eye is depleted from a tough cut, she will have problems in the latter rounds with stamina. I've never done it before, and this is weak, but it's about putting the money in the right place at the end of the day.
THE PICK: Cynthia Calvillo (-120)
Karl Roberson (9-2) vs Marvin Vettori (14-4-1)
This fight is personal for both fighters. It's a tough call to make because both of these kids are talented prospects that can make some real noise in the division. There is a lot to like about Karl Roberson. He is a great striker, he is more technical, he has a solid counterstriking game and a phenomenal athlete.
Roberson has speed, power and I'm a fan of this kid. He has made me money in the past, and I took a good look at him for tonight, but I lean Marvin Vettori. Marvin is a mean mother***er. He makes it really ugly inside the cage. Vettori throws more volume than Roberson does, and that gives him the ability to edge close rounds.
Vittori came into the UFC as very raw and rough fighter, but he is making leaps and bounds every time we see him in the cage. Whatever technical edge that Roberson has going into this fight could be nullified by the time the bell rings because how much Vettori improves fight to fight.
We know that Vettori has the power to hurt people, and when that power and technique meet in the middle, it will send his striking game to the next level. Roberson's kicking game is a big part of his offense and I struggle to see how he uses that tool with the amount of pressure that Marvin Vettori brings to the cage.
With all that said, how does this fight go the distance with the bombs that these kids are throwing tonight? While I think Vettori wins this fight, at this point I haven't laid the number of (-230) yet. What does look appealing is the (+175) that this fight ends inside 2.5 rounds.
THE PICK: Under 2.5 Rounds (+175)
Charles Rosa (12-4) vs Kevin Aguilar (17-3)
The fact that this fight is technically one of the better fights on the card is a testimony to how disgustingly awful this fight card is. Both these guys are don't excite me. Charles Rosa's striking is pretty solid. He doesn't have a ton of power, but he throws a lot of volume. His opponents tend to se the pace in Rosa's fights. He isn't exactly a natural counter striker, but he does spend a lot of time on the back foot.
Kevin Aguilar is another guy that does not excite me at all. He is more willing to set the pace than Rosa is, but he is another guy that doesn't consistently move forward. He is more of a natural counter striker than Rosa is. He isn't an excellent counter striker but very solid.
Aguilar had success at LFA and the Contender Series and he even won his first two fights in the UFC. Here is the problem: His last two fights were against UFC caliber fighters and he lost both against Ige and Tukhugov.
The Pick: The fight is a tough call. I don't really have a lean either way. I guess we'll flip a coin….. OK , Charles Rosa it is.
Andre Fili (20-7) vs Charles Jourdain (10-2)
I love Andre Fili's striking game, I always have. I think his combinations are excellent, the angles he cuts are next level, and his counter game is rock solid. What I don't like about his standup game is his defensive striking. Fili is there to be hit. The major piece of his defensive striking game is his footwork and range striking. If that isn't flowing he is there to be tagged.
Over the year's Fili has grown to become a solid wrestler. It's part of the Alpha Male culture. They breed foundational wrestlers.
As far as Charles Jourdain is concerned, he is a raw fighter that has shown glimpses that he can be a good fighter in the UFC one day. My issue with him is his style is to wild and reckless right now.However, that doesn't mean that Jourdain can't win this fight. We have seen Fili have lapses in his defensive judgement that has cost him fights. The problem I see with Jourdain is his path to victory is probably a sudden stoppage. If that doesn't happen, it's 100% Andre Fili's fight to lose.
THE PICK: Andre Fili (-215)
Jordan Espinoza (14-7) vs Mark De La Rosa (11-4)
Another garbage fight between two guys that I struggle to trust because they have a hard time implanting a game plan from start to finish. Both fighters are one dimensional. DE LA ROSA is not a great striker, but he is a busy striker that throws more volume than Jordan Espinoza.
De La Rosa has solid hand speed and ok footwork at best. Of the two fighters, Espinoza has the better footwork. The big problem with De La Rosa is he is not a great athlete, he can't wrestle, and he has never submitted anyone off his back while in guard. Those are real problems.
I have to pick Jordan Espinoza on general principle alone. Does he make mistakes in the cage that lead to submission losses? Yes, he does. However, I think he is a much better range striker and he is successful getting takedowns when he gets after it. That very limited game (if implemented carefully) is enough to beat Mark De La Rosa.
THE PICK: Jordan Espinoza (-164)
Mariya Agapova (8-1) vs Hannah Cifers (10-5)
You have to admit that Hannah Cifers has heart. Hannah Cifers fought two weeks ago and was submitted by Mackenzie Dern. Now she takes a short notice fight that is up a weight class which is a really tough ask. The good news for Cifers is Agapova does nothing as good as Dern grapples.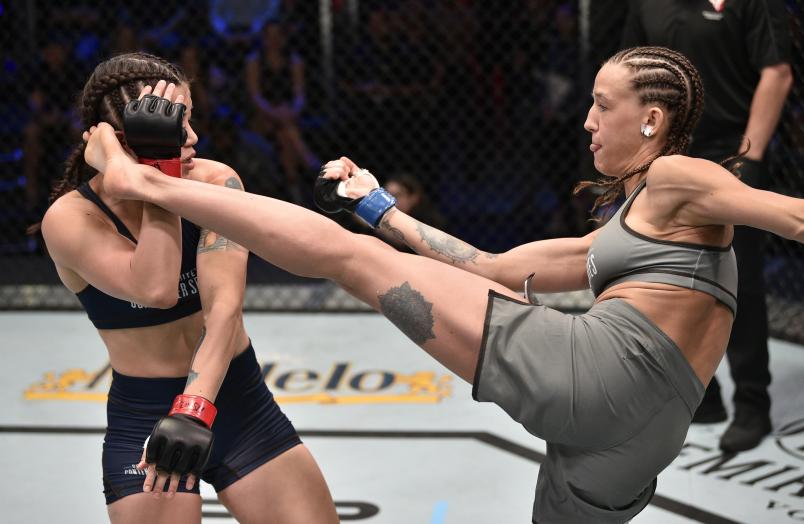 The bad news for Cifers is she is fighting a girl substantially bigger than her. We are talking about 8 inches of reach and around 5 inches in height. Agapova is a naturally bigger fighter that fits in this weight class. We don't know a lot about Agapova, and the possibility exists that Cifers has better technique, but the size disadvantage probably makes up for that. Especially since Cifers was having issues with size in a smaller division. If Cifers can keep this on the feet, maybe she is live. I doubt it, but maybe. My biggest problem for Cifers is she had no power in a smaller division, that spells bad things for Hannah here. I have to pick against her and hope she can survive to the end of the fight.
THE PICK: Mariya Agapova by Decision (+125)