Dustin Poirier vs Conor McGregor Predictions: UFC 257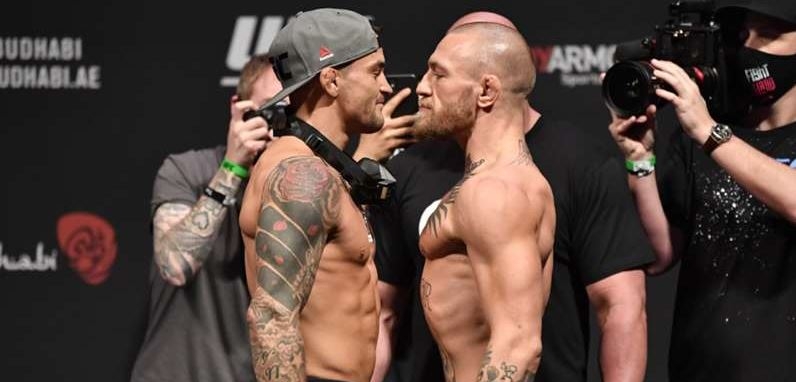 UFC 257 Predictions | Dustin Poirier vs Conor McGregor | Diehard MMA Podcast: The most hyped card for the last nine months is here. The return of Conor McGregor is finally upon us. We have been waiting and waiting, and finally, we are just one sleep from seeing the most popular MMA fighter of all time make his return and bid for a shot at the undisputed UFC Lightweight belt.
| | | |
| --- | --- | --- |
| UFC 257 | Conor McGregor | Dustin Poirier |
| To Win Outright | -280 | +270 |
| Inside the Distance | -195 | +450 |
| by Decision | +695 | +675 |
| Total Rounds | Over 1.5 (-138) | Under 1.5 (+110) |
| Fight Goes Distance | Yes: +320 | No: -425 |
| Where/When | Yas Island, Abu-Dhabi | Sat, Jan 23rd, 10:00 PM ET |
The Fighters:
| | | |
| --- | --- | --- |
| UFC Match-Up | Conor McGregor | Dustin Poirier |
| Record | 22-4 | 26-6 |
| Finish Rate | 91% (19 Wins by T/KO) | 73% (12 Wins by T/KO) |
| Age | 32 | 32 |
| Height | 5'9 | 5'9 |
| Reach | 74′ | 72′ |
Dustin 'the Diamond' Poirier is a UFC mainstay. This man has been in the UFC for as long as I can remember, and we have watched him grow from a hot-headed and vicious killer at 145 to a calm, cool, and collected monster at 155. Dustin Poirier is a fighter who has touched UFC gold, and he has been the best 155 on the roster not named Khabib or McGregor. This man has shown nothing but heart and the ability to out-work his opponents both inside and outside the cage that has allowed him to rise to the top of the UFC lightweight division. 
What can I say that you haven't already heard or read about Conor McGregor? The Notorious One. The Champ Champ. The man who took the UFC to unprecedented heights because of his remarkable and rare ability to command a microphone and champion-caliber power inside the cage. McGregor has climbed the mountain and only fell short against one man. He has now re-dedicated himself to the craft and is on a warpath. McGregor has aimed to take the throne again and hopefully challenge Khabib to a sequel fight that would set the world on fire, but he only has that opportunity if he gets by Dustin Poirier. 
The Match-Up:
These men have evolved so much since the last time they fought, and we should be in for a treat on Saturday. The first time we saw this fight happen, it was a quick event. McGregor was able to pull young and hot Dustin Poirier into a mental battle that he wasn't equipped to win. Poirier made mistakes, and as well all know, you cannot make mistakes against Conor McGregor. McGregor was able to land on the button, and the rest is history. 
Many people are looking at this fight like it will play out the same way, but I am not convinced. McGregor himself has come out and claimed that he would beat his previous record in the rematch and put Poirier away within 60 seconds. I know we are dealing with Mystic Mac here, but I feel like this is just talk and self-confidence. I don't see McGregor and Poirier engaging in a firefight, and I do not believe that Poirier's chin will give out within 1-2 strikes.  
Let's get the elephant in the room out of the way: From a wagering perspective, the odds are very wide. Based on Conor McGregor's like, you have to assume he will win more often than 80% to find value here. Some have said that McGregor "has Poirier's number," and they expect him to win 90-100% of the time. I have more faith in Poirier than that. I believe that Poirier is one of the best fighters globally, and he has shown himself to be incredibly hard to dispatch at 155. The durability issues that appeared to be becoming an issue for Poirier evaporated with the extra 10 pounds on his frame, and he has filled out in his new division. 
I believe that McGregor should be favored, and I would give him a 65% chance to win, so I don't particularly like the -333 moneyline on Conor McGregor. That said, I do feel like we see McGregor's hand raised on Saturday. I see the fight playing out because these men start a bit slower than they usually do. Both men have to be respectful of the power on the other end of the cage, and with Conor coming off of a bit of a layoff, I feel he may take some time to get his range in there. Poirier won't be rushing forward and allowing McGregor to land a big shot early. Poirier is a smart man. Dustin Poirier has seen McGregor fade and struggle when fights get extended, and Poirier is more than capable of going 25 minutes and landing over 150 significant strikes. McGregor has landed over 100 significant strikes just one time in his entire career, and that was the rematch against Nate Diaz. 
Conor McGregor vs Dustin Poirier Predictions:
UFC 257 Main Event Best Bet – McGregor/Poirier Over 1.5 (-120) via Bet365: I believe that Poirier will not look out of place in this fight. I believe that Poirier will do his best to make this a technical fight and slow the pace down for the first few rounds looking potentially to grapple and make McGregor work to drain that gas. Once McGregor begins to slow, and Poirier feels the power coming at him, he will try to kick things up a notch. Now, once these men are comfortable, the leather will fly, and either man can make the other fall at any point in time, but I think they will get into the 3rd round. I will trust Poirier's chin one more time and play the over 1.5. I will be holding my breath every minute for this one, but I believe these men will put on a show Saturday, and McGregor's prediction will prove hollow.