UFC 250 Odds: Underdogs That Bark
When a UFC card comes around the very first thing I do is look for fighters who are under appreciated. I look for fighters who I think have everything to win the fight, but the market majority disagrees. I look for good solid underdogs. Underdogs in MMA hold HUGE value because they show up every fight card, and you usually get paid very well for taking that risk. I set criteria that they need to meet before we can pull the trigger and I believe I have 2 dogs at UFC 250 who are VERY live.
To learn how I find my underdogs in more detail check out the full article here:
Cody Stamann vs Brian Kelleher: The Basics
Cody Stamann is a long time contender at 135 and his brutal grappling heavy style allows him to grind his foes into a fine dust, but he is staring across the cage at a resurging Brian "Boom" Kelleher who has already cashed as a large dog in his last 2 fights. Kelleher took a step into the deep end of 135 and drowned, but he appears hungry now and is riding a 2 fight win streak, both coming by way of finish.
| | |
| --- | --- |
| UFC Fighter | Cody Stamman   |
| Odds | (-278) |
| Age | 30 years old  |
| Height | 5'6 |
| Reach | 64' |
| Wins by Decision  | 10 |
| Win/Loss | 18-2 |
| Finish Rate | 44% |
Cody Stamman wrestles. This man looks to stalk his opponents, walk them down, and pressure them to the mat for 15 minutes. Cody hasn't finished anyone since 2017! He averages 3.58 takedowns per 15-minute fights and lands at a 48% clip. He struggles mightily when he can't get the takedown, and he slows down in rounds 3. In the clinch, Cody can be dangerous and if he hits you with that clubbing hook he can hurt you. These shots are far less dangerous than ending underneath him.
| | |
| --- | --- |
| UFC Fighter | Brian Kelleher  |
| Odds | (+225) |
| Age | 33 years old  |
| Height | 5'6 |
| Reach | 66' |
| Wins by Submission  | 9 |
| Win/Loss | 21-10 |
| Finish Rate | 81% |
"Boom" dropped back to back losses to John Lineker and hot prospect Montel Jackson in 2018 and fans immediately wrote him off. Since then he has come back on a revenge tour, submitting prospect Ode Osbourne and knocking out Hunter Azure. Kelleher is more hyped, confident, and motivated than we have ever seen him, and out to prove he deserves another shot at the elite in the division. Kelleher has powerful hands and a great gas tank. He appears to have no problem taking a shot to send one back, but his high guard and defensive ability let him wear damage better than foes. He uses feints well, has great head movement, and is dangerous everywhere the fight takes place.
Stamman vs Kelleher: The Criteria
Fight IQ
Boom meets the standard for high fight IQ that I need to look at taking him as an underdog. In his last fight against Hunter Azure, he allowed the bigger man with heavier hands to gas himself out trying to end Kelleher. He used constant movement and lighter strikes to stop Azure's movement until he slowed and went for the kill in round 2 via KO. Similarly in the Ods Osbourne fight, he was fully aware that he had a large skill edge on the mat and made sure to get the fight there quickly. Kelleher will look for his openings and stick to a gameplan.
Chin
A solid chin is vital for betting on a dog and we definitely have that here. You can't have a fighter who will crumble when we are trusting them with our money. Kelleher utilizes a high boxing guard and head movement to avoid damage coming his way and has only been knocked out by John Lineker, who has some of the heaviest hands in the division. This fight is also a catchweight fight taking place at 145 rather than 135, so he should have more water in his system. That should lead to increased durability, more so than normal.
No Quit
Boom is a fighter that you have to completely put away for him to stop coming. He is aggressive and believes in his ability to end the fight on the feet or mat. Combined with with his ability to wrestle, Kelleher is live all the way up until the final bell. There is no doubt that he will go for it.
Power
I have referenced Kelleher's win over Azure several times already, but we have to bring it back again. Kelleher was able to KO a much larger man and has 8 KOs on his record. As we discussed in the full breakdown of my criteria "power" does not simply mean knockouts in MMA. Kelleher also has 9 submissions to his name and if you can make your opponent tap that is just as important as being able to land a knockout. Kelleher has wicked chokes and has no problem jumping necks to go for a finish and he can back that up with his counter wrestling ability to get the fight back to his feet or scramble out of a bad position so he can get back to his offense. In more than one way Kelleher has power covered.
Cody Stamman vs Brian Kelleher: The Verdict
Not only do we have a great prelims fight, but we have a dog, folks! The last piece of the puzzle that needs to be considered when betting an underdog is the line and right now Kelleher is a +225 dog!!! That means that the bookies are giving Boom just a 30% chance of success here and I think that is underrating him. Cody can only win this fight by decision and the fact that Boom can win by submission, decision, or knockout gives him far more potential in my opinion. I see Cody winning round 1 and if Boom can turn it up as Cody fades in rounds 2 and 3 he can pull away or catch Stamann. Brian is fighting with a chip on his shoulder and I'm buyin in.
The Pick: Brian Kelleher (+225)
Raphael Assuncao vs Cody Garbrandt: The Basics
Both Raphael and Cody are coming off of losing streaks and desperately need a bounce back to show they are at all still relevant at the top of the 135-pound division. Assuncao has been knocking on the door of a title shot his entire career and has always just fallen short whereas Cody actually captured UFC gold, but since that high water mark has been KO'd 3 times in a row and I fear he has done irreparable damage to his chin.
| | |
| --- | --- |
| UFC Fighter | Raphael Assuncao  |
| Odds | (+125) |
| Age | 37 years old  |
| Height | 5'5 |
| Reach | 66' |
| Wins by Decision | 13 |
| Win/Loss | 27-7 |
| Finish Rate | 52% |
Assuncao has all the tools needed to be a champion, but just hasn't quite been able to get there. The big strike against Assuncao is that he is getting older in a division where youth and speed rule more than the heavier classes. At 37 Assuncao is attempting to mount one final assault on the Bantamweight division and he must get by former champion Cody Garbrandt to do it.
| | |
| --- | --- |
| UFC Fighter | Cody Garbrandt   |
| Odds | (-152) |
| Age | 28 years old  |
| Height | 5'8 |
| Reach | 65' |
| Wins by KO/TKO  | 9 |
| Win/Loss | 11-3 |
| Finish Rate | 82% |
Cody "No Love" took the UFC's Bantamweight division by storm. Coming from Team Alpha Male as a prodigy of Urijah Fabre and being a training partner for then-champion TJ Dillashaw he had all the right pieces to make a run at the top. After Team Alpha Male splintered and TJ struck out on his own the grudge match made Cody's rise all the more exciting as there was a built-in story to follow. Cody dismantled former champion, Dom Cruz, to take the strap, but was immediately de-throned by TJ and when granted a rematch he didn't fare any better. Cody took a step back and when he attempted to right the ship against Pedro Munhoz instead he found himself on the wrong end of a pissing contest and took a 3rd canvas nap in a row. After a year off Cody has to win here or he can kiss the title goodbye forever.
Raphael Assuncao vs Cody Garbrandt: The Criteria
Fight IQ
Assuncao is one of the smartest fighters at 135. He has a BJJ black belt and is a strong wrestler as well as being defensively minded on his feet. Assuncao only engages when he has the advantage and doesn't get sucked into brawls on the feet. Assuncao outlands his opponents by a full significant strike per minute and that is over a long UFC career facing the best 135 has to offer and not because he has extremely high output, but because of his sound defensive fundamentals.
Chin
Assuncao has been knocked out once in his 34 fight career and that loss came all the way back in 2011. Since then Assuncao has fought the likes of Pedro Munhoz, Marlon Moraes, and TJ Dillashaw TWICE without succumbing to the power of his foes. Granted he was rocked by Marlon, but Marlon knocks out everybody and he was submitted rather than having any further stress placed on his chin.
No Quit
Assuncao is a GRINDER. This man will not be denied. The fact that he is a top contender at the age of 37 and is still growing and evolving tells us that he refuses to give in! Assuncao also tends to go to decision in his fights and this is due to his iron will and constantly keeping his fights with his opponents close. He was able to out-grind Aljo Sterling in 2017 and he was at a severe size disadvantage against a fighter who is known for his ability to wrestle and he refused to break and won a decision over the prospect. Unless you finish Assuncao he will continue to grind and make his way to the judges cards with a shot to win.
Power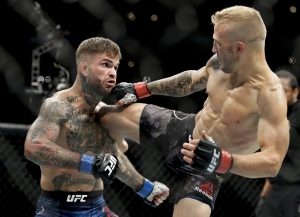 Now Raphael is not known to be a knockout artist, but he is a BJJ black belt and has 10 submissions to his name, so should this fight hit the mat he will have an avenue to finish. He does carry power in his hands and strikes extremely well moving backwards which means he has the ability to catch aggressive fighters who are moving in on him and we know how aggressive Cody can be. And this isn't a fight where he needs to have the most power at his disposal.
I truly believe that Cody has broken his body and will not be able to withstand much punishment in a stand-up fight because of the 3 bad KO losses he is coming off of. Even though Assuncao only has 4 KOs on his record he has the ability to land hard in the pocket and even in his recent fight against Marlon Moraes he displayed powerful shots that if landed on Cody should do the trick.
Raphael Assuncao vs Cody Garbrandt: The Verdict
We have a dog, folks! The line isn't quite as juicy as I would like it to be, but this is just as much of a fade on Cody's chin as it is a bet on the will of Assuncao. Cody rocketed to the top of the division without going through the gauntlet that Assuncao did and I believe that missed experience is going to make the difference Saturday. Cody is still disrespectful and cocky and believes he can walk through anybody, but Assuncao is not a fighter anybody walks through.
I fully expect Assuncao to be in this fight from start to finish with the ability to put Cody away and if he clips Garbrandt we have seen how all strategy is thrown to the side when Garbrandt gets hurt. If this fight turns into a slug fest Assuncao will prioritize defense and will find an opening to land big on Garbrandt. I have Assuncao getting a rare knockout.
The Pick: Raphael Assuncao (+125)