UFC Vegas 13 Main Event Best Bets: Thiago Santos vs Glover Teixeira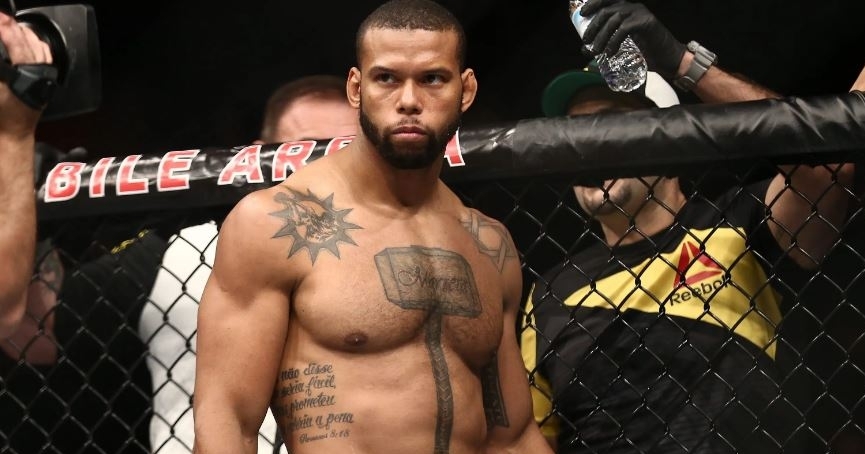 Odds.com's Thiago Santos vs Glover Teixeira Pick – UFC Vegas 13: UFC Vegas 13's main event is a wild fight between 2 high profile contenders in the Light Heavyweight division.
UFC VEgas 13
thiago santos
glover Teixeira
Best Odds
-225
+205
Total Rounds
Over 1.5 (-140)
Under 1.5 (+123)
Where/When
Apex Center, Las Vegas
Sat, Nov 7th, 10:00 PM ET
Glover Teixeira has been the old vet who refuses to die and has become the UFC's best Gatekeeper. Thiago Santos was the first fighter to make Jon Jones look human, and he did it with both of his knees blown out. Now Santos is looking to re-establish himself as a true contender and get by Glover to get a 2nd shot at that strap.
The Fighters:
UFC Match-up
Thiago Santos
glover Teixeira
Age
36
41
Height
6'3
6'2
Reach
76′
76′
Wins by Method
15 by T/KO
18 Wins by T/KO
Finish Rate
76%
84%
Record
21-7
31-7
Thiago Santos is a murderous power puncher who has stormed the 205 division and has his sights set on gold. This is a man who I have no idea how he ever made 185. Thiago is big even by Light Heavyweight standards, and he uses every inch of that massive frame to deal with the damage. Santos is a capable grappler and has a slick striking game combined with athleticism and speed that make him a threat everywhere. Thiago has a valid claim to the strap at Light Heavyweight as he arguably could have won the fight against Jones, and he has a knockout win over current Light Heavyweight champion Jan Blachowicz. 
Glover has been an absolute money train in the UFC. He has been overlooked and underrated for years but has just continued to smash whoever the UFC places in front of him. Glover is a sharp boxer with heavy hands, and his power has not left him in his old age. Glover has always been durable, and his fight IQ is just off the charts. The veteran savvy, ability to manage his gas tank, and an extremely high-level BJJ black belt combined with excellent wrestling have kept Glover at the top of the division longer than most would have expected. 
The Matchup:
Glover has made me so much money. I have been on this older man in 90% of his fights for the past 5 years, and Glover is 8-2 in his last 10. This man is the gift that keeps on giving, and I SO want to bet on him in Saturday's main event. Once again, he finds himself in a winnable fight as a big juicy underdog, and that is my way of playing the game. The only problem is the man he is fighting is 5 years younger than him and is an absolute killer. 
Thiago is better everywhere than the opponents that Glover has been facing, and even though Glover is coming off, destroying Anthony Smith at UFC Vegas 8, Smith is not a true contender at 205. Thiago's key in Saturday's fight is patience. As long as he does not rush anything, Thiago will have the opportunity to hit and rock Glover, who has been hittable recently. Once Thiago has Glover hurt, he needs not to overreact. Fighters like Ryan Bader and Ion Cutelaba could not wait to pounce on Glover once they clipped him, and that overzealousness cost them dearly. Glover is so savvy he will take advantage of any mistake you make, and rushing in when he is wobbled is his favorite opportunity to even up the fight. 
Thiago Santos vs Glover Teixeira Pick:
Main Event Best Bet: Thiago Santos (-250) via Bet365: Thiago is smarter than that, and I do not believe he will make the same mistakes. Once Glover is hurt, Santos will sit back and calmly wait for the next opportunity to present itself, and it just will be a matter of time. Thiago has the legendary weapon of Thor Mjolnir tattooed on his chest for a reason. This man throws hammers. Glover has been durable throughout his career, but at 41 years old, there comes a time when your chin eventually gives way. This fight reminds me of UFC Vegas 12's Hall vs. Silva, and I fully expect the same result. We have an older fighter in a 25-minute fight, and while Glover will be competitive early, I believe in the 3rd or 4th round, when he starts to slow and get tired, Santos will find the kill switch. I would take Santos by KO if you can, and I would sprinkle the round 3, 4, and 5 props for a score.
Keep it locked to Odds.com for all of your UFC betting needs for UFC Vegas 13. The best current odds and content can be found on our UFC page.