Smith vs Rakic Pick – UFC Vegas 8 Prediction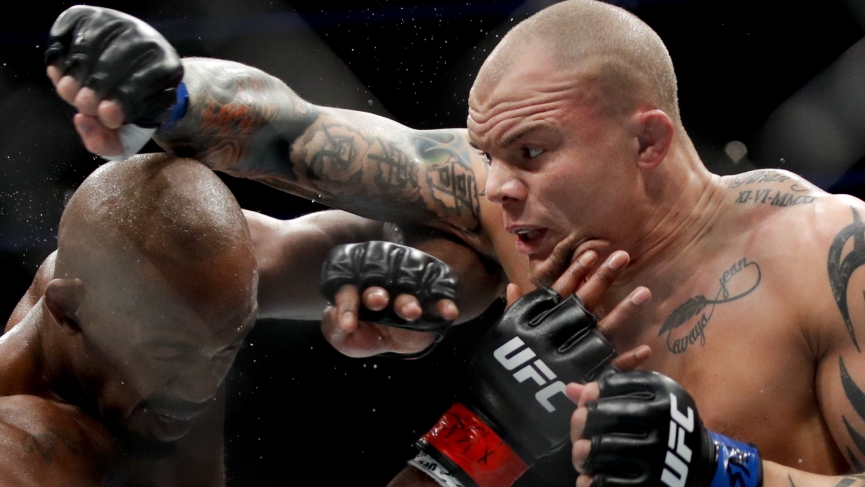 As we get into my Smith vs Rakic pick, we have to acknowledge that this is a crossroads fight in the main event of UFC Vegas 8. Hot rising young contender Aleksandar Rakic and recently derailed former title challenger Anthony Smith are both coming off of a loss. One of these men will manage to fight their way back to being relevant this week and the other will be doomed to climb the ladder again. Both men are interesting cases and we really need to dig in to see if there is any betting value here.
Anthony Smith vs Aleksander Rakic odds
| #UFCVegas8 Lightweight Bout | Anthony Smith | Aleksander Rakic |
| --- | --- | --- |
| To Win Outright | +250 | -333 |
Anthony Smith is a weird case in the UFC. I have had a strange back and forth relationship with him. Smith does pretty much everything well and his ground game is next level. On the feet, Lionheart is improving every time out and uses his long frame well, but still seems to be figuring things out. Smith moved up to 205 from 185 and ran through Volkan Oezdemir earning himself a shot at Jon Jones in 2019 that really wasn't warranted, but the division was so thin the UFC was desperate for contenders.
| | |
| --- | --- |
| UFC Fighter | Anthony Smith   |
| Odds | +250 |
| Age | 32 years old |
| Height | 6'4 |
| Reach | 76' |
| Wins by KO/TKO | 18 |
| Win/Loss | 33-15 |
| Finish Rate | 91% |
After getting completely destroyed by Jon, Smith bounced back with a huge win over Alexander Gustafsson who he submitted in the championship rounds but was losing before he turned the tables. Most recently Smith came out hot against Glover and paid for it by gassing himself against the savvy veteran and taking the beating of his life. Over most of Smith's career, he has been losing until he pulled off the upset, but his most recent win was the exact opposite.
| | |
| --- | --- |
| UFC Fighter | Aleksander Rakic |
| Odds | -333 |
| Age | 28 years old |
| Height | 6'5 |
| Reach | 78' |
| Wins by KO/TKO | 9 |
| Win/Loss | 12-2 |
| Finish Rate | 83% |
Aleksandar "Rocket" Rakic is a hot prospect who has an impressive record. He has big flashy striking and big power. Rakic has won 75% of his fights by way of KO and seems to be coming into his own at the age of 28. Rakic entered the UFC in 2017 and went from an unassuming prospect who was grinding out wins to a superstar when he blasted Devin Clark and Jimi Manuwa in back to back first-round finishes in 2018 and 2019 respectively. Rakic dropped a split decision that he arguably could have gotten the nod for against Volkan Oezdemir in 2019 and now he looks to get back on track since 205 is wide open with Jon Jones vacating the belt.
Smith vs Rakic matchup
As I said previously this is a weird spot for Anthony Smith who generally is losing his fights until he pulls off a miraculous comeback win. Smith was too tough for his own good against Glover and could have had the fight stopped in the 3rd, but instead, he took a beating to the tune of 138 significant strikes before the referee provided a mercy stoppage in the 5th round after Smith had lost some teeth.
Rakic has looked incredibly impressive, but I can actually poke some holes in his record and overall game. He relatively was unimpressive, beating Justin Ledegt who is on a 3 fight losing streak and Francimar Barroso who is no longer with the UFC. Then Rakic draws Devin Clark, who I have been on record many times stating that he is too small for 205 and Rakic blasts him out of the cage in the first round.
After that, the UFC looks to build on Rakic and gives him the chinniest fighter in the division and unsurprisingly Rakic knocks Jimi Manuwa's head into the 5th row. While I can appreciate the skill and power of Rakic neither of the wins over Manuwa or Clark really shows us anything at the top level and in Rakic's next fight he went life and death with Volkan Oezdemir.
Rakic has a tendency to slow down if he doesn't get that big first-round KO and is forced to grind his way through the rest of the fight and things get sketchy. Rakic also has a tendency to mix in takedowns and go to the mat and that could prove hazardous in this fight with Smith being such a high-level black belt. I personally bet Glover in the last fight against Smith and you would think I would go back to the fade well here, but the truth is that this is the EXACT spot that you want to bet a guy like Smith.
Smith is the kind of fighter who can flip the script at any point in time and he has an absolute wealth of experience over his young foe. Smith has 48 professional fights and has gone through everything the game can offer. Rakic on the other hand has never really been the "nail" in a fight and has only 14 fights to draw experience from. This is also a 3 round main event rather than a 5 round main event for some reason and if Smith doesn't have to worry about rounds 4 and 5 and comes out the same way he did against Glover I can absolutely see him upsetting the prospect here.
The Pick: Anthony Smith (+250)