Molly McCann vs Lara Procopio Pick: UFC Vegas 18 Predictions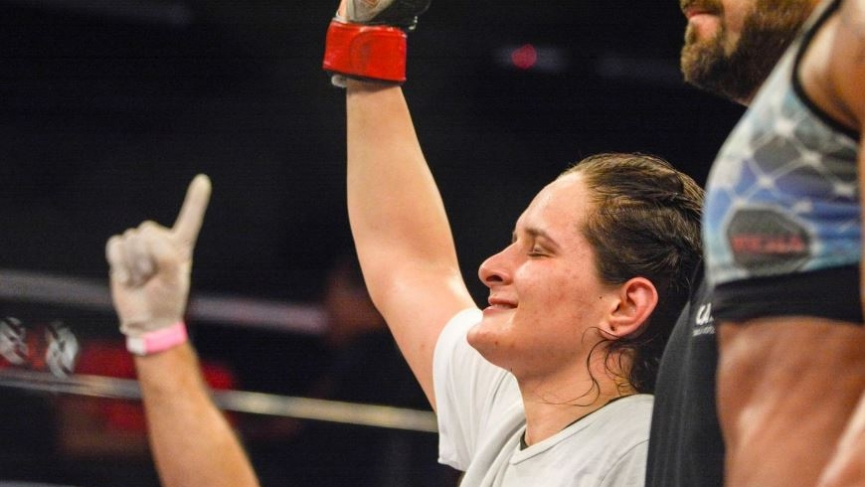 Molly McCann vs Lara Procopio Pick – UFC Vegas 18 Predictions: Underdogs have gotten off to a hot start in the UFC to kick off 2021, with the Underdog going 15-20 for +5.56 units since our first UFC event back in January. A $100 bettor who has backed the dog in every bout in the UFC this year would be up +$556, a net profit of +$16 per fight win or lose.
Further, the Underdog in the UFC Women's Flyweight division has been rolling since last year, going 15-21 for +12.05 units profit, with one of those wins being a +185 cash on Talia Santos, who defeated one Molly McCann back in August of 2020. McCann is back for UFC Vegas 18, and is taking on another flyweight underdog in Brazilian Lara Procopio.

As always when we have a stacked and competitive card there are opportunities. We are always looking for a live underdog and honestly at UFC Vegas 18 you could make a case for several of these fighters, but I have my eye on Procopio in particular, here's why.
| UFC Vegas 18 | Molly McCann | Lara Procopio |
| --- | --- | --- |
| To Win Outright | -147 | +141 |
| Inside the Distance | +499 | +700 |
| by Decision | +110 | +244 |
| Total Rounds | Over 2.5 (-355) | Under 2.5 (+295) |
| Fight Goes Distance | Yes: -300 | No: +250 |
| Where/When | UFC Apex, Las Vegas | Sat, Feb 6th, 5:00 PM ET |
The Fighters:
| UFC Women's Flyweight | Molly McCann | Lara Procopio |
| --- | --- | --- |
| Record | 10-3 | 6-1 |
| Finish Rate | 40% (4 Wins by T/KO) | 50% (2 Wins by Submission) |
| Age | 30 | 25 |
| Height | 5'4 | 5'4 |
| Reach | 62′ | 67′ |
Molly "Meatball" McCann is one of the most hated fighters in the UFC at the moment. Most of you reading this probably had a Molly ticket in her last fight against Taila Santos. We were all railroaded by how good Taila showed up that night, and Molly went from being a short favorite to being a huge one by fight time. We all went down with the ship together that night, but this Saturday, we have an opportunity to take that cashback.
Lara Procopio is a relative unknown in the UFC who is 0-1, with her lone fight under the big lights being to Karol Rosa. What we saw when Lara made her debut is that she was undersized against Karol, but she was not willing to back down. Lara Procopio went to war that night, and both women landed over 160 significant strikes. Procopio lost via split decision in her UFC debut and was just one judge away from a successful start to her UFC career. Now she is coming back, and I fully expect her to get that "W."
» Beginners Guide to Betting the UFC
UFC Underdog Betting Criteria:
Fight IQ
Lara Procopio doesn't have a whole lot of fight time. Just seven professional fights means that we need to take this one with a grain of salt, but from what we can and have seen, she shows all the right signs. Lara is very talented on the feet, but her first love is the black belt she owns in BJJ. Lara can do work in both areas, and we do see her employ a full mixed martial arts strategy taking advantage of what her opponents offer her.
Chin
Lara has shown no issues with durability. Her career's biggest test was Lara Procopio's last fight against the UFC's Karol Rosa, where she absorbed 171 significant strikes and never wavered. Lara's lone loss was by a split decision, and she took everything but the kitchen sink in that fight. I do not have any concerns with this woman's ability to take damage.
No Quit
Again we have to look at her last performance to see what Lara Procopio's heart is made out of. Lara stepped up to the big stage. Under the bright lights with just six professional fights under her, she ran into a foe who could not get to the floor. Without her BJJ black belt, Lara was an uphill battle, but she never backed off. Lara stepped up and answered the call to war against Karol Rosa and very nearly won the fight. I love the heat that this woman brings with her into the cage, and I expect to see more of that on display this weekend.
Power
This is a category that we have to give a little bit of a break for the women. Most women at Strawweight, Flyweight, and even Bantamweight are not Amanda Nunes. Most do not have that soul-crushing power in their fists that allows them to end any fight at a moment's notice. That said, Lara does come equipped with power in her ground game. We have mentioned Procopio's black belt a few times already, but it bears repeating that she does have a path to end the fight and do so quickly if this one hits the floor.
Molly McCann vs Lara Procopio Pick:
UFC Vegas 18 Underdog Best Bet – Lara Procopio (+140) via Bet365: Molly Mccann is not the fighter we all believed that she was. Taila Santos was a much better fighter than any of us gave her credit for, but Molly is not a title challenger on the rise by any means. In Lara Procopio, we have a young and hungry fighter who has sharp striking and a BJJ black belt to back up her stand up. Molly tends to take her fights to the floor, and we have seen her in danger there before. Molly relies on big power hooks on the feet, and she throws everything she has into them. Lara has a sharp, crisp jab and a 1-2 that she fires right down the pipe. When these women are standing, I fully expect Lara to be quicker and land just that much faster than Molly. When Molly gets frustrated by Lara's technical boxing, if she goes in for an ill-timed takedown, she could find herself tapping in a hurry.
Molly is battle-tested, but Lara showed us in her first UFC fight that she is more than ready to answer the call, and I expect her to have enough to give McCann problems at UFC Vegas 18 no matter where this fight takes place.
---
UFC Betting Trends: McCann vs Procopio
Molly McCann
Since 2018 UFC Debut
Record
Profit (Units)
To Win by Decision
3-2
+3.95u
To Win Outright
(Since 2017 Cage Warriors)
6-2
+3.23u
Fight Goes Distance
4-1
+1.47u
Over
4-1
+1.13u
Lara Procopio
Since 2019 UFC Debut
Record
Profit (Units)
Opp. by Decision
1-0
+1.65u
Opp. to Win Outright
1-0
+0.91u
Fight Goes Distance
1-0
+0.44u
Over
1-0
+0.36u
UFC Betting Trends:
Women's Flyweight Division
| Since 2020 | Record | Profit (Units) |
| --- | --- | --- |
| Underdogs | 15-21 | +12.05u |
| Under | 15-21 | +6.29u |