UFC 257 Odds Look Ahead: Michael Chandler vs Dan Hooker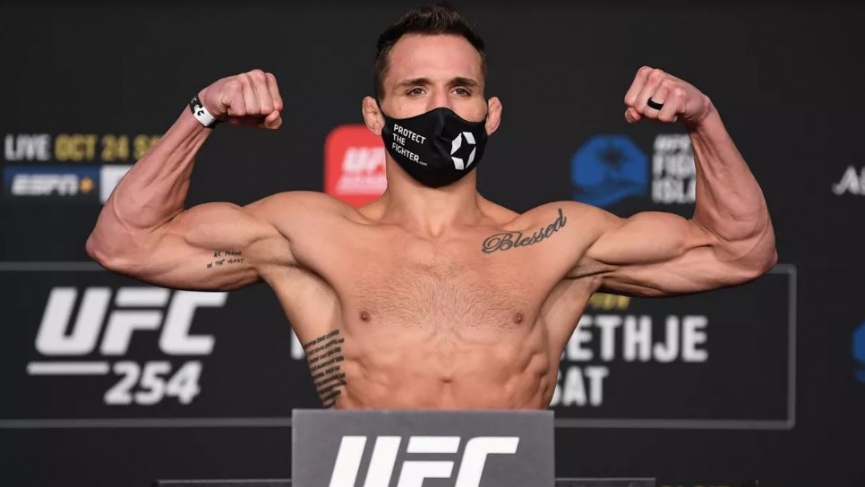 Michael Chandler vs Dan Hooker Odds – UFC 257 Look Ahead: Michael Chandler makes his UFC debut against the #6 ranked lightweight kiwi Dan 'the Hangman' Hooker, in the co-main event for UFC 257.  
| | | |
| --- | --- | --- |
| UFC 257 | Michael Chandler | Dan Hooker |
| To Win Outright | +125 | -126 |
| Inside the Distance | +360 | +165 |
| by Decision | +250 | +300 |
| Total Rounds | Over 2.5 (-117) | Under 2.5 (+100) |
| Fight Goes Distance | Yes: -110 | No: -130 |
| Where/When | Fight Island, Abu-Dhabi | Sat, Jan 23rd, 10:00 PM ET |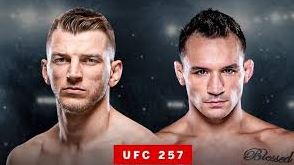 Every one of us is looking forward to Conor McGregor's return and his war with Dustin Poirier on January 23rd at UFC 257. It's hard to think the card could get much better, but then the UFC finally unveiled their plans for the highly touted signing of Michael Chandler. Chandler joins UFC 257 in what appears to be an unofficial mini-tournament of contenders at 155.
Dan Hooker will welcome Michael Chandler to the big stage and, to what is quite possibly, the hottest division in UFC history. Let's take an early look at these fighters and  everything to consider when placing a bet on this fight.
The Fighters:
| | | |
| --- | --- | --- |
| UFC 257 | Michael Chandler | Dan Hooker |
| Record | 21-5 | 20-9 |
| Finish Rate | 76% (9 Wins by T/KO) | 85% (10 Wins by T/KO) |
| Age | 34 | 30 |
| Height | 5'8 | 6'0 |
| Reach | 71′ | 75′ |
Dan Hooker Pro: Durability
The wars that the Lightweight division has given us have been something of legend. A select few names come to mind when we talk about all-time great battles at 155, and those names include Paul Felder, Dustin Poirier, Max Holloway, and Dan Hooker. Hooker's last two fights have been fight-of-the-year contenders against Paul Felder and Dustin Poirier's opponents. In the Felder fight, both Felder and Hooker absorbed over 110 significant strikes, and then in the Poirier fight, both men absorbed over 150 significant strikes. Somehow neither fight ended in a KO, and all three men have cemented their legacy as some of the most battle-tested fighters we have ever seen.
At just 30 years of age, Dan Hooker has a wealth of experience, and when he steps into the cage at UFC 257 as a small underdog, he will be doing so for the 30th time in his professional career. Of those 29 fights, Dan has lost 9 of them, but only three by the finish. Of those three finish losses, only one has come by way of knockout.
Most of us cringe thinking back to that one Hooker knockout. Dan was the hottest prospect at 155 after knocking out current 170 contender Gilbert Burns when he stepped into the cage against Edson Barboza in December of 2018. Many, myself among them, thought that Barboza was over the hill and Dan would pass this test with flying colors. What we witnessed, however, was the veteran lesson that all rising fighters eventually learn. Dan gave his best and landed 81 significant strikes of his own, but in the 3rd round became a walking punching bag. Dan absorbed 126 significant strikes and kept his body moving on pure will alone before finally succumbing to the body attacks and dropping to the canvas. Although Dan was stopped by strikes that night, it remains true that no one has ever severed him from consciousness.
Dan Hooker Con: Brawler
While we just highlighted how impressive the iron will and body of Dan Hooker are, I do not like that he is so willing to step into that fire every time he fights. The sport of MMA is one of risk management, and the UFC's lightweight division is the most talent-rich division in the game. Dan is now surrounded by elite competition, and fighters will not fall as easily in his quest for the belt.  The criticism of his style may not be fair, but as bettors we cannot ignore the risk that comes with his willingness to engage.
Dan Hooker is rapidly reaching Max Holloway levels of damage, and considering the fighters competing with him for  155 pound rankings, you can only expect his body to take on even more punishment. Dan is a striker. As shown by the seven submissions on his record, he has a slick submission game, but Dan's primary offense is his fluid standup. When you are forced to place your best foot forward, and the loser of the battle is in danger of missing out on his dreams of  UFC gold,  eventually these wars will catch up with him.
Michael Chandler Pro: Confidence
Michael Chandler will finally make his long-awaited UFC debut at UFC 257, and he will be stepping into the deep end. It takes nerves of steel to come to the big show in the best division and not take a tune-up fight. Chandler is looking to step immediately into the title picture, and the top 5, by taking on an extremely dangerous and well-known fan favorite contender.
Chandler is showing no fear and is riding hot at the moment, coming into his UFC career. Michael Chandler was one of the poster boys for Bellator, having competed under their banner 16 times. After a rough start to his Bellator career, Chandler rattled off a 9-2 run taking on the best Bellator had to offer and, more often than not, expelling them from the cage unceremoniously. Chandler fought Brent Primus twice, going 1-1 against the legendary Bellator Champion. He is most recently coming off of 2 first-round knockouts, with his most recent win coming over former UFC champion Benson Henderson.
When making the move to the UFC, taking out one of the promotions former champion by 1st round knockout will bring confidence and put you in the right space mentally to step up in competition.
Michael Chandler Cons: Size
We cannot pick our physical build. We all have to work with what the good Lord gave us. Michael Chandler is a monster physically but the division is big. In the UFC's 155 division, the majority of these fighters are more than capable of holding their own at 170. The UFC's 155 division has notable names like Dustin Poirier, Conor McGregor, Nate Diaz, who not only could fight at 170 but have, and won at 170. Michael Chandler is used to being the smaller man but he has a very tall hill to climb ahead. No pun intended.
Chandler is 5'8 and has a 72-inch reach. Let's use some of the UFC's stockier lightweights for comparison. Dustin Poirier is 5'9 with a 72-inch reach and seems the most comparable, but he is taller and larger overall. Paul Felder is 5'11 with a 70-inch reach, Conor McGregor is 5'9 with a 74-inch reach, and Dan Hooker, who is Chandler's next opponent, is 6 foot and has a 75-inch reach. While Michael Chandler has shown that he is dangerous, powerful, and more than capable, he will have a natural disadvantage against most of the UFC's roster.
In addition to being smaller, the reach disadvantage will compound the problem, causing him to be on the outside and perhaps lead to reckless attempts to close the distance. Maybe the worst thing for Chandler in this spot is that his tallest and longest opponent happens to be his first. This fight is crucial to Michael Chandler's career at 34 years old, and with the hype currently surrounding him, should he lose to Dan Hooker at UFC257, the next battle will be convincing the UFC brass that he can still contend for the belt. The fans feel he is deserving of a UFC title shot but with a loss at 257, it may take the remaining years of his prime to earn it. Chandler may only be a +125 underdog but the odds are against him. Chandler's back is against the wall.
---
UFC Betting Trends: Chandler vs Hooker
| | | |
| --- | --- | --- |
| Dan Hooker – Since 2014 | UFC Record | Profit (Units) |
| Wins Inside the Distance | 8-7 | +15.8u |
| to Win Outright | 10-5 | +5.1u |
| Fight Doesn't Go Distance | 9-6 | +3.08u |
| Under | 8-7 | +2.79u |
| | | |
| --- | --- | --- |
| Michael Chandler – Since 2013 | MMA Record | Profit (Units) |
| Under | 10-5 | +6.36u |
| Opponent Inside the Distance | 3-12 | +6.3u |
| Opponent by Decision | 2-13 | +4.4u |
| Opponent Wins Outright (Since 2011) | 5-16 | +4.86u |
| Fight Goes Distance | 10-5 | +2.07u |
UFC Betting Trends: Lightweight Division
| | | |
| --- | --- | --- |
| Since 2020 | Record | Profit (Units) |
| Dogs | 22-32 | +5.87u |
| Under | 27-26 | +5.28u |