Max Holloway vs Calvin Kattar Predictions | UFC Fight Island 7 | Diehard MMA Podcast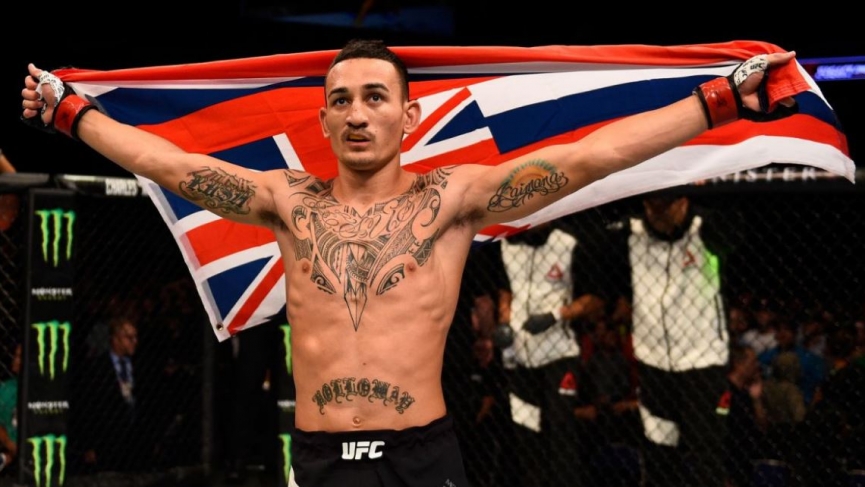 Max Holloway vs Calvin Kattar Predictions | UFC Fight Island 7 | Diehard MMA Podcast: We are back! The UFC has returned from this unbearable 3-week drought to finally bring us the mixed martial arts action we have grown to love. Not only is the UFC back, but we are back on Fight Island, and we are looking at an absolute treat of a first card.
| | | |
| --- | --- | --- |
| UFC Fight Island 7 | Max Holloway | Calvin Kattar |
| To Win Outright | -147 | +137 |
| Inside the Distance | +400 | +350 |
| by Decision | +140 | +400 |
| Total Rounds | Over 4.5 (-175) | Under 4.5 (+155) |
| Fight Goes Distance | Yes: -160 | No: +150 |
| Where/When | Yas Island, Abu-Dhabi | Sat, Jan 16th, 3:00 PM ET |
The Fighters:
| | | |
| --- | --- | --- |
| UFC Match-Up | Max Holloway | Calvin Kattar |
| Record | 21-6 | 22-4 |
| Finish Rate | 58% (10 Wins by T/KO) | 59% (11 Wins by T/KO) |
| Age | 29 | 32 |
| Height | 5'11 | 5'11 |
| Reach | 69′ | 72′ |
Max "Blessed" Holloway has had a bit of a fall from grace recently. In my opinion, the best featherweight fighter we have ever seen, Holloway dethroned the legend, Jose Aldo, with authority and back to back KOs to become the undisputed champion. Since then, it has been a bit of a rocky road, however, Max Holloway destroyed Brian Ortega but took a short-notice opportunity up a weight class for the interim lightweight title against Dustin Poirer and lost a 25-minute war.
Dropping back to his natural 145, Max won a clear decision against Frankie Edgar before losing back to back fights against current champion Alexander Volkanovski. I felt Max had done enough to win the rematch with Volkanovski, but the scoreboard reads that Holloway is 1-3 in his last four fights. 
We have talked a lot about The Boston Finisher. Calvin Kattar is a fighter who I have felt is a dark horse at 145 for a long time, and we have made a lot of money backing him. Kattar has been streaking through the division and has been on a collision course with the top 5 for some time. His opportunity to shine has finally come, and he will face a former champion and truly elite Featherweight on Saturday, while coming in on the UFC odds as the outright underdog.. This is a put up or shut up moment for Calvin Kattar, and we will get to see if he is really ready for that title picture. 
The Match-Up:
The men in the main event stack up well against one another. Both men are strikers with a heavy boxing offense. You have to give the power edge to Calvin Kattar, but the high-level experience, cardio, and volume go to Max. Max Holloway averages an astounding 6.47 significant strikes per minute. Generally speaking, when you see a stat like that, you can look back to a single one-sided fight that skews the numbers, but that isn't the case with Holloway. Max has averaged over 100 significant strikes landed in his last nine fights straight, and 8 of those nine fights were for a UFC title. It is also worth noting that Max only went the full 5 round distance in the last 4 of those fights. In 4 of the previous 9 Fights Holloway has been in, he managed to unload 100+ significant strikes in 15 minutes or less, including a blistering 290 significant strikes against Brian Ortega in a fight that ended in the 4th round. 
Calvin Kattar has struggled with big jumps in the competition so far in his career. Kattar seemed ready for the title picture back in 2018 after TKOing the ever durable Shane Burgos when he ran into Renato Carneiro. Kattar came up short and put together back to back first-round finishes but fell short against Zabit Magomedsharipov. People may not recall in the fight against Zabit that he was hanging on for dear life at the end of that fight. Calvin Kattar has been a bit of a slow starter, and it was apparent that he was turning the tide in a very close fight. Should that fight have been a 5 round main event instead of 3, many believe that Kattar would have not only beaten Zabit, but Katar would have finished him. 
Max Holloway uses his gas tank as a weapon. We saw that strategy implemented correctly against Jose Aldo where Max was able to start slowly and crank the pace up as the legend faded in rounds 2 and 3. The only issue this time is that Calvin Kattar seems more than comfortable with a slow start and ramping up as the fight continues. The big question is if he can keep pace with Max. Kattar averages 5.01 significant strikes per minute himself, which is no small feat, but he has only eclipsed 100 significant strikes landed in a single fight once. Kattar's last fight against Dan Ige was his only 5 round fight, but he used it to show off just what he could. 
Max Holloway vs Calvin Kattar Predictions:
UFC Fight Island 7 Main Event Best Bet – Max Holloway (-163) via Bet365: We are in for an absolute war on January 16th, but I have to favor the experience and volume of Max Holloway here. Max is known for his incredible durability, and the power punches of Kattar will need to do enough to overcome the volume headed back his way, and I don't know if he will land enough big shots to sway the judges. Kattar does average 5.01 significant strikes per minute, but he absorbs 5.66 in return showing that he has been out-landed even in victory.
On the other hand, Max Holloway has landed 6.47 significant strikes per minute while absorbing just 4.52, showing that he has outlanded his competition and it has not been by a small margin. I will side with the experience here and play the former champion to get back on track over a worthy opponent and contender. Even though I am high on Kattar, the fact is he is facing the best Featherweight on the planet and, in my opinion, a man who should still have that belt around his waist. 
---
FAQ: UFC Fight Island 7
What is the main event for UFC Fight Island 7
The main event for UFC Fight Island 7 is between former UFC Featherweight champion 'Blessed' Max Holloway taking on #6 ranked featherweight in the world, Calvin 'the Boston Finisher' Kattar.
What times does UFC Fight Island 7 start?
UFC Fight Island 7 starts at 12:00 PM ET, 9:00 AM PT, with the main card starting at 3:00 PM ET on ABC.