Loma Lookboonmee vs Jinh Yu Frey Pick – UFC Fight Island 4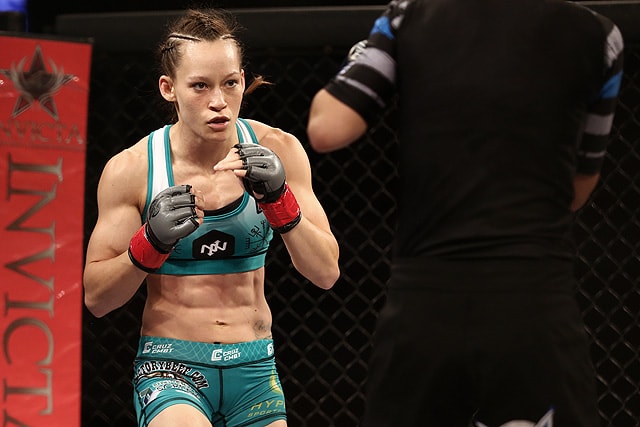 Odds.com's Loma Lookboonmee vs Jinh Yu Frey Pick – UFC Fight Island 4: The favorite has won at a 68% (33-14-1) rate in the UFC Women's Strawweight Divison going back to 2019. Loma Lookboonmee is a coin flip (-137) favorite against Jinh Yu Frey on the UFC Fight Island 4 undercard.

| | | |
| --- | --- | --- |
| UFC Fight Island 4 | Loma Lookboonmee | Jinh Yu Frey |
| Best Odds | -137 | +147 |
| Total Rounds | Over 2.5 (-355) | Under 2.5 (+325) |
| Where/When | Fight Island, Abu-Dhabi | Saturday, Oct 3rd 7:00 PM EST |
UFC Fight Island 4 is a real problem for finding live bets and underdogs. This card is incredibly difficult because the favorites are extremely inflated and the dogs have little to no path to victory. There are just a few closely lined fights and those that essentially coin flips and for good reason. With that said, some underdogs will be barking. They always do! And I think we may have found the one live dog on the card I like a little bit.
Tale of the Tape
| | | |
| --- | --- | --- |
| UFC Match Up | Loma Lookboonmee | Jinh Yu Frey  |
| Age | 24 years old | 35 years old |
| Height | 5'1 | 5'3 |
| Reach | 61' | 65' |
| Wins by Method |  3 by Decision | 7 by Submission |
| Finish Rate | 25% | 33% |
| Win/Loss | 4-2 | 9-5 |
The Fighters:
Loma Lookboonmee is a fun prospect in the women's division. She is a Muay Thai specialist who never stops moving forward and is incredibly skilled on the feet. Loma trained out of one of my favorite gyms in the game in Tiger Muay Thai and even though she only has 6 professional MMA fights to her name you can count on Tiger to have her prepped and ready to go. The only real knock against Loma is her experience and her size. Even though she is a high paced and very skilled fighter she is a neutral atom weight and will be fighting above her natural class at 115 in the UFC.
Jinh Yu Frey is a former titleholder in Invicta FC and her transition to the UFC is long overdue. Jinh Yu Frey is also a natural 105er who is fighting a little too high at 115, but she was a very large Atom weight and has the frame for 115. Jinh is a hard-nosed grinder who is willing to take the fight anywhere her opponent wants it and even though she is getting a bit older is still very much in fighting shape.
The UFC Fight Island 4 Underdog Criteria:
Fight IQ
Jinh Yu Frey is willing to embrace the grind. This is a fighter who is more than willing to do whatever it takes to get the win and that speaks to the kind of fight IQ that we need. If Jinh is able to win the fight striking then she will keep it standing. If she is forced to take the fight to the mat then she will take her foes down. In her first UFC fight Jinh fought nearly perfectly through 2.5 rounds of her 3 round debut and made just one mistake and it cost her against the submission artist Kay Hansen.
Chin
When you look at Jinh's record you can see that she has been knocked out twice and that could be concerning. Remember however that she was fighting at atomweight Invicta FC and she has a hard weight cut to get there. This may be a situation where a fighter is struggling to cut too much in order to gain a physical advantage and it backfired. We saw the same thing with Khama Worthy who was KOd several times at 145 but looked great at 155. I expect the extra 10 lbs to greatly help the durability of Jinh and Loma does not have a history of finishing anyway.
No Quit
Again, I have to point to Frey's willingness to embrace the grind. 6 of her 9 wins have come by way of decision and her continued ability to grind away for 15 straight minutes shows her mental fortitude.
Power
This is another situation where we have to teak the criteria just a bit. Usually we look for fight ending power that will allow us to turn a fight on its head and allow our fighter to come back from near defeat. Since we are dealing with women in this case that kind of power is rare and we need to accept we may not get that part of the criteria expect for in certain circumstances.
Frey does have 2 of her 6 wins by submission that ability to finish is not out of the question, but we have to look at her physical strength as power here. Jin is going to have a significant size advantage and will look to out-muscle and bully a smaller fighter like Loma and should be more than capable of doing so.
Loma Lookboonmee vs Jinh Yu Frey Pick
The line is short, but I believe we have a live dog in Jin Yu Frey. She will have a decent size advantage and a nice 4 inch reach advantage which is not something to be overlooked. Jin can play the outside and use that reach to her advantage and when they clinch up I expect her to be able to use her size and strength to her advantage as well.
Loma is a muay thai specialist and will look to use elbows and knees in the clinch, but that's putting her right in the path of Frey. This fight may end up being boring, but honestly that would be good for our bet.
In addition to all the physical advantages and the experience edge Frey has moved to the all star gym Fortis MMA for this fight and will have stepped up in that area as well. Better training partners, better coaching, and better preparation should give her an additional advantage and I think we will see a better version of Frey come Saturday.
The Pick: Jinh Yu Frey (+137) via Bet365