UFC Fight Island 4: Main Event Best Bets – Holm vs Aldana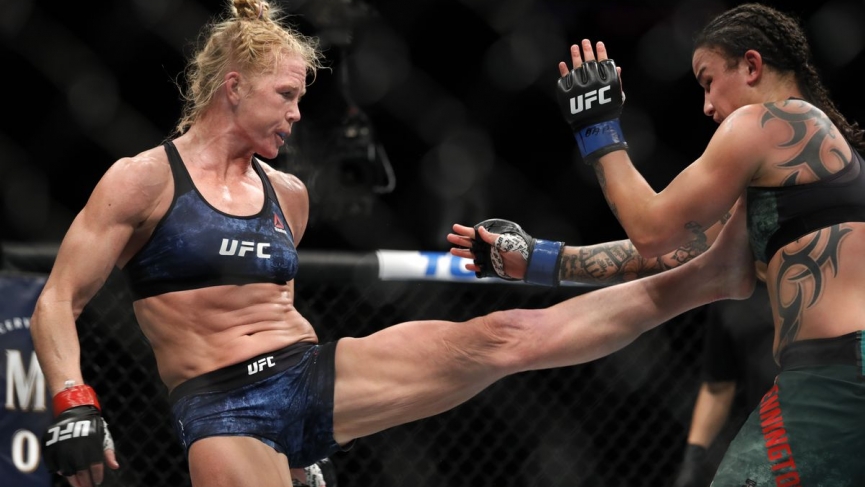 Odds.com's Holly Holm vs Irene Aldana Pick – UFC Fight Island 4: Holly Holm has gone the distance in 7 of her 11 career UFC bouts, with 8 of 9 going over the total. She takes on a rising contender in the UFC Women's Bantamweight division in Irene Aldana on Saturday night at UFC Fight Island 4. 
| | | |
| --- | --- | --- |
| UFC Fight Island 4 | Holly Holm | Irene Aldana |
| Best Odds | -115 | +103 |
| Total Rounds | Over 4.5 (-225) | Under 4.5 (+200) |
| Where/When | Fight Island, Abu-Dhabi | Oct 3rd, 10:30 PM |
Holly Holm has been a mainstay in the UFC's spotlight since she knocked out Ronda Rousey 5 years ago. She has struggled against the top tier fighters of the world but has largely dominated anybody who is not a titleholder. Saturday Holm returns to the Main Event slot at UFC Fight Island 4, and is facing a young hunter in Irene Aldana who might be ready to step into title contention.
The Fighters:
| | | |
| --- | --- | --- |
| UFC Match Up | Holly Holm | Irene Aldana |
| Age | 38 years old | 32 years old |
| Height | 5'8 | 5'9 |
| Reach | 69' | 68' |
| Wins by Method |  8 by T/KO | 6 by T/KO |
| Finish Rate | 62% | 75% |
| Win/Loss | 13-5 | 12-5 |
Holly Holm is an absolute legend in the UFC. Holly has been fighting at an elite level for years and even prior to the UFC she was a world-class kickboxer. The grim reaper comes for us all and Holly is now 38 years old. She is inching ever closer to that dreaded 40 that seems to spell death for the MMA careers of man, but every time you want to count her out Holly shows up and lets you know that she is here to stay and one of the best fighters in the world. Holly uses a kicking game to keep her opponents at a range where she wants them, and then closes the distance, as well as using her underrated grappling to either take her foes down or press them against the fence. Holly has embraced GSP's style of fighting and she has zero issues with making a fight boring in order to win.
Irene Aldana is a really exciting women's prospect and she has never been more confident that she will be coming into Saturday's main event. Irene is fresh off a big knockout win over another hot prospect in Ketlen Vieira, who we made some money on at UFC 253. Aldana has great hands and some power that is uncommon in women's MMA. She moves well on her feet and isn't afraid of either a technical fight or a brawl. Irene keeps her guard up and will protect herself from incoming attacks and has an exceptionally high work rate. Not only is Aldana an issue on the feet, but she is dangerous on the ground. We have seen her attack submissions from her back and wisely use them to get to a dominant position or submit her opponents. It doesn't matter where the fight takes place Irene is ready and generally enjoys a size and reach advantage.
The Matchup:
When I first thought about this fight I assumed I would be taking a shot with the underdog and backing Irene Aldana, but after watching the tape I am not sure that I can. Irene is a warrior who I am very excited to watch grow into a contender, but she is in a thin division and there is such a gap between the "haves" and the "have nots". This is a huge jump up in competition and even though we have to respect what Aldana has done to get here I don't know that she is ready for Holly.
Holly Holm has been fighting the tip-top of competition that women's MMA has to offer for the past 5 years and I mean that quite literally. Holm has fought Rousey, Tate, Shevchenko, GDR, Nunes, and went a full 5 rounds with Cristiane "Cyborg". Holly is an extremely patient striker who can uncork a head kick at any point in the fight and end it but is more than willing to grind, and that's what I see happening here.
More often than not Aldana's opponents want nothing to do with her on the feet, but Holly is more than willing to go to war in a kickboxing match. Holly has an ace up her sleeve in her experience, however. She isn't really showing signs of slowing down and much like Alistair Overeem she is adapting to her age-related limitations. Holly is incredibly physically powerful and I believe she will bully Aldana against the cage and take her down. I fully expect the main event on Saturday to be rather dull and take the full 25 minutes.
Holly Holm vs Irene Aldana Pick:
A big factor for me in this fight is the spotlight. Aldana has pressure on her for the first time. She will be fighting in the main event for the first time. She is going to have to fight a 25 minute fight for the first time. This is Holly's back yard. She has been here countless times and will be more than ready for what rounds 4 and 5 bring and know exactly how to punish a young fighter experiencing those deep waters for the first time. This fight is extremely close and I understand why you would back the dog. I may not get to the betting window on this one, but if I do I would be riding with The Preacher's Daughter.
Holly Holm is at -125 via Bet365 and WilliamHill