Bet365 Sportsbook Review
Bet365 Sportsbook is the largest online sports betting company in the world. Bet365 wins that title in all categories including wagering volume, active players, and the amount of money wagered at about $80 billion annually. You can give them the title of Most Internet Traffic too. So why have players made Bet365 the largest, and by all accounts the most successful bookmaker? Bet365 invests in what players want.
The sportsbook wasn't always the global power it is today. In the early days, the biggest UK brands were those that had the most physical storefront betting shops. Bet365 sold their physical shops shortly after launching online and pushed their online sportsbook offerings beyond that of the competition; But it was the in-play live betting product that separated Bet365 from the pack. Live betting accounted for the majority of their betting volume when competitors still didn't have a robust in-play product.
Industry executives have told us that Bet365's dominance in Europe was the catalyst for some of the bigger mergers and acquisitions. It's similar to what you see in professional sports… Remember all those super teams that formed in the NBA in an effort to take down the Warriors? Well, the Rockets don't add Chris Paul and Ladbrokes doesn't add Coral… if not for the looming presence of the market leader.
For years we have visited gaming conferences in London and Spain to demo the cutting edge gaming products. Many of these demos were started "Except for 365, no one else has this!" or, "It's not quite Bet365, but it's first rate!" You get the idea.
Dating back nearly 15 years, Bet365 management has worked with members of the Odds.com executive team on fine-tuning rules and promotion terms to make sure they are as player-friendly as possible. 365 is known for taking responsibility in player misunderstandings.
The USA will be the world's biggest licensed betting market by far. The amount of money invested is expected to dwarf what was spent in Europe. So far Bet365 is only in one state, New Jersey. Can Bet365 continue to be a global market leader? For now, it remains the gold standard.
---
Bet365 Sportsbook Signup Bonus
| | |
| --- | --- |
| Bonus Type: | Free Bet |
| Bonus Amount: | 100% Free Bet |
| Bonus Maximum: | Up to $100 |
| How it works: | 100% Free Bet based on deposit |
Bet365 Sportsbook's first time deposit bonus is one of the larger and simpler offers currently on the market. A Free Bet based on the deposit amount is offered less and less these days, even from the top sportsbooks. You commonly see more complicated "free bets" based on what the player bets first and even worse, only awarded if said bet is a loser. This $100 free bet is easy to qualify for, easy to use, and easy to cash out. We have this deposit bonus valued at roughly $50 cash.
While the fine print won't be relevant to most bettors, there are some things to know before jumping in.
Deposit Free Bet Bonus Requirement
| Bonus Fine Print | Details |
| --- | --- |
| Amount: | 100% |
| Type: | Free Bet |
| Maximum: | $100 |
| Based On: | Deposit Amount |
| Play Through: | One Times (1X) |
| Wager Restrictions: | -500 or longer |
| When do I get it? | After betting equal value of your own funds |
| Expiration: | 30 Days |
What do these Bonus Terms mean?
Before you will see the free bets in your "Bet Credits" you must make bets with your own funds in the same amount. So, let's say you deposited $200 and are on your way to receiving the maximum $100 in free bets. You first must bet $100 of your own funds. The one thing to know is that favorites greater than -500 won't count in these qualifying bets. So, if you bet $90 on the Patriots -21 and $10 on the -1200 money line, that $10 will not count.  Also not counting, betting both sides of the same game. So if you bet $50 on the Pats -21 and then another $50 on their opponent, your total qualifying risked bets is $50, NOT $100.
The play-through, AKA rollover, is a essentially half of 1x. A rollover by definition is the amount of times the deposit+bonus amount is bet through. So, each time you bet the sum of your bonus and deposit it is 1x. In this case Bet365 is asking that you bet only your bonus amount once. Once those bets are settled you get the free bet ("Bet Credits").
The 30 day expiration can be a gotcha-rule. Your qualifying bets need to be settled within 30 days of your deposit. So, if you come in during a slow sports window and wait a few weeks to make your initial bets, and then those initial bets are on UFC 300 which don't take place for a few weeks… your promo could very well expire. Once you have your free bet, you have 90 days to fire away. But like we said, these terms effect very few of us. Most of us action junkies are going to be firing on Vietnamese Wiffle Ball on day 1 if there is nothing else to bet on.
---
Perks at bet365 Sportsbook
bet365 has very sophisticated betting software which allows it to offer betting options that other sites don't have and can't manage at scale. Here are three of our favorite bet365 features.
Edit Existing Bets
This is one of those features players will need to try in order to understand the possibilities. Players can swap out teams, increase their risk amount, add a leg to a parlay, rearrange a parlay, remove a selection or change the bet type altogether. Players need to be aware that if the line has moved against them and their pending bet, they can't simply trade it out for a bet that is advantageous. Odds will be adjusted to reflect what essentially amounts to buying points.

Cashing Out A Bet That Is Still In Play
A few sportsbook do indeed offer this feature, however 365 was the sportsbook to first bring it to mainstream sports betting. Basically this is live betting in reverse. Let's say you wanted to make a in-game moneyline bet on an NBA team that is already covering the spread by 10 points… you would have to pay a lot to win a little. Cashing out your bet early is the opposite of that. You want the sportsbook to buy you out of that position. This can make sense if you need the funds for another bet or you see something going on with your team that doesn't sit well with you. However, keep in mind that the sportsbook is like Carmax. They will buy and sell with you all day but you will pay a premium each time you make a trade. More trading for the house means more trading 'fees'.

Watch Live Streaming Games
bet365 has long held partnerships with major streaming companies and have offered its users the ability to watch games. This is especially beneficial to US bettors who would bet on the many soccer leagues if they had the ability to watch these games. Now they can. bet365 will stream thousands of soccer matches as well as tennis matches every year. This is a big expense for bet365 but it's a safe bet that it pays for itself in the form of branding and as a customer retention tool

---
bet365 Website Experience: B-
If we have to pick one weakness for bet365, it's the website. It's not that it doesn't work or isn't very easy to use, it's just not up to par with everything else at bet365.
If bet365 was a boy band, the live betting is the Timberlake, the app is the JC Chavez, and the website is Joey Fatone.  Joey was just a little bit older and more outdated than the others and they always put him in the back. That's the 365 website. If you go to bet365.com on a mobile phone, you are told you need the app. If you go to bet365 on desktop and try the bet365 Casino you are told you need to enable FLASH. That's right…FLASH. Joey Fatone would use FLASH.
Realistically, most sports bettors will like it just fine. Most sports bettors will also bet on the app.  The site's navigation and functionality are near perfect but it's the little things that we like to nitpick on.  Use an Ipad Pro? Nope, no desktop site for you. Want to know what markets are available in each sport? Not until you click the menu item do you see "No Markets Available". 
The website does have a European feel, and that's because that has been the site's focus for nearly 20 years. If you visit from the US, you have to signup and join before American pricing can be set to the default. Again, all minor things.
We do hope they update the website and expect that they will as they enter more states. Of course then we'll have to remove our boy band analogy… I bet my friend we could mention Joey Fatone in a review so I already win.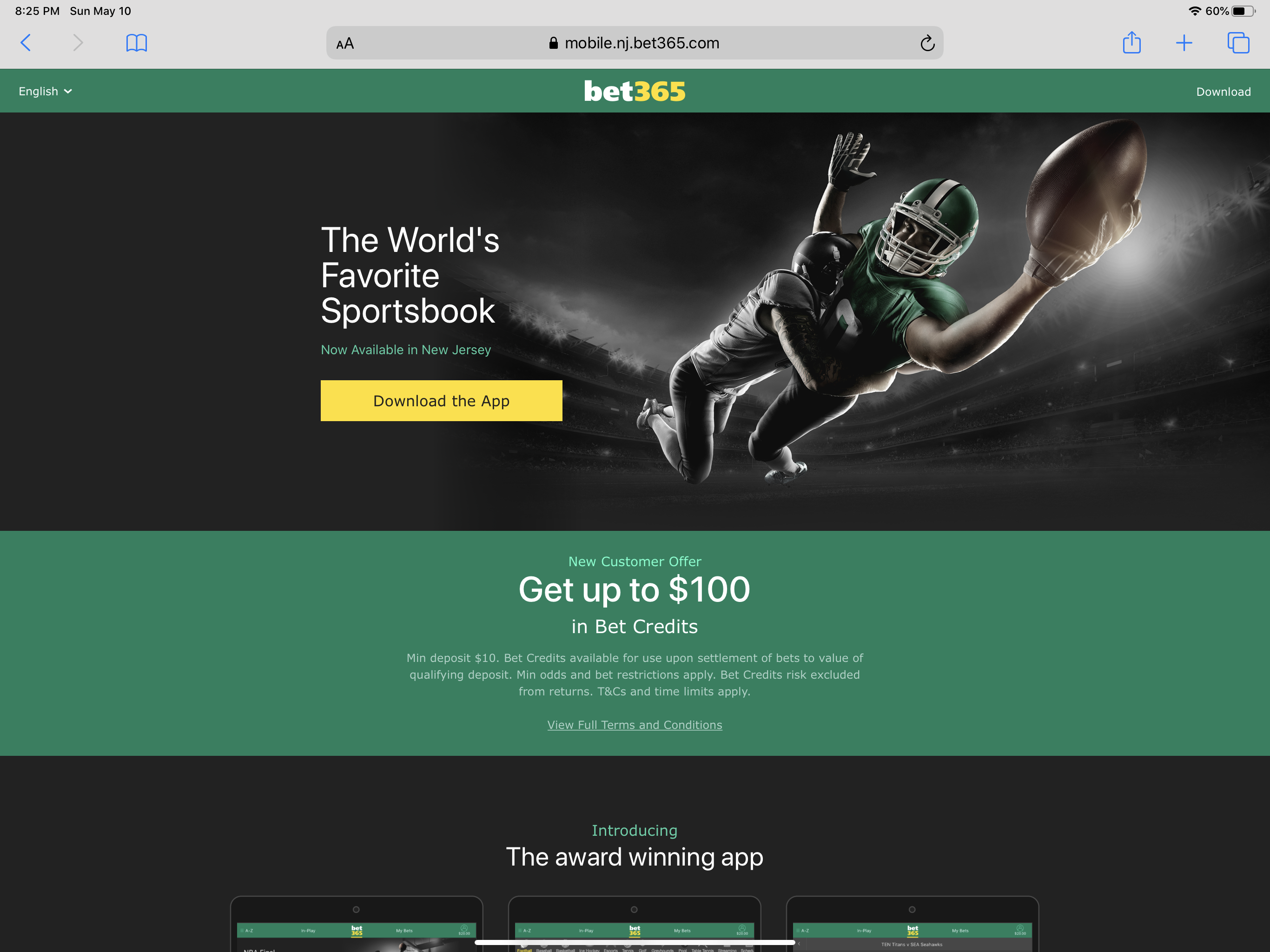 Bet365 Sportsbook App
Bet365 has both IOS and Android sportsbook apps. Unlike other sportsbooks, the app is essential. There is no other way to bet on a mobile device. Fortunately the app is outstanding.
The betting cart automatically creates a parlay for you each time more than one bet is in your cart
Expanded side-scrollable navigation. One of our gripes on the website is you must use the side menu which is two clicks away. The app puts the league at top where you want them.
Navigating open bets and "editing" a live bet is a thing of beauty on the app. It's nicer than what many bookmakers offer on their full site.
If we had to choose one gripe about the app, it is that when you choose a "favorite" sport, that sport is not moved into priority of the horizontal quick nav as it does in the "A-Z" expandable list.
---
bet365 Deposit Methods
PayPal
Credit Card
bet365 Mastercard
PaySafeCard
Online Banking (PayWithMyBank)
Cash at CVS & 7eleven
Skrill eWallet
bet365 Mastercard
bet365 Withdrawal Methods
PayPal
Check
Online Banking
Bank Wire
bet365 MasterCard
bet365 Withdrawal Options
| Withdrawal Options: | Minimum: | Wait Time: |
| --- | --- | --- |
| PayPal | $10 | 24 hours |
| Skrill eWallet | $10 |  24 hours |
| Online Banking | $10 | 1-5 Days |
| Bank Wire | $10 | 1-5 Days |
| bet365 MasterCard | $10 | 1-5 Days |
365 has some unique options including their own credit card that allows users to skip the bank and get right to spending their winnings. That said, "Online banking" will be the most convenient method for most. Depositing is instant and as easy as signing in to your bank through the secure embedded window as shown below.  If you have a credit card with rewards, we suggest you use that! The downside is that credit card deposits mean withdrawn funds must come by bank wire.
Bet365 Online Banking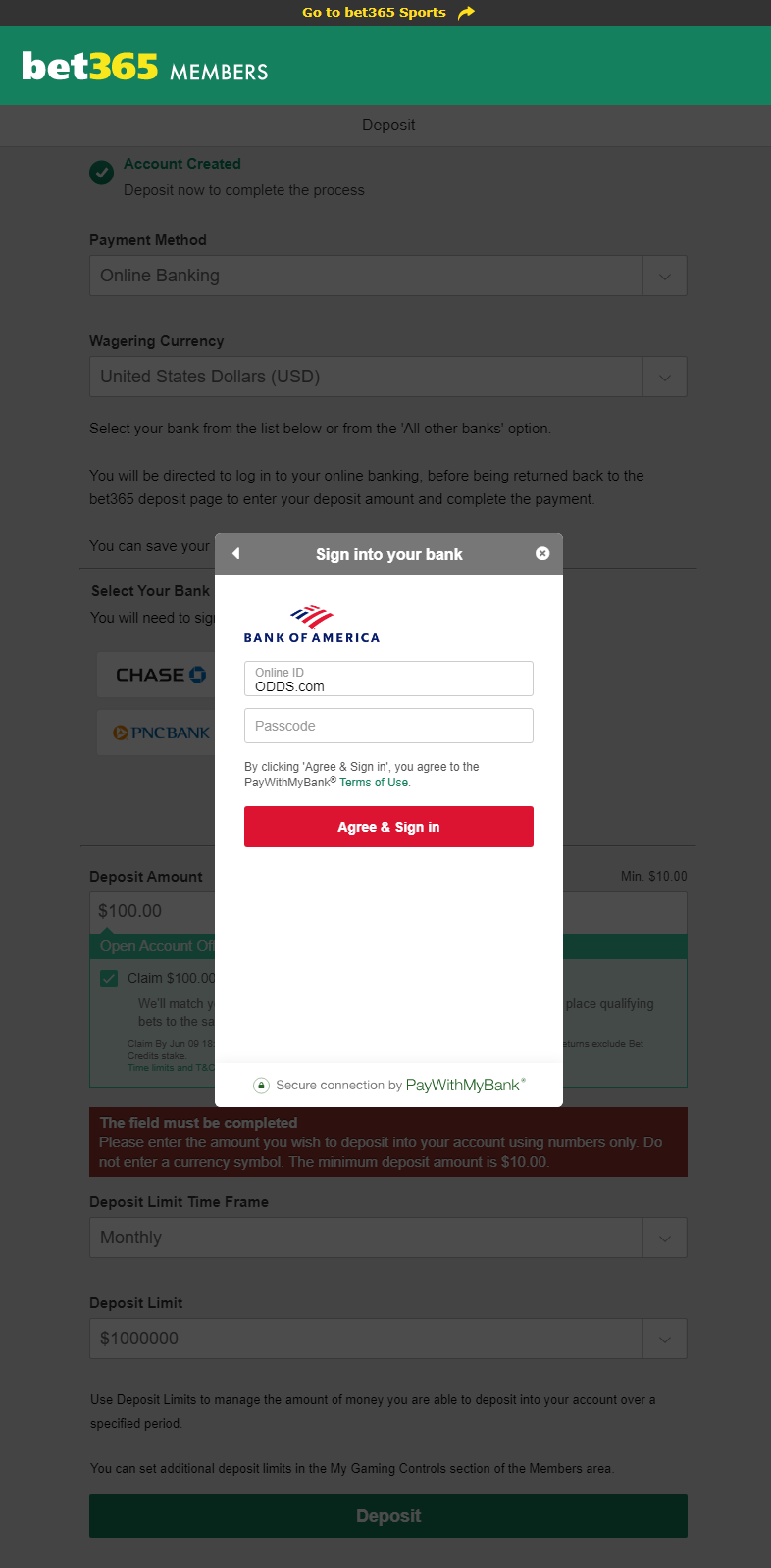 What is the maximum I can withdraw at bet365?
Players can withdraw a maximum of $30,000 per transaction. The exception to that is the bet365 MasterCard which is capped at $5,000 per week.
How much are payout fees at bet365?
All bet365 payout methods are free.
---
Sportsbook FAQ
What Software Does DraftKings Use?
bet365 uses its in-house proprietary betting platform. This allows the company to react immediately to its needs and avoids a profit share or an expensive software licensing fee.
Is bet365 Sportsbook Safe?
Yes. bet365 Sportsbook is a licensed sportsbook in the state of NJ. It has been operating with a UK license for nearly 20 years.
ODDS.com is not aware of any outstanding wagering or payout complaints.
Does bet365 Sportsbook Accept Players from my State?
bet365 Accepts players in:
New Jersey
UK & most of Europe
bet365 is in the process of opening up their sportsbook to residents in Pennsylvania.
---
bet365 Sportsbook Pros & Cons
Pros:
Players love the bet365 betting menu, live betting and ability to trade pending wagers.
Great IOS & Android APP.
US players inherit the established perks and options available in the UK. The soccer & tennis menu is by far the largest of any US-licensed sportsbook.
bet365 is powerhouse and likely the biggest threat to the US-based sportsbooks with a Las Vegas or DFS pedigree.
Cons:
It's hard to come up with a lot 365 can improve on. It's one of the few new US sportsbooks that is actually an old sportsbook (Other UK bookmakers are in the US in name only with a different product in the US). With today's tech standard's we'll have to again mention the website and mobile options.
The desktop website looks a bit dated. No League-specific menu.
No website option available for mobile. It can be annoying to grab your ipad or a friends phone to fire in a bet but can't, because you need to download the app.