Smith vs Teixeira Odds for UFC Fight Night Jacksonville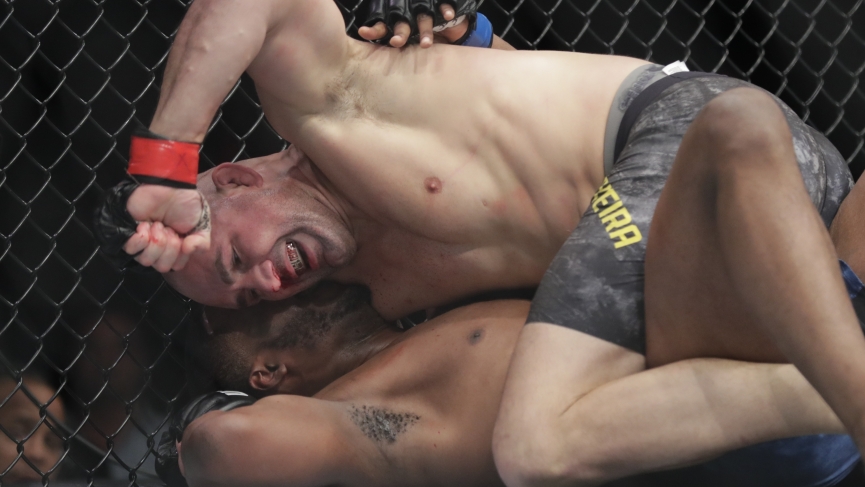 The Main Event of UFC Jacksonville is a very interesting crossroads fight that could set the stage for the future of the Light Heavyweight division. Anthony "Lionheart" Smith is looking to claw his way back to the title and a rematch with Jon "Bones" Jones. Standing in front of Lionheart is the greatest gatekeeper in MMA: Glover Teixeira. The amount of hot prospects that Glover has sent to the showers is unreal and you have to get by him to be considered a contender at 205 yet sportsbooks have him at +135.
Anthony Smith vs Glover Teixeira: The Basics
There is a very interesting dynamic between these two fighters as the majority of their success has come on the mat. Both men are fully capable on their feet but do their best work on the ground. Both men are Brazilian Jiu-Jitsu black belts and both men have 2 submission wins in their last 3 fights. Sometimes when fighters meet in the cage with similar skill sets they will actually avoid the area of the fight where both are strongest.
They tend to believe that they are better than their opponent in the other areas of the fight and decide not to engage where their foe is strongest, so there is a chance we could see a striking match rather than a high level grappling match on Wednesday night. Glover has been floating in the contender's circle since he got to the UFC in 2012 where Smith is new to the 205 division and had a disappointing fight against Jones just last year. The winner of this fight will have a legitimate argument for at least a #1 contender's fight in their next bout.
Anthony Smith (-155)
| | |
| --- | --- |
| Age31 | 31 years old |
| Height | 6'4 |
| Reach | 76' |
| Wins by KO/TKO | 18 |
| Win/Loss | 33 – 14 |
| Finish Rate | 55% |
I have NO IDEA how Anthony "Lionheart" Smith made 185. This man has been fighting at Middleweight until mid-2018 when he finally took the jump up and he is bigger than most 205ers. Standing at 6'4 with a 76-inch reach I can't help but feel like he should have made the move much sooner. At 31 years old Smith has 47 professional fights, a ton of time left in him, and he has already found himself at home as a contender at Light-Heavyweight. It's very rare that a fight has both an experience edge and a youth advantage!
Smith uses his range well to his advantage and fights long. He rushes forward with blitz attacks and mixes in short elbow in close range. When his opponents cannot quite get to him he attacks the legs and body of his opponents to drain their gas tank. As previously mentioned, Smith is a BJJ black belt and Chael Sonnen is on record stating he has trouble finding grappling matches for Smith at Submission Underground because he is so good.
Smith's go-to move is the rear-naked choke and you have to do everything possible to keep him off your back or you will be in serious trouble. The downside to Lionheart is that he tends to be out-struck by his opponents. Over the course of his UFC career he hasn't always fought the best competition and absorbs an average of 1.21 significant strikes per minute more than he dishes out. This is a very concerning stat especially considering the power Glover is known to land with.
Glover Teixeira (+135)
| | |
| --- | --- |
| Age | 40 years old |
| Height | 6'2 |
| Reach | 76' |
| Wins by KO/TKO | 17 |
| Win/Loss | 30 – 7 |
| Finish Rate | 84% |
Glover should have been in the UFC far sooner than he was! Glover was the main sparring partner of former UFC champion and legend Chuck Lidelle and he has been for a very long time. We have been lucky enough to enjoy 8 years of Glover and he has settled into his role as a gatekeeper and I mean that in the best possible way. Glover might not touch UFC gold, but he is one of the best in the world at 205, and only championship material fighters have beaten him in the past 10 years.
Glover is an excellent boxer and carries big power in his hands, but his greatest weapon is his mind. The man is incredibly technical and his fight IQ is off the charts. He knows when to attack and when to retreat. His takedown timing is excellent and he has a very defensive guard which allows him to survive when hurt or on his back. He looks to sweep and transitions to the back of his opponents well and his ability to float in top position is highly impressive for being such a large man. Glover averages 2 takedowns per 15 minutes with 38% accuracy which speaks to his aggressive approach to getting his opponents on their backs where he can go to work with his BJJ black belt.
UFC Picks for this matchup
This is such an interesting fight because both men are capable of finishing the other on the feet, in the clinch, or on the mat. Both men are durable finishers who wait for their opponents to make a mistake and then make them pay for it. The big difference I believe might be the pace and gas tank of Anthony Smith, but I'll be honest I am far more tempted to bet the dog.
This line opened with Smith the rightful favorite, but it has spiked twice and each time when Glover neared +155(some sharp bettor hammered it and drove it back down to +130 or so). I do believe this line will continue to fluctuate and if you can get Glover around +160 that would be the side I prefer. Smith did recently defeat Alexander Gustafsson, but that was a Gus who was ready to retire and hang up the gloves. I am not sold on Smith at 205 considering he has to come from behind in every fight and generally wins by submission. Glover has never been submitted in his entire career and only 3 men have ever been able to crack that chin.
There are no totals out at this time, but I am watching closely for them. Even though both fighters are finishers I believe the way that they match is going to make a finish hard to come by. I am watching closing and if I can get a good price on an over 2.5 that's the way I plan to look.
UFC Pick: Over 2.5 (Line TBD)