Figueiredo vs Benavidez Prediction Fight Island 2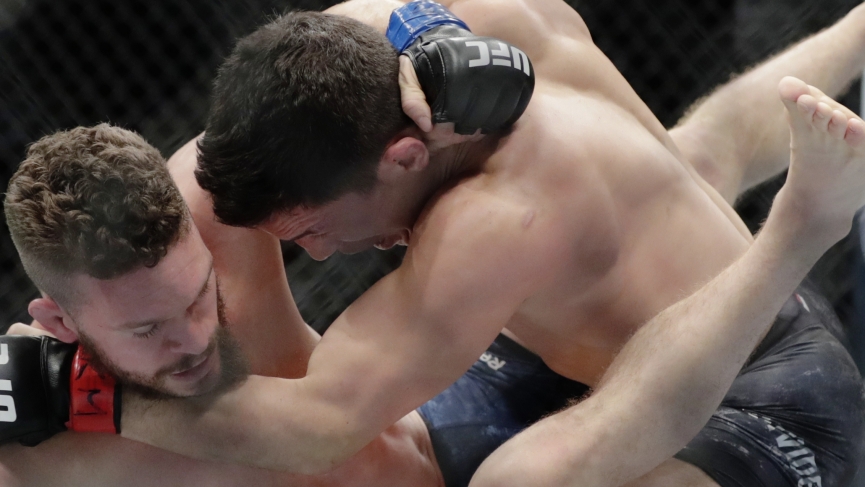 We are coming off of a rare Wednesday night UFC event and we crushed it!! Making up for the loss UFC 251 left in our pockets with a few solid wins. That gives me some confidence rolling right into Saturday's UFC Fight Island 2 that is just a few short days away. Man, it's a good time to be a UFC fan and bettor!! Let's talk about my Figueiredo vs Benavidez 2 prediction for this awesome main event rematch between and see if we can't spot a way to make that cash!
Figueiredo vs Benavidez Odds
| UFC Fight Island 2 | Deiveson Figueiredo | Joseph Benavidez |
| --- | --- | --- |
| To Win Outright | -200 | +170 |
There is SO MUCH to dig into on this fight that it's hard to call this part "The Basics". This fight is a rematch after an extremely controversial first fight. Deiveson missed weight and could not win the belt even though he won the fight and Joe was doing well prior to an accidental headbutt that caused a huge cut and opening for Deiveson to land a bomb. This rematch is taking place just 5 months later and has more pop behind it than the first time.
| | |
| --- | --- |
| UFC Fighter | Deiveson Figueiredo |
| Odds | -200 |
| Age | 32 years old |
| Height | 5'5 |
| Reach | 68' |
| Wins by KO/TKO | 9 |
| Win/Loss | 18-1 |
| Finish Rate | 83% |
Figueiredo is the uncrowned king at 125. He is HUGE for the flyweight division and has a nasty habit of knocking his opponents dead. Figueiredo is a high powered striker with a slick ground game. He is a threat both on the feet and on the mat and is just bigger, stronger, and more explosive than his pre in the cage. The only real strike against Figueiredo is that he can tend to be a bit low volume. Fig will take a punch to give a punch and actually has a negative strike differential, he just makes up for it with devastating power. Going punch for punch with Fig is a bad idea.
| | |
| --- | --- |
| UFC Fighter | Joseph Benavidez   |
| Odds | +170 |
| Age | 35 years old |
| Height | 5'4 |
| Reach | 65' |
| Wins by Decision | 11 |
| Win/Loss | 28-6 |
| Finish Rate | 61% |
Joseph Benavidez has been around the MMA game for a LONG time. He has an absolute wealth of experience and the only thing he is missing out on is a UFC title. Every time Joey looks like he is going to climb that mountain and take that strap he lets it slip through his fingers though those losses have come to only the absolute elite.
Joseph Benavidez holds a win over the newly retired champ Henry Cejudo and only has losses to Demetrious Johnson and Dominick Cruz. (Plus a weird one to Sergio Pettis that we are going to pretend didn't happen). Joe has a strange style of movement and striking that makes him both hard to hit and opens big bomb counters that he uses to land huge damage on unsuspecting foes. Joe has solid wrestling and high-level submission defense and is a complete well rounded martial artist.
Figueiredo vs Benavidez – The Matchup
This fight was underlooked the last time around because Cejudo had such a buzz behind him and 2 lesser-known fighters fighting for the strap in his absence just didn't grip the public, but we knew. This is a phenomenal matchup against two extremely high-level competitors who are low key perfect opponents. Joe relies on volume and counters while mixing in the wrestling while Figueiredo relies on his big power shots and submission offense to finish the fight. There are several very serious points we need to look at from outside the cage that will affect this fight.
Figueiredo is watching his weight. He MUST make weight for this fight because he would be the champion already had he not missed the last time out. According to his coaches, Figueiredo is 10 lbs lighter a week out from the fight to ensure he can complete the cut. This is a massive and hard weight cut for him, so getting 125 on the dot for this championship battle is potentially going to drain him more so than last time.
Figueiredo caught COVID19 and had it just weeks prior to this fight. This rematch nearly got canceled because Figueiredo tested positive for COVID19 again just a few short days ago. They re-tested him and are saying that the first one was a false positive, but I have my suspicions. The fact remains that we don't really know how COVID will affect these high-performance athletes and if he struggles at all in his weight cut or in the fight in the later rounds this may be a contributing factor that he didn't have to deal with the first time around.
Figueiredo vs Benavidez 2 prediction
Finally, due to his testing positive for COVID Figueiredo traveled to Fight Island much later than he was supposed to. This is a much bigger issue than people realize. The jet lag, the temperature, and simply the travel is exhaustive and he will have far less time to recover from this than his opponent. I have not been able to confirm when Joey traveled out to Fight Island, but his wife Megan Olivi has been at Fight Island for the previous UFC shows and I would be willing to wager than he likely traveled out earlier and has been there preparing.
All of these outside of the fight signs give me much more confidence in the side of Joseph Benavidez. I was on Joey the first time and I will be betting Joey this time. If you go back and watch the tape Joe checked the huge cut that opened on his forehead and that opening defensively was what caused the big knockout bomb to land and end the fight. Prior to the bomb Joe had outlander Fig 46 to 25 in significant strikes and was well on his way to winning the fight. Figueiredo was unable to lock down the timing and movement of Joseph Benavidez and I expect him to have the same issues here. I have to go back to the well and as long as there's no headbutt I believe Joey B will finally get that belt around his waist.
The Pick: Joseph Benavidez (+170)