Deiveson Figueiredo vs. Joseph Benavidez Predictions – UFC Undercard Best Bets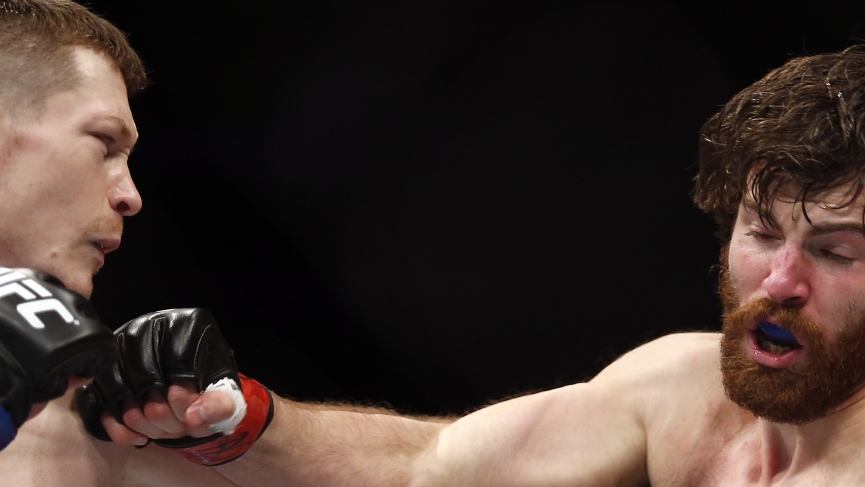 First off we need to be aware that the state of this event is very fluid. Just yesterday news broke that half of our main event Deiveson Figueiredo has potentially popped for COVID 19. Should Figueiredo be unable to compete in the rematch with Joe Benavidez Alexandre Pantoja who fights lower on the card will fill into this main event slot. With all the uncertainty of the main event let's start with the undercard for Deiveson Figueiredo vs. Joseph Benavidez 2 predictions.
#BREAKING: Joseph Benavidez vs Alexandre Pantoja is in the works after Deiveson Figueiredo tested positive for COVID-19 Per: @mariahcastromma pic.twitter.com/HVu5RarmOc

— 𝐒𝐚𝐬𝐮𝐤𝐞 ➐ (@UFC_Sasuke) July 11, 2020
Carlos Felipe vs Sergei Spivak Odds
| Felipe vs Spivak Heavyweight Bout | Carlos Felipe | Sergei Spivak |
| --- | --- | --- |
| To Win Outright | -111 | +111 |
This is an ugly fight to kick off the card. Serghei Spivac is a fighter who I previously thought I would be buying in on. He was brought in to the UFC to lose and so far has put up a decent fight in his 3 UFC bouts. Serghei is extremely raw but has some of the physical tools that might allow him to grow into a real heavyweight someday and at just 25 years old I think we are too soon to write him off.
| | |
| --- | --- |
| UFC Fighter | Carlos Felipe   |
| Odds | +110 |
| Age | 25 years old |
| Height | 6'0 |
| Reach | |
| Wins by KO/TKO | 6 |
| Win/Loss | 8-0 |
| Finish Rate | 75% |
[Feature_article1}
| | |
| --- | --- |
| UFC Fighter | Sergei Spivak    |
| Odds | +110 |
| Age | 25 years old |
| Height | 6'3 |
| Reach | 78' |
| Wins by Submission | 6 |
| Win/Loss | 10-2 |
| Finish Rate | 100% |
Felipe vs Spivak Prediction
After being KOd by Walt Harris in less than a minute Serghei was served to Tai Tuivasa in an effort to hype him up with a highlight-reel victory, but instead, Serghei used his grappling and judo on display and submitted Tai after throwing him around the octagon for 8 minutes. Serghei may have been defeated by UFC veteran Marcin Tybura but he gained valuable Octagon experience.
UFC Newcomer Carlos Felipe looks like he has some hand speed that could cause Serghei problems but he is incredibly sloppy. Felipe has 8 wins with 6 of them coming by KO, but he isn't fighting anybody to write home about and he over-extends on his attacks. This is the kind of situation where neither fighter is reliable, but I favor the current UFC fighter who has UFC level experience.
Felipe doesn't seem to have the power that a Walt Harris had and I think Serghei will be able to utilize his ground game and judo throws similarly to how he fought against Tai to welcome the new kid to the UFC's octagon with an L. The best course of action may just be to pass on this fight, but if you like to start your card off with a sweat I would roll with the fighter who has had some higher-level experience.
The Pick: Sergei Spivak (-111)
Joseph Duffy vs Joel Alvarez Odds
| Duffy vs Alvarez Lightweight Bout | Joseph Duffy | Joel Alvarez |
| --- | --- | --- |
| To Win Outright | -333 | +250 |
We all know Duffy as the man who defeated Conor McGregor. That is his biggest claim to fame. Duffy achieved a 7-0 professional boxing career and a 12-1 MMA record prior to entering the UFC but hasn't done so well since then. Duffy understandably has fought a decently high level up competition in the UFC, but his only wins are to fighters who did not cut it. Losses to Dustin Poirier, James Vick, and Marc Diakiese don't seem all that bad, but beating no names like Mitch Clarke and Reza Madadi leaves us wondering just where Duffy fits in.
| | |
| --- | --- |
| UFC Fighter | Joseph Duffy   |
| Odds | -333 |
| Age | 32 years old |
| Height | 5'10 |
| Reach | 73′ |
| Wins by Submission | 10 |
| Win/Loss | 16-4 |
| Finish Rate | 88% |
[Featured_post2]
| | |
| --- | --- |
| UFC Fighter | Joel Alvarez    |
| Odds | +250 |
| Age | 27 years old |
| Height | 6'3 |
| Reach | 77′ |
| Wins by Submission | 14 |
| Win/Loss | 8-0 |
| Finish Rate | 100% |
Duffy vs Alvarez prediction
Duffy is on a 2 fight losing streak and after a 2 year lay off and really needs to bounce back in order to get his career back on track. Recently Duffy has taken on more of a family role and in a recent interview talked about contemplating retirement which puts huge questions as to his level of motivation at this stage of his career.
Joel Alvarez on the other side of the cage is a raw talent and is absolutely massive for the division. Alvarez uses a heavy kicking game on the feet and is a solid grappler on the mat, so he isn't too scared of being taken down. This fight feels like a huge dog or pass spot to me. I know Duffy is a much better fighter than Joel, but at this stage, I wonder if he even wants to be here. Once retirement wiggled its way into your head a fighter can look old in the cage extremely quickly and Duffy seemed to have trouble pulling the trigger in his last few fights.
Duffy also seems to struggle mightily with leg kicks and that is something that Joel Alvarez does very well. If this fight was a pick 'em you would definitely be backing Duffy but there is no way I am laying -300 or more on a guy who might just be showing up for a paycheck. Totals for this fight aren't out yet, but an under might not be a bad idea either since both men are fully capable of finishing.
The Pick: Joel Alvarez (+250) or Under (Totals Pending)