Elliott vs Benoit Prediction: Buy Low Value Bet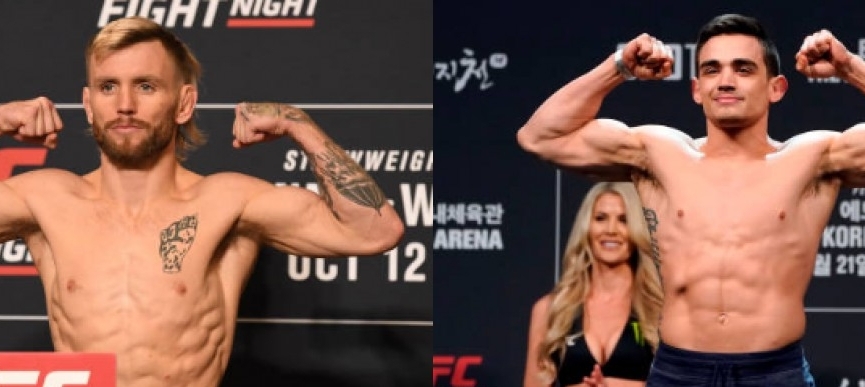 Apparently we just need to get used to things being a little more fluid. The amount of fights that have fallen apart due to COVID19 and fighters running into VISA issues has been unreal and it's playing havoc with my articles. Don't you worry though, I have found a spot within my Elliott vs Benoit prediction that I feel is worth the risk to throw some money at.
We have 2 new fighters joining Wednesday's UFC Fight Night 172 and an entirely new fight to replace the co-main event, so this card is a bit wild for betting as I have had several bets that have been canceled due to fights being pulled.
Tim Elliott vs Ryan Benoit Odds
| UFC Fight Night 172 Flyweight Bout | Tim Elliott | Ryan Benoit |
| --- | --- | --- |
| To Win Outright | -125 | +100 |
Both Ryan Benoit and Tim Elliott are fighters on a bit of a rough patch and men who I generally attempt to fade. When it comes to sports betting sometimes you have to be willing to take a shot on a bad fighter who happens to find himself in a good position and that's exactly what we will be doing here.
| | |
| --- | --- |
| UFC Fighter | Tim Elliott |
| Odds | -125 |
| Age | 33 years old |
| Height | 5'7 |
| Reach | 66' |
| Wins by Submission | 6 |
| Win/Loss | 15-11 |
| Finish Rate | 60% |
| | |
| --- | --- |
| UFC Fighter | Ryan Benoit   |
| Odds | +100 |
| Age | 30 years old |
| Height | 5'5 |
| Reach | 68' |
| Wins by Decision | 10 |
| Win/Loss | 10-6 |
| Finish Rate | 90% |
Tim Elliott vs Ryan Benoit fight breakdown
The fact of the matter is that neither of these men should be feeling comfortable. Ryan Benoit has alternated wins and losses in the UFC since 2012 and the time has come to put up or shut up. Tim Elliott is 1-4 in his last 5 however he has been fighting a very high level of opponent and has only struggled with his submission defense. Ryan Benoit was training to face striker Tyson Nam but the fight was canceled when Benoit had to pull out.
Benoit had to go through a training camp in preparation for a completely different fighter than Elliott and never had the opportunity to fight. Elliott had a similar circumstance except he had the opportunity to compete against Brandon Royval. Elliott did lose by submission to BJJ standout Brandon Royval however he at least had the opportunity to compete and get it out of his system. Of these two fighters turning around, I feel that ability to peak and perform has to count as a slight positive.
Tim is going to be the slightly bigger man of the two and given his scrambling and wrestling heavy attack we know exactly what he is going to come out and do in this fight. Benoit on the other hand is a fighter who has a 90% finish rate and has only ever won a single fight by decision. Basically Benoit is finish or bust and historically he has struggled with grapplers.
Benoit has just a 64% takedown defense rating and has given up 9 takedowns in his last 2 losses. We know Benoit has been working on his takedown defense lately, but he was preparing to fight Nam and you wouldn't expect Nam to grapple much so we can assume his ground game isn't what he was most prepared for. Given the quick turn around we can expect that Benoit didn't have time to plug this hole up. There simply was not the time for him to improve during training.
Elliott may have his issues, but if nothing else he is durable. When you consider that Benoit needs a finish to win more often than not and Elliott's best weapon is the weakness of Benoit this fight matches up pretty well for Tim. I don't usually like to be on fighters who seem to be slumping, but Elliott has gone back to his home gym and is training back with his head coach James Krause.
Tim Elliott vs Ryan Benoit prediction
Tim may not have had time to close up a ton of holes in his game in this short amount of time, but there will be something comfortable for him to at least be back with familiar trainers who know his limits and positives. To me, this seems like a bounce-back opportunity for Elliott against an opponent who he matches up with very well.
Tim Elliott's job is likely on the line, so he will be coming in to win this fight with everything he has and doesn't need to worry about the submissions because Benoit simply isn't capable of submitting Elliott. I'm going to get behind Elliott in this must-win situation.
The Pick: Tim Elliott (-125)