UFC Fight Island 5 Underdog: Daukaus vs Nascimento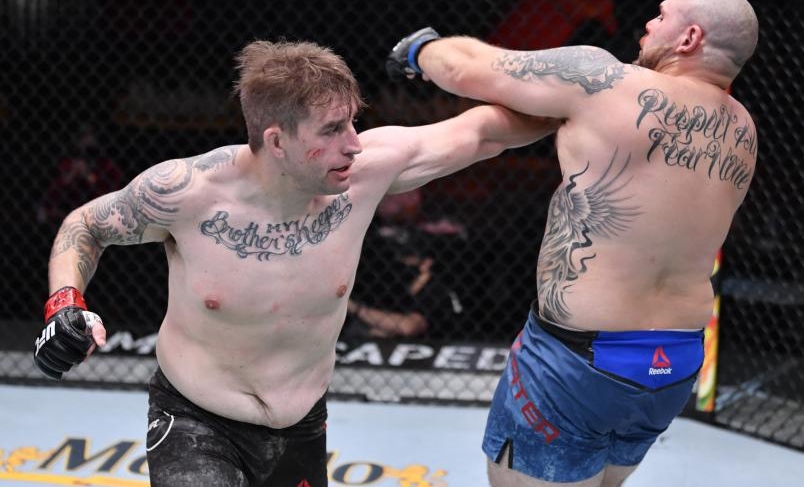 Odds.com's Chris Daukaus vs Rodrigo Nascimento Pick – UFC Fight Island 5: The Underdog has gone 30-43-2 in the UFC Heavyweight division, since the beginning of 2019. The heavy-handed Chris Daukaus is a +225 underdog against submission specialist Rodrigo Nascimento on Saturday in a heavyweight tilt at UFC Fight Island 5. 

| | | |
| --- | --- | --- |
| UFC Fight Island 5 | Chris Daukaus | Rodrigo Nascimento |
| Best Odds | +225 | -278 |
| Total Rounds | Over 1.5 (+130) | Under 1.5 (-141) |
| Where/When | Fight Island, Abu-Dhabi | Saturday, Oct 10, 7:00 PM ET |
The dogs are barking at UFC Fight Island 5! An event with some extremely wide lines, where the favorites are simply not proven. It wouldn't be a stretch to expect several unexpected upsets this weekend. This week's live dog is one that may surprise you.
Tale of the Tape
| | | |
| --- | --- | --- |
| UFC Match Up | Rodrigo Nascimento | Chris Daukaus |
| Age | 27 years old | 31 years old |
| Height | 6'2 | 6'3 |
| Reach | 80' | 76' |
| Wins by Method | 6 by Submission | 8 by T/KO |
| Finish Rate | 100% | 89% |
| Win/Loss | 8-0 | 9-3 |
The Fighters:
Rodrigo Nascimento is an undefeated prospect who a lot of people are excited about. Rodrigo is not only undefeated but he has a 100% finish rate and is dangerous both on the feet and on the mat. He made his presence known on Dana White's Contender Series with an impressive round 1 submission and rolled straight into the big show with another finish of Don'Tale Mayes
Chris Daukaus is the brother of fellow UFC prospect Kyle Daukaus who you may know from the Contender Series. Chris is another big boy who is extremely dangerous and seems to be putting it all together at this stage of his career. Chris was given his UFC call just a few short weeks ago and destroyed the tough Parker Porter in the very first round. Daukaus has fast and accurate hands and even though he looks like your classic big flabby heavyweight it appears based on his Instagram that he is starting to take the strength and conditioning part of being a professional athlete seriously.
The UFC Fight Island 5 Underdog Criteria:
Fight IQ
Chris Daukaus is a technical boxer who does everything he can to keep the fight in his realm. So far, everything observed from him in his young career shows that he is improving and getting more comfortable in the pocket. Daukaus minds his range and cuts angles. Even when he appears to be engaging in a brawl it is done technically and he is mindful of where his opponent can return fire from.
Chin
Remember folks: We are talking about heavyweights. When it comes to the heavyweight division we do not stress the chin quite as much because even the fighter with the best chin can get KOd by another able-bodied monster who weighs 265 pounds. Daukaus has been dropped and KOd twice in his career which is concerning, but as his conditioning and fight IQ improve you would expect his defense and chin to do the same. It might not be a perfect spot, but we can get away with this one.
No Quit
The Daukaus brothers are always willing to go for it. What we have seen from both of them is even when they are out-gunned and out-matched they will do whatever they can to try and get that win. Chris is willing to go out on his shield if that's what it takes for him to get the win and that's exactly what UFC underdog bettors should be looking for.
Power
89% of Chris's wins have come by way of knockout. Chris Daukas is a big man with heavy hands and extremely accurate boxing. He has only been to the judge's scorecards 1 time in his entire career. Chris has the ability to finish any opponent he faces at any point in time and he has a killer instinct. When he has his opponent's hurt he swarms and with the accuracy and speed he is capable of Chris tends to end things in a hurry.
Chris Daukaus vs Rodrigo Nascimento Pick:
The line is beyond wide in this fight. What we have is a spot where one fighter is hyped beyond belief while the other is unassuming. We have an undefeated  fighter at 8-0 that just looks so good on a highlight reel and has been in front of the viewing audience before on the Contender Series. Even though Rodrigo is very talented, he is still just a 1-0 UFC fighter who has only faced questionable competition to this point.
Chris Daukaus has fought a similarly bad level of competition, but he has handled them just as impressively. Chris has gotten caught in his UFC career and, those losses are likely the reason for the line is where it is at. However, when you line these two fighters up next to one another, the truth is, they are pretty evenly matched, and their skills are close to one another. Both men are athletic for heavyweights, both men have fast hands, and both men are good on the ground. Daukaus has nothing by KO wins, but some may not know that he was recently promoted to BJJ Black Belt which would actually rank him above Rodrigo's BJJ Brown belt. Rodrigo has only seen the 2n round once in his career while even though it was just the once Chris actually has a full 15-minute fight under his belt which is a valuable cage experience that you cannot replace.
Take the line value here on Daukaus. Rodrigo deserves to be the favorite here and I understand the hype for him, but this line should be much much closer than it is. Daukaus is a +225 dog which means he is only being given a 33% chance to win this fight. Based on the grappling we have seen from his brother, it's clear that the black belt Chris was just awarded is legit. So the ground advantage Rodrigo has had over most of his foes isn't as great in this fight as it has been previously. Even though Chris looks to be out of shape, he is taking his strength and conditioning far more seriously now that he has reached the highest level of the game. On the feet, these men are comparable with their speed and power. Chris should probably be somewhere around +150, and at heavyweight, all it takes is 1 good shot to end a fight and cash a big-ticket.
The Pick: Chris Daukaus (+137) via Bet365