UFC 255 Underdog Best Bets: Brandon Moreno vs Brandon Royval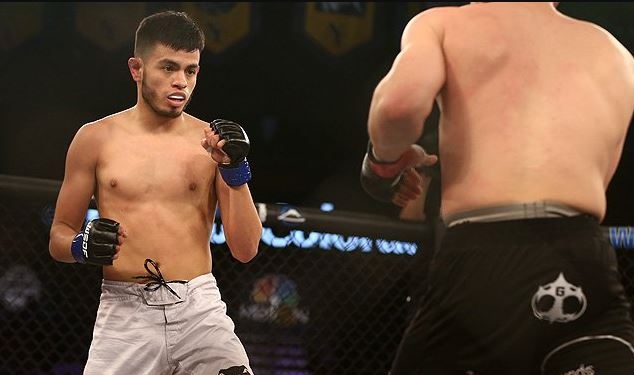 Brandon Moreno vs Brandon Royval Pick – UFC 255: UFC 255 is a night of wide lines. We had one night at UFC Vegas 14 to get a break from these massive chalky lines, and now we are right back to it.
UFC 255 ODDS
Brandon Moreno
Brandon Royval
To Win Outright
-200
+160
Inside the Distance
+280
+280
by Decision
+140
+140
Total Rounds
Over 2.5 (-135)
Under 2.5 (+125)
Fight Goes Distance
Yes: -120
No: -105
Where/When
Apex Center, Las Vegas
Sat, Nov 14th, 7:00 PM ET
The good news about big chalk lines is that it provides the opportunity to hit some big underdogs. One dog this week leaped off the page at me, and the reason our first article this week is the underdog spotlight is that I expect this line to move, and I want you to get it while you can still get a good number. 
To learn how I find my underdogs in more detail, check out my full article written earlier this year.
The Fighters:
UFC Match-up
Brandon Moreno
Brandon Royval
Age
26
28
Height
5'7
5'9
Reach
70′
68′
Wins by Method
10 Wins by Submission
8 Wins by Submission
Finish Rate
71%
88%
Record
17-5
12-4
Brandon Moreno is one of my favorite fighters in the UFC. Moreno got to the big show a little too early in his MMA career and was dropped from the organization after a rough run and has had to work his way back. Now that Moreno is back in the UFC, he is taking on all comers and has put together a nice streak. We now consider Moreno as a contender, and he is just a few wins away from title contention. 
Brandon Royval was an underdog that we have backed before. Just a few short weeks ago, Royval put Kai Kara France away in the 2nd round and was a nice fat +200 underdog that cashed well for us. It seems that he is being disrespected again by the oddsmakers and we have to ride this train until the wheels fall off. 
UFC 255 Underdogs – The Criteria:
Fight IQ: Brandon Moreno is a fighter who is skilled everywhere the fight takes place. He causes chaos and then thrives in that chaos where his opponents tend to drown. It's hard to discuss fight IQ when talking about a fighter who takes so many chances, but he is so good that he has yet to pay for taking those chances. This part of the criteria will be considered a checkmark because we cannot count what Royval does as a negative. Some men are meant to live and thrive in the darkness that others cannot comprehend. 
Chin: Brandon Royval has never been finished. Yes, he has been clipped a few times, and most recently, he took a big shot in the Kai Kara France fight, but he has never let that take him out of a fight. This kid's recoverability is insane to me, and he is a fighter who is more dangerous when he is rocked. When Royval's opponents rush in to finish him, he fires back with violent elbows and knees and turns the tide of the fight. 
No Quit: Royval is a fighter who will scratch and claw in every situation looking for the win. He never quits under any circumstances and never accepts a position his opponent may put him in. I already mentioned how Royval fights even harder and is more dangerous when he is hurt. Royval refuses to stay on the back foot and will look to take advantage of anything his opponent might give him. 
Power: Royval is a finisher! This kid has just one lone victory by the judge's scorecards. 3 KO/TKOs and 8 Submissions have us understanding that Raw Dog is a very dangerous individual. Royval is an extremely dangerous fighter on the feet and is somehow even more dangerous on the mat. I am always willing to get in on a BJJ brown belt with wicked stand up and knockout power. 
Brandon Moreno vs Brandon Royval Pick:
UFC 255 Underdog Best Bet: Brandon Royval  (+162) via Bet365: I came into this fight with a bias to Brandon Moreno. I fully expected to like him and thought it was a foregone conclusion that I would be betting him in some capacity, but once I started watching the tape, I discovered this fight is far more competitive than this line suggests. Brandon Royval can match anything Moreno can do, and I believe he has more power on the feet and has better BJJ credentials to boot. 
The breakdown is quite simple for this fight, and this bet. This fight will be beautiful chaos, and it pains me to bet against a fighter in Moreno who I have had such a good run with, but I think we are getting a ton of value on Royval. Royval will primarily fight at kicking range, so even though he is at a slight reach disadvantage, he should make up for it. When Moreno closes the distance, he will have to face the knees and hands of Royval, and while I do think that Moreno is a better technical boxer than Royval he is just extremely hittable. 
Moreno averages 3.00 significant strikes landed per minute and absorbs 2.94, meaning that he is essentially giving as good as he gets over the course of his UFC career. Royval, so far through 2 UFC fights, has landed 3.90 significant strikes per minute and has only absorbed 2.77. We do have to bear in mind that it is a small sample size, so we can't read too far into it, but these men have similar styles and a common opponent from who we can pull additional information from. Both men battled Kai Kara-France very recently, and while Moreno outlander him 91 to 82 over the course of a 15-minute fight, Royval out-landed him 39 to 22 in significant strikes and put him away in the 2nd round. 
This fight should be an even -110/-110, and You could make the argument that Royval should be the favorite in this spot, so I will gladly stick that +162 price tag in my pocket. 
Keep it locked to Odds.com for all of your UFC betting needs for UFC 255. The best current odds and content can be found on our UFC page.