Indianapolis Colts vs Chicago Bears Pick – NFL Week 4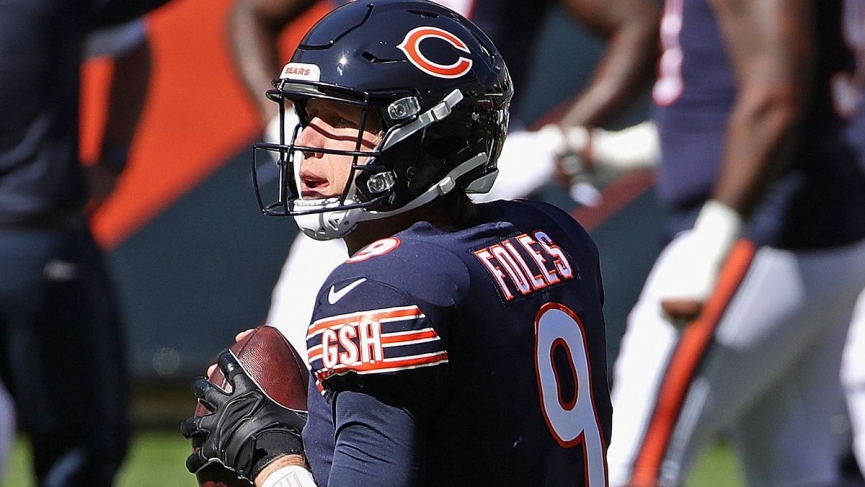 Odds.com's Indianapolis Colts vs Chicago Bears Pick for NFL Week 4: Matt Nagy and the 3-0 Chicago Bears have failed to put together back-to-back ATS wins in their last four attempts. They host the Colts on Sunday, who are riding a 2-0 winning streak, after dropping their first game in week 1. It's Bears vs Colts, NFL Picks for Week 4.

| | | |
| --- | --- | --- |
| NFL Betting | Indianapolis Colts | Chicago Bears |
| Best ATS Line | -2.5 (-105) | +2.5 (+100) |
| Total | Over 42.5 (-110) | Under 43.5 (-110) |
| Where/When | Soldier Field | Oct 4th, 1:00 PM EST |
The Indianapolis Colts will be in Chicago on Sunday taking on the Bears at Soldier Field. The Colts come into this one as a -2.5 favorite on the road. They currently sit in 2nd place in the AFC South at 2-1. The Bears are tied for 1st in the NFC North with a 3-0 record. They come into this game as a home underdog despite being undefeated on the season. The Colts, on the other hand, are 0-1 on the road this year yet are still a slight favorite in this game.
Slowing Down the Colts
The Indianapolis Colts come into this game on a 2 game win streak after losing their first game of the year in Week 1 vs the Jaguars. Their Week 2 and Week 3 wins came at home, while the Week 1 loss to the Jags was on the road. Since the beginning of last season, the Colts are 3-4-2 ATS on the road, and 0-2 ATS as a road favorite in that same time frame. Now they come into Chicago as another road favorite yet again. The Colts on offense are averaging 28 points per game and only allowing 15. Their passing game has been mediocre averaging 264.7 yards per game, but their rushing game has been great averaging 119.3 yards per game.
The Colts have managed to move the ball well on offense but their 3rd down conversion rate is poor. They are 10/33 (30%) on the season and that could be troubling against a Bears defense that is starting to show signs of that elite defense from last year. Now, the Colts defense has been pretty solid this year, only allowing 132 passing yards per game and 93.3 rushing. However, those numbers might be skewed as the scheduling has been quite favorable for the Colts so far. In the first three weeks, the Colts have faced the Jaguars, the Vikings, and the Jets, not exactly the elite teams of the NFL. Two out of three of those teams have the potential to be in last place this season and both are definitely in the bottom half of the league.
The Bears will be the first real test for Philip Rivers and his new team. Also, Rivers are starting to show signs of decline in his play, there is a reason the Chargers didn't hold onto him any longer. He has maintained decent numbers so far but that could be padded by the competition he has faced. He will continue to decline more as the season progresses and that decline starts on Sunday in Chicago.
Bears Hungry for Success
The Chicago Bears are coming into this game riding a 3 game win streak, 4 games going back to last year. Mitchell Trubisky has been up and down with the team ever since he got the starting job. He led the Bears to an 8-8 season last year when they had a defense that could have taken them to the Superbowl. The big story on Sunday was the benching of Trubisky after falling into a 26-10 deficit.
Former Superbowl MVP Nick Foles was then given the reigns and proceeded to lead the team to a massive comeback winning 30-26, not allowing the Falcons to score another point in the entire game. It's clear that Foles' injection into the offense was exactly what both this offense and defense needed to get fired up. It was announced that he will be the starter on Sunday and expect that energy to carry over into this game. In the one half that he played, Foles threw for 188 yards, 3 touchdowns, and 1 interception.
The Bears' offense averages 230 passing yards per game and 138 rushings. This is a team that likes to run the ball and ware down defenses while eating up the clock all game. Now they have a QB who is not afraid to air the ball out either setting up a very nice play-action threat. Foles has been launched into wackier situations throughout his career, including coming out of one with a Superbowl. He should be able to keep this team rolling as long as he is at the helm.
Indianapolis Colts vs Chicago Bears Pick:
The Bears are the much better team here. They have the better defense, the better QB, and the better rushing game which both teams tend to lean on. Nick Foles has won a Superbowl MVP and Philip Rivers has never even been to one. Rivers has had an easy schedule these first three weeks but this Bears defense will be too much for him to handle. Foles is much more reliable, especially after being thrown into a 16 point deficit and coming out with a win. Not to mention that the Bears since 2019 are 3-6 ATS at home, but are 2-1 as a home underdog. This is not even a question here, the wrong team is favored, Bears cover +2.5 and win outright.
The best price for the Chicago ATS is at +2.5 (+100) via FoxBet. As well, the best price on the Bears ML is at +120 via MGM