Philadelphia Eagles vs San Francisco 49ers Pick – NFL Week 4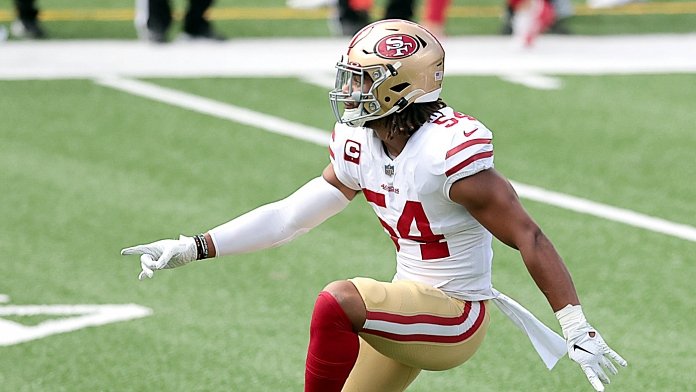 Odds.com's Philadelphia Eagles vs San Francisco 49ers Pick for NFL Week 4: Doug Pederson and the Philadelphia Eagles have failed to cover in their last 4 games in a row, and head into San Francisco (2-1) having failed to cover in their last four tries against teams with a winning record.

| | | |
| --- | --- | --- |
| NFL Week 4 | Philadelphia Eagles | San Francisco 49ers |
| Best ATS Line | +7.5 (-122) | -7 (-110) |
| Total | Over 45.5 (-110) | Under 46.5 (-105) |
| Where/When | Levi Stadium | Oct 4, 8:20 PM EST |
Before the season got started this was a game that I circled as a marquee matchup between a pair of 3-0 NFC Titans. Well, not so much. The Philadelphia Eagles have vastly underperformed everyone's expectations and sit at 0-2-1 coming off a pitiful tie to the Cincinnati Bengals at home, nonetheless. The best news for the Eagles was that there were no Eagle faithful in attendance. The 49ers are 2-1 on the season but have lost their quarterback Jimmy Garoppolo for a few weeks and starting veteran TE Jordan Reed, who is on injured reserve.
The Eagles Injury List Continues to Add Names
The Eagles added rookie sensation, WR Jalen Reagor, to the injured reserve this morning (Thursday) to a growing list of injured starters. WR DeSean Jackson continues to deal with a hamstring injury and one that has plagued him in each season since joining the Eagles. The other starting WR Alshon Jeffery has missed the last two games and is listed as questionable for this week's game.
Carson Wentz is without his three best WR on the team and an offensive line that is playing poorly and inconsistent. If Jeffery does not start, rookie John Hightower will be the No 1 WR with Greg Ward being on the other side of the field. The Eagles offense will not be able to run four and five WR sets because they do not have that many WR available.
The Eagles Are Simply Not Good
Last week, on Monday Night Football, we got to see the Kansas Chiefs and their head coach and former Eagle head coach Andy Reed take offensive play-calling to a new level of creativity. Current Eagles skipper Doug Pederson used to call games in a similar creative style and at times with a whole lot more risk. Those days seem to be decades ago for the Eagle fans and without the right personnel, there is little reason to expect anything more from the Eagles on both sides of the ball.
The Eagles rank 24th in the NFL gaining 1009 total offensive yards good for 334 yards-per-game. There are five teams in the NFL that have gained 1,300 total offensive yards ore more. The NFC East rival Dallas Cowboys lead the NFL gaining 1,472 total yards and averaging 491 yards-per-game. There is one category that the Eagles lead in the NFL rankings and it is not one to be admired. They have turned the ball over to the opponent 8 times and so far, have turned the ball over on 21% of their drives this season. No NFL team can win games with performance measures this bad.
Look for the 49ers to Start Fast
NFL head coaches know all too well that getting out to a fast start in the first quarter can take a poor team right out of the game. This first-half betting system underscores this simple truism and has earned a 35-10 record for 77% winners spanning the last 10 seasons. The requirements are to bet against road underdogs of pick to 6 points using the first-half line and is a poor passing team averaging 5.5 or fewer yards-per-pass attempt.
Here is a tremendous money line betting system that supports the 49ers and will cause even greater depression for the Eagle fans. This system has gone 27-1 for 96% winning bets over the last 10 seasons. The requirements are to bet on home teams using the money line and are a mistake-free team that are committing 0.75 or fewer turnovers-per-game and after a game earning a +2 turnover advantage and now facing an opponent with a -0.75 turnover differential.
Philadelphia Eagles vs San Francisco 49ers Pick:
The machine learning models project that the 49ers will score at least 28 points, will gain a minimum of 6 yards-per-play, and will have fewer turnovers than the Eagles. The 49ers are 81-8 straight-up (SU), and 67-22 against-the-spread (ATS) for 75% winning bets since 1990 when scoring 28 or more bets. Further, the 49ers are a stellar 21-2 SU and 18-5 ATS for 78% winning bets in home games when they score 28 or more points and average a minimum of 6.0 yards-per-play. Last, they are a 17-0 SU and 15-2 ATS for 88% wining bets when they have met or exceeded the projected all three of the performance measures. Take the San Francisco 49ers as a Best Bet NFL Pick.
The best current price on San Francisco ATS is at -7 (-110) via DraftKings