New York Jets vs Denver Broncos Pick – NFL Week 4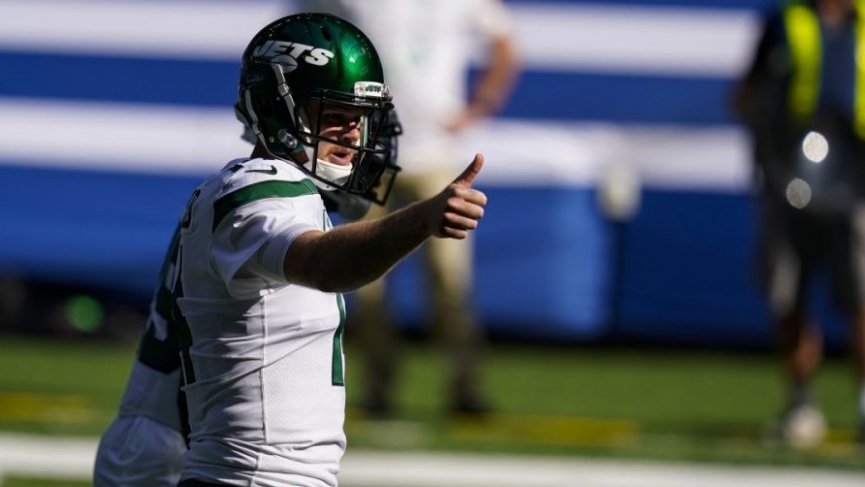 Odds.com's New York Jets vs Denver Broncos Pick – NFL Week 4: It's a battle between two winless football teams on Thursday night with the New York Jets hosting the Denver Broncos at MetLife Stadium. Both teams suffered double-digit defeats this past Sunday and have been severely impacted by injuries. Denver is expected to start third-string quarterback Brett Rypien.

| | | |
| --- | --- | --- |
| NFL Betting | New York Jets | Denver Broncos |
| Best ATS Line | -1 (-110) | +1.5 (-110) |
| Total | Over 40.5 (-110) | Under 41 (-109) |
| Where/When | MetLife Stadium | Oct 1st, 8:20 PM EST |
Inept Jets offense
The New York Jets are averaging a league-worst 12.3 points per game and they don't do much well. The rushing attack has been nonexistent without their pro bowl running back Le'Veon Bell, who was injured in week one. The Jets are averaging a mediocre 3.6 yards per rush attempt. Their longest run of the season was a 13 yard run by Frank Gore in week two.
They haven't been much better passing the ball as third-year starter Sam Darnold has appeared to have regressed. Note in his first two seasons he averaged 6.9 yards per pass attempt but this year that is down a full yard to 5.9. His total QBR which was in the mid-'40s his first couple of years is under 30 this year. Currently, the Jets skill position talent is lacking but there is the potential that wide receiver Jamison Crowder returns and that might help the Jets move the ball a little bit. With Bell still out and other receivers such as Breshad Perriman and Denzel Mims still out, don't think the Jets offense will be all that improved.
Denver has no quarterback
Denver in week one showed some potential on offense with second-year quarterback Drew Lock leading the way. They only scored two Touchdowns but the threat of a passing game gave running back Melvin Gordon an opportunity to run the football as he averaged 5.2 yards per rush. Lock got injured early in week two against Pittsburgh and all of a sudden Gordon could no longer run the football as he averaged 3.7 yards and than 3.2 yards against Tampa Bay last week.
As the starter last week against Tampa Bay, Driskel was mediocre gaining 5.9 yards per pass attempt. He was benched for Denver's final drive for Brett Rypien who moved the ball well while Tampa Bay was playing prevent defense until he threw an interception deep in Tampa Bay territory. He completed 8/9 passes but similarly to Driskel, for just 5.9 yards per attempt. Brett Rypien is expected to make his first career start on a short week which doesn't seem like a recipe for success with the lack of practice time.
Metrically, similarly to the Jets, the Broncos rank in the bottom five in points per game, yards per play, yards per pass attempt, and are a mediocre 24th in yard per rush attempt. Don't see that improving much today with Rypien under center.
Scoring when it doesn't matter
Through three weeks, the Jets have scored a grand total of four touchdowns. In week one against Buffalo, their first touchdown didn't come until the score was 21-3 and their second touchdown came on their last possession of the game when trailing by 17. In week two against San Francisco, they only scored one touchdown and it was on their last possession of the game when they were down 25. Added it all up and the NY Jets have scored two touchdowns in situations that were not entirely in garbage time.
Denver only scored 14 points in week one but thought their offense showed flashes under Drew Lock. While quarterback Jeff Driskel moved the ball against Pittsburgh in week two, the offense scored both their touchdowns in the second half, and in both instances, Pittsburgh had a double-digit lead. Last week against Tampa Bay, Denver scored their only touchdown when down 23-3 and didn't score the entire second half.
With this expected to be a tightly contested game with two mediocre offenses, I don't see garbage time points. Unless one team can separate from the other, which I don't see happening, there will be no need to put the ball in harm's way the way Darnold did last week with two pick-6's. Also, with Rypien making his first career start I'm expecting a conservative game plan from Denver unless New York is able to put scoreboard pressure which they haven't shown the ability to do.
New York Jets vs Denver Broncos Pick
There has been plenty of offense through the first 3 weeks of the NFL season but the offense both the Broncos and Jets have shown has been offensive. Every total this week is lined at 43 or higher except for this contest, as this total is the only one lined under 40. There is a reason for that and with an expected close game, expect the winner to be the first team who gets to 20 points. Take Under 39.5.
 The best current price on the Under is at 41 (-109) via BetAmerica