Indianapolis Colts vs Jacksonville Jaguars Pick – NFL Week 1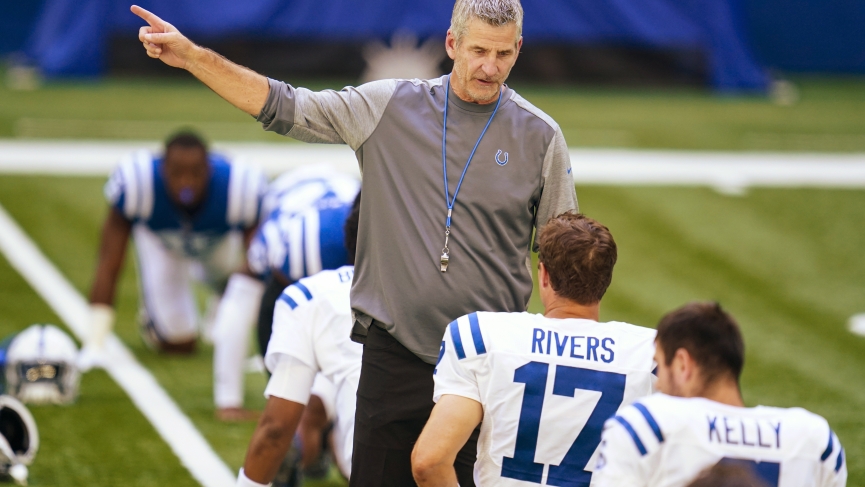 | | | |
| --- | --- | --- |
| NFL Betting | Indianapolis Colts | Jacksonville Jaguars |
| Spread | -7.5 (-110) | +7.5 (-110) |
| Total | Over 45 (-110) | Under 45 (-110) |
| Where/When | TIAA Bank Field – FL | 1:00 PM EST |
OddsHQ's Indianapolis Colts vs Jacksonville Jaguars Pick for week 1 of the 2020 NFL season is in. 
Week 1, Colts vs Jaguars. The Colts made headlines and dropped jaws this off-season by signing veteran quarterback Phillip Rivers, whose entire 16-year career has been with the Chargers. While this move has put the Colts in the limelight with some much-needed publicity, was it the smart move to pay a whopping 25 million for 1 year? That's a big fat NO. First and foremost, Phillip Rivers is no young buck at 38. He's nowhere near his prime, having thrown 20 interceptions last year, the 3rd highest in the NFL. Is this signing inflating the line in week 1? Let's take a look.
Fade the Aging Rivers and Overrated Colts
The Colts beat only TWO teams by more than a touchdown last year. Both games were on their home field. Here, they are currently favored by 7.5. Statistically speaking they should be closer to -3 or -4. Why are they getting so many points? One reason… Phillip Rivers.
Rivers value is not so much in his ability now, especially at this point in his career, but in what he has done in the past. Colts value skyrocketed after signing Rivers but veteran bettors know you can't bet into the hype. Going back to 2015, the Colts have lost 5 consecutive games to the Jaguars in Jacksonville. In week 17 last year, the Jags crushed the Colts 38-20. Asking a quarterback, who's never played for another team, let alone taken a snap with them, to beat the home team by more than a touchdown is too much too soon.
Minshew Mania: Round 2
Gardner Minshew broke on to the scene last year having to come in for an injured Nick Foles. Minshew and his now-famous handlebar mustache, took the league by storm early on last year, passing for 3,271yards, 21TDs, and only 6 INTs as a rook. I'm taking Jags +7.5 not only because Minshew is a solid QB but he's a playmaker. The best current odds for the Jaguars are at +8 (-110)
[oddscom_oddscom_game_tile market="spread" query="456973″]
The Jaguars have a great young receiving core, which makes enough plays to cover the +8 at home. Highlighted by DJ Clark, Laviska Shenault, and Dede Westbrook, who all can make big plays against the Colts secondary, this offense is capable of sending fast receivers.
Leonard Fournette being waived last Monday came as a huge surprise to many, but I don't foresee it having a large impact in this contest. Fournette had just an okay year in 2019 rushing for 1,152 yards and 3 TDs. Ryquell Armstead and Chris Thompson will split carries, especially early on in this season. If the Jags can open up the play-action, they'll make big plays for Minshew and his young receivers.
Jacksonville had a great 2020 draft by addressing needs on the defensive side of the ball, taking cornerback CJ Henderson 9th overall from Florida. He's ready to start right away and that will benefit the team's defensive holes. With the 20th overall pick, they took stud defensive end, K'Lavon Chaisson, from LSU. This defense should face a rusty Phillip Rivers. I expect they need to make a few stops and can bend without breaking.
Indianapolis Colts vs Jacksonville Jaguars Pick
Jaguars +8 (-110 via FoxBet)
This Indianapolis Colts team is getting overhyped laying 7.5 points to a division rival in the first game of the season. Taking into account a 38-year-old Phillip Rivers, the Colts being favored by more than a TD in Florida, it's too many points to pass up. Are the Colts the better, more experienced team? Probably, but when betting football there are key numbers to look out for. The big ones are 3, 4, and of course 7! We are crossing that number with the .5.
Jaguars have a solid young receiving core that should help keep them in the game. I expect Rivers at his age to make some mistakes in week one with this new team. There will be no fans and no pressure that comes with a normal rookie-rattling home opener. This favors Jacksonville.
Minshew can move fairly well in the pocket and should be able to use his legs to help make some key plays. I think the Jaguars hang in here in week 1. I see the Jags keeping this close and possibly even walking away with the W! I will gobble up these 7.5 home dog points. The Jags are playing against an average team, with a questionable quarterback, that's priced way too high.