Betting The NY Giants in the NFL Draft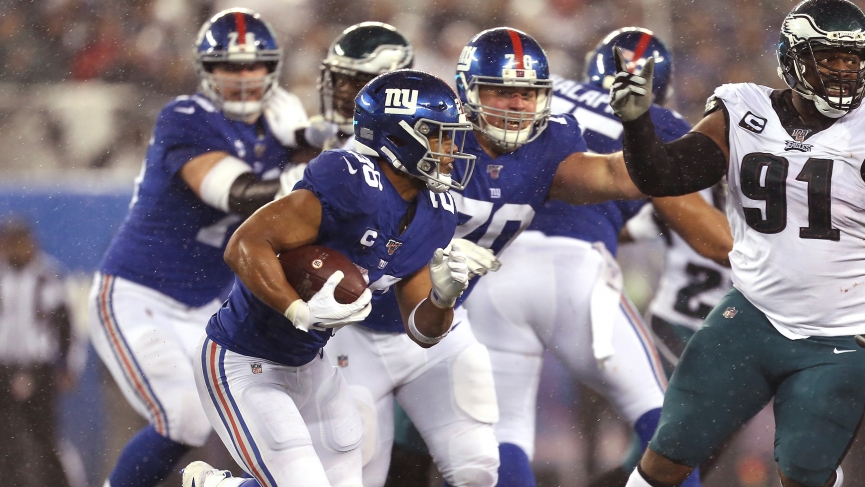 The New York Giants have the No. 4 pick in the 2020 NFL Draft.
The odds favor the Giants selecting an offensive lineman.
Giants Odds and Favorites:
First Draft Pick: Tristan Wirfs +170, Isaiah Simmons +500
Position of 1st Drafted Player: Offensive Lineman -150, Linebacker +170
The New York Giants are coming off another forgettable season. It was one during which we saw a changing of the guard at quarterback in New York, with Daniel Jones taking over as the team's starter and a farewell to one of the team's all-time greats in Eli Manning.
The Giants finished with a 4-12 record — just ahead of the 2-14 Cincinnati Bengals, the 3-13 Washington Redskins and the 3-13 Detroit Lions, who were awarded the top three selections in the 2020 NFL Draft. With just three players off the board by the Giants' pick, the player pool will be chocked full of future NFL stars at the No. 4 spot.
With so many potential directions that the Giants could go in, let's see if we can find a way to make some money by betting on who they'll take and what position that person will play once on the field.
Who Will Be the First 2020 Draft Pick by the New York Giants?
There are almost too many mock drafts out there, but the same few players' names keep popping up as the Giants' potential first-round draft pick.
The team's official website, which is surely clued into what might happen on Day 1, did a rundown of 15 experts predicting who will go to the Giants. And that list includes any and all of the top possibilities listed on most sportsbooks. Offensive tackle Tristan Wirfs and linebacker Isaiah Simmons are neck and neck with the best odds, at +170 odds. Then come another two OTs in Mekhi Becton +550 and Jedrick Wills Jr. +650. There are also some big-name longshots including Chase Young +2600, Jerry Jeudy +3800, and even two QBs in Justin Herbert and Tua Tagovailoa, both at +10000.
But let's consider what the experts are saying when deciding who to place a bet on.
ESPN's top two draft experts in Mel Kiper Jr. and Todd McShay both think the G-Men will take Simmons +170. So did reps from CBS Sports, USA TODAY, Bleacher Report, and NFL Media. That's six out of the 15 featured experts having "cast their vote" for the Clemson linebacker. (You can read what our draft analysts think.) Next most is Becton +550 going to the Giants in three mocks — Dane Brugler (The Athletic), Lance Zierlein (NFL Media), and Michael Renner (Pro Football Focus). Daniel Jeremiah (NFL Network) and Jason McIntyre (FOX Sports) are on Wirfs +170 while Peter Schrager (NFL Network) and Bucky Brooks (NFL.com) see the Giants taking Wills +650.
Two other mocks went a bit more out of the box, saying Jeudy (Austin Gayle, Pro Football Focus) or Young (Steve Palazzolo, Pro Football Focus) would be the Giants' pick. I think it's more likely that one of the longshot QBs goes at No. 4 with a team leapfrogging the Miami Dolphins at No. 5. In that scenario, the Giants make the selection and trade back while still nabbing one of these top players — likely one of the three offensive linemen.
That we can lock in plus odds with Wirfs, Becton, and Wills, I'll sprinkle a bit on each of them and hope one of the longer shots ultimately has his name announced as the Giants' first pick on Draft Day.
What Will Be the Position of the Giants First Selected Player?
With three offensive linemen in the top four odds for the Giants' pick, it's no wonder that position is the odds-on favorite -150 to be the team's first selection. Seemingly, the one potential wrench in the fan to a winning bet here would be if New York takes a linebacker, which has +170 odds. Simmons is that linebacker and his odds to be New York's first-round selection match that of his position.
Beyond that, defensive lineman has (+1000) odds (equal to Derrick Brown's odds) and cornerback is at +1600 (lining up with Jeff Okudah). Those are both highly unlikely, and like I said above, if you're looking for a longshot when betting on the Giants' top pick, take quarterback at +3400 and hope for a trade.
That offensive lineman sits as the odds-on favorite, it's more than likely the G-Men ultimately select one of the three highlighted here. The odds and rumors swirling all point to that too. It simply comes down to which one ends up being drafted by the Giants that will decide how much your payout will potentially be.