NFL Draft Odds : Betting The Corona Draft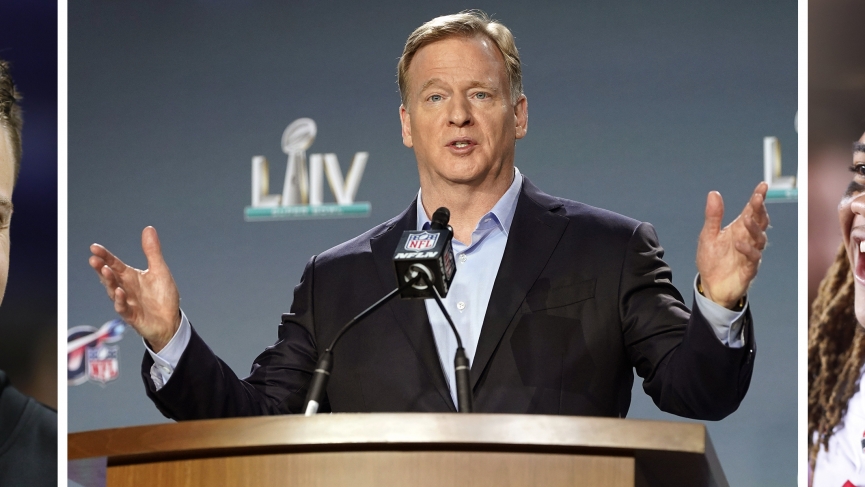 Odds favor Joe Burrow as the first overall pick.
Wide Receivers total market shows historically there is value
Paul Harris talks parlaying Tua Tagovailoa prop bets.
With every major sport around the world on hiatus amidst COVID-19, there's been a real lack of sports betting available. So much so that last week, I saw DFS sites pop up with contests based on television shows such as Survivor.
Get your bankroll from under the mattress –  Thursday, April 23rd is the NFL Draft and it will go down in history as taking more wagers than any other draft in NFL history.
Let's take a quick look at some of the story lines surrounding this year's NFL draft.
Young Has More Potential Outcomes Than Doctor Strange
The real intrigue when it comes to betting on the draft this year revolves around the second overall pick. We all know former-longshot Heisman winner Joe Burrow is going to be the No.1 pick, end of discussion.
But what happens next? Currently, the Redskins have the second overall pick and can easily select Chase Young. He'd help bolster a Redskins' team that ranked 27th last season in defensive efficiency. Washington's leading sack-getter in 2019 was Matthew Ioannidis with 8.5, yeah, I've never heard of him either. Young registered 16.5 sacks last year at Ohio State. Instant upgrade.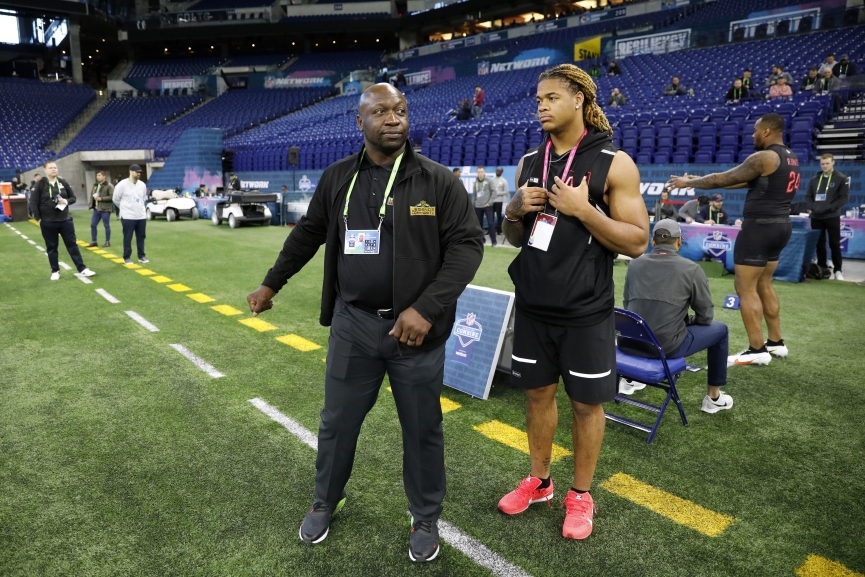 If you are looking to bet him here, the odds aren't paying out that great. He is -305 to get selected by Washington and -305 to be the second overall pick. Young is about as heavy a favorite as Harry Potter was to defeat Voldemort.
If you, like myself, think this pick will get moved, then there is some real money to be made. DraftKings currently has Chase Young's pick line at 2.5. Young falling past the second pick is currently paying out +260.
In regards to Young falling past the fourth pick, I defer to Vince McMahon's theme song. No chance. No chance in hell. Which means you could throw a dart at both the Lions (+250) or the Giants (+1000) to take Young.
If you wanted to parlay the two, say over 2.5 draft position and the Detroit Lions selecting Young would win $1,160 on a $100 bet. Or, if you bet $100 on over 2.5 and the Giants selecting him, you would win $3,860. That's a whole lot of car parts you can buy.
Wide Receiver Is As Deep As A Golden Corral Buffet
In recent years, the first round is not where teams have been going to find wideouts. In 2019 and 2018, only two got selected each year. That seems to all be changing this year, as 2020 could have the most receivers selected in the first round since 2016.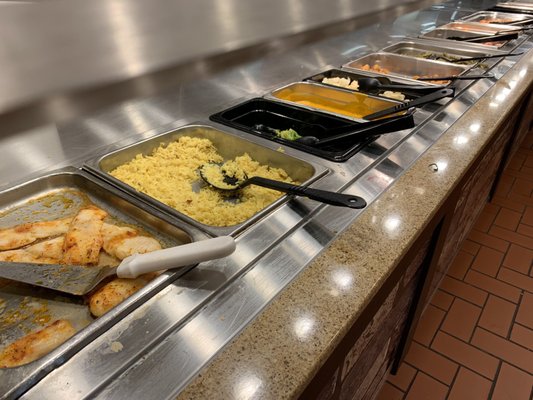 DraftKings currently has the over/under set at 5.5 for the number of players selected in round 1 at the position. That seems insane considering only one time this decade have six receivers been taken in the first round.
There are essentially two locks for the first round, and then it's up in the air how many receivers will actually go in the first 32 picks.
Jerry Jeudy – Total Rounds : 11.5 to 1
Jerry Jeudy has a legit chance to go inside the Top-10 picks, and DraftKings knows that as they have his over/under set at 11.5. A team like Jacksonville at 9 seems like a perfect match. A parlay of Jeudy being the first wideout taken along with the under of 11.5 gives you odds of +265. <Can you actually parlay these? These are correlated. It would be surprising if you could parlay two draft position bets. >
CeeDee Lamb 13 to 1 to be 1st receiver
CeeDee Lamb is the next best prospect and is carrying +130 odds to be the first receiver off the board. That could be a sneaky play considering Lamb is also projected to be a bonafide Number 1 on any team he goes to. Looking around, Lamb is also very close to Jeudy in terms of over/under pick position.<Whats this mean?>
Bet The Others To Go Early?
After those two, anything can happen. All of Henry Ruggs III, Justin Jefferson, Laviska Shenault and Tee Higgins have a chance to go in the first round. There's a better chance I get a girlfriend over any of those four going before Jeudy or Lamb, so betting that is useless no matter the odds. <Precede the joke with the wager offered? What is this bet?>
I would, however, take the under on 5.5 receivers being taken in the first round. Looking at the bottom of the first round, most teams either addressed their WR need in free agency or drafted a good one last year.
How The F#$% To Bet The QBs?
The only certain thing in this draft is that Joe Burrow is going first overall. Lock it in. Throw away the key. Forget about it. But after that? Everyone seems to be all-aboard the Tua Tagovailoa hype train, and his draft stock just keeps soaring. That led to his over/under pick position to jump to 3.5 on DraftKings.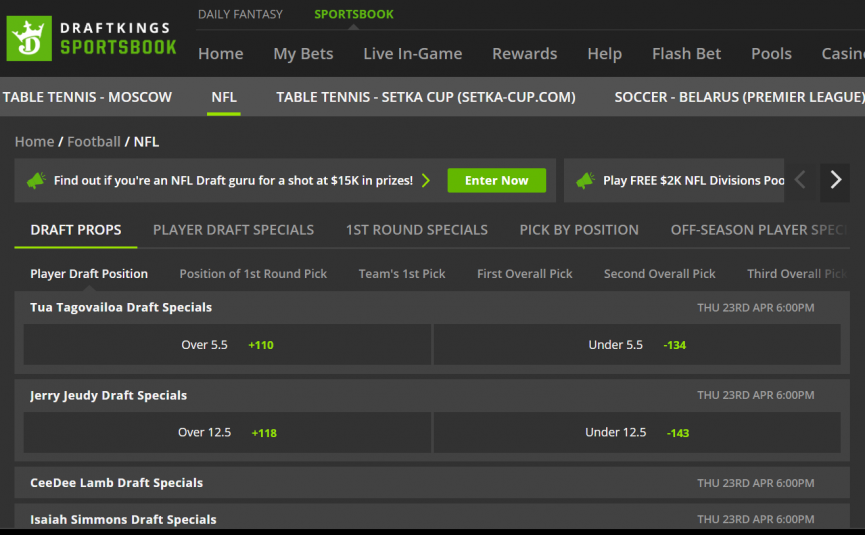 Whether or not it'll be a good pick with his injury history is beside the point– I think it's inevitable that someone is trading up into the Top 3 for him. The Dolphins pick fifth, and the Chargers sixth. One of those two is going to want to trade up and ensure they get him. Tua under 3.5 seems as good a bet as Burrow going number 1.
If you parlay Tua as the second QB taken, along with under 3.5, DraftKings will give you +139 odds.  If you want to get crazy and add which team will select him to the parlay, you'd get +282 with the Dolphins or +795 with the Chargers. My money would be on the Dolphins, especially after seeing what they've done in free agency.
An interesting one to keep an eye on is Justin Herbert. While you won't get great odds on him being the third QB off the board (currently betting $250 wins only $100), the odds that the Chargers take him are super intriguing.
Ian Rappaport reported that the Chargers are not expected to sign or trade for another vet QB. Meaning we may have another Tyrod/Baker scenario in LA. Betting Herbert as the third QB taken and the Chargers taking him for +250 odds may be my favorite off-the-beaten-path parlay of the entire draft.