Draft Odds For the 3rd Pick: Tagovailoa & Justin Herbert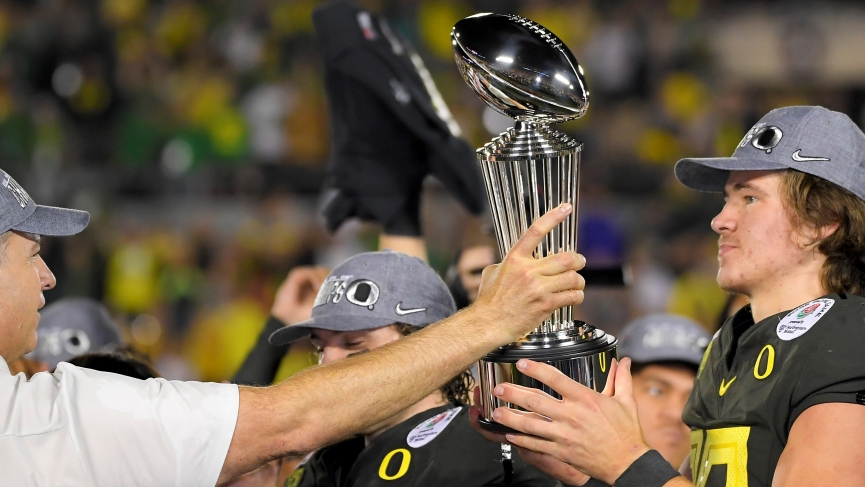 The 2020 NFL Draft is seemingly the only "live sporting event" that sports fans have to look forward to later this month. From April 23-25, the next class of NFL players will find out what jersey they'll be donning, but it sadly won't be the spectacle that we've become accustomed to.
Teams will announce their selections from individual "virtual headquarters" with a line to the commissioner and the live television broadcast. While it will be a much different beast than we're used to, it doesn't mean we can't bet on any and all outcomes on Draft Day.
A couple of things do seem clear. Joe Burrow will be selected first overall; his -7000 odds say that. And Chase Young will most likely be the second pick -600. It's beyond that where we can get plus odds across the board when wagering on which player gets selected at No. 3, No. 4, and so on – something that gives bettors a chance at some big payouts. But it's also good to remember that when sportsbooks don't know — meaning there is no odds-on favorite — that the public is typically even more in the dark.
With that in mind, let's try not to throw our money away as we do our best to find some positive returns early on in the 2020 NFL Draft.
Pick No. 3 in NFL Draft Pays Plus Odds on All Players
With the first two picks looking to be locked in, the odds for the third overall selection, currently owned by the Detroit Lions, is where we can start to see some dividends.
Even though the Lions don't look to be in the market for a QB, Tua Tagovailoa is the favorite to go No. 3 with +130 odds. Jeff Okudah continues to gain steam, with his odds improving to +170 in recent days, and he's a player I'm likely to put some money on come draft day. What this seemingly comes down to is if a team's front office is in love with Tagovailoa and ultimately trades up to get him. If that's the case, then Tua gets drafted at No. 3. If not, then the Lions will most likely go with the cornerback out of Ohio State.
There are a bunch of players with longer odds including Chase Young (+340), Isaiah Simmons (+900), Justin Herbert (+900), and Jedrick Wills Jr (+5000), but so much would have to change for any of them to be selected third overall. You can even bet on Burrow to go No. 3 at +10000 odds, but that's truly just throwing money away.
Truth is, Herbert at +900 odds is a nice wild card here. However, the only way that happens is if not one, but two trades are made within the first three picks. It would then go Burrow, Tua, and Herbert. While unlikely, those 9-to-1 odds are appetizing.
As a bettor, you need to predict the future here. If teams stand pat, then it's Okudah. If a trade or two do go down, then it's Tua (likely) or Herbert (longshot). It's seemingly a two-horse race for the No. 3 pick which is 100 percent based off a trade scenario.
Which Team Will Take Tua?
With Tua being the slight favorite to go No. 3, we can flip the script and instead bet on which team he'll be drafted by. It's important to take note that many sportsbooks say "Team To Draft Tua Tagovailoa." That means that it isn't what team he ends up with, but the team that actually drafts him. For example, the San Diego Chargers, not the New York Giants, drafted Eli Manning – a team he ultimately spent his entire NFL career with.
This is why I love the Lions' odds to draft Tua, sitting at a whopping +1600. As mentioned above, they own the No. 3 pick and it's quite possible that a trade for that selection does come to fruition. That could mean the Lions draft Tua and then trade him to, let's say, the Miami Dolphins, a team that is currently the odds-on favorite (-150) to win this prop bet.
The Los Angeles Chargers (+195) and the much-longer-shot Las Vegas Raiders (+1500) have shown interest in Tua as well, but the payout here could simply come down to how a potential trade is executed.
Where is Herbert Headed?
The consensus third QB in the 2020 NFL Draft is the aforementioned Herbert. And you can get plus odds on both his draft position and which team drafts the Oregon product.
Herbert's draft position prop puts his over/under at 5.5. The over has -192 odds and the under is +150. With lots of QB-needy teams (but only two in the top 5 – the Bengals and Dolphins), this one is pretty cut and dry. If you take the under, then you're betting on someone trading up to snag Herbert. If you bet the over, then you think otherwise.
Whether Herbert goes in the top 5 or not, the betting options as to which team will draft him is a laundry list of those that need QBs. The Dolphins are surprisingly listed as the favorite at (+125), but with Tua likely ending up in Miami, I'm throwing them out as a landing spot for Herbert.
Next comes the Chargers, +160, who also happen to have the No. 6 pick, followed by the Carolina Panthers who just lost Cam, at +700, Indianapolis Colts, +700, Jacksonville Jaguars, +900, Las Vegas Raiders, +1200, Tampa Bay Buccaneers, +1500 and Denver Broncos, +1900.
The combination of draft position odds, team to draft player odds, and the many rumors surrounding Herbert all point to one thing for me — that he ends up with the Chargers at the No. 6 pick. So I'm on the over, (-192) and the Chargers, (+160) for Herbert, but a live longshot to consider is the Broncos and their 19-to-1 odds.
Whether you bet on Herbert, Tua, or the No. 3 pick in the 2020 NFL Draft, let's just be happy that the NFL is giving up something to watch and wager on come Thursday, April 23.