LA Lakers vs Miami Heat Pick – Game 6 NBA Finals
Odds.com's LA Lakers vs Miami Heat Pick – Game 6 NBA Finals: The Lakers are a perfect 5-0 when coming off a loss in these playoffs, and that's exactly the position they are in for game 6. The Heat have their backs against the wall for the second straight game, and Jimmy Butler and his supporting cast will look to push for a game 7 in the NBA finals. 

| | | |
| --- | --- | --- |
| NBA Finals Game 6 | LA Lakers | Miami Heat |
| Best ATS Line | -5.5 (-115) | +6.5 (-118) |
| Total | Over 214 (-110) | Under 214.5 (-110) |
| Where/When | AdventHealth Arena, FL | 7:30 PM EST |
Game 6 of the NBA finals between the Miami Heat and Los Angeles Lakers takes place Sunday at 7:30 pm Et from the NBA bubble in Orlando, Florida. The Lakers for the second time will try to eliminate the Heat and win the NBA championship. They came up just short in game five when trailing by 1, Danny Green missed a three with seven seconds to go. Miami will try and force a game seven which would be Tuesday night if needed. 
Lakers star power and…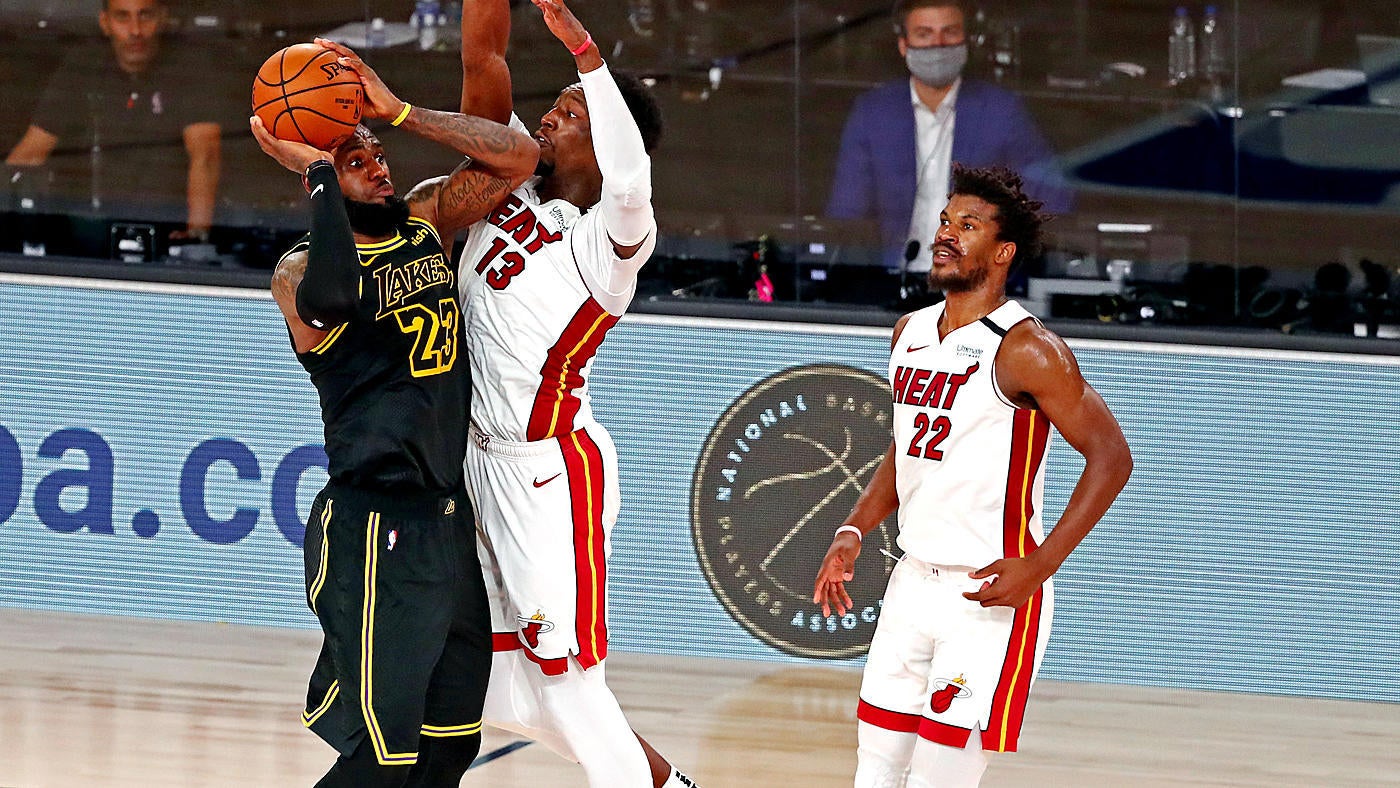 The Lakers have been led by their two stars Anthony Davis and LeBron James. Anthony Davis has taken some of the responsibility in guarding Jimmy Butler in recent contests and is averaging 26.2 points and 9.8 rebounds. As good as those numbers are, LeBron James has been even better averaging 30.2 points, 11.4 rebounds, and 8.2 assists in the finals.
There was some concern about Anthony Davis in game five when he left the game momentarily in the first quarter after re-aggravating a heel contusion. He was able to play 42 minutes and is probable for Sunday night's contest. 
After the Lakers' two stars, they have struggled to get consistent play from the rest of the team. Kentavious Caldwell-Pope has been the most consistent contributor. Outside of game three where he scored just 5 points, he has scored in double figures in the other four games. Danny Green has not been very good from three shooting 25.8% (8/31).
Markieff Morris and Kyle Kuzma both individually managed to score 19 points in game three off the bench. Combined, they haven't scored 19 or more points in any of the other 4 games and combined to score just 7 points on 3/12 shooting in game five. Rajon Rondo had a really good game two where he scored 16 points and added 10 assists. Note in the other four games however he has scored a total of 17 points. At least when Rondo isn't scoring, he is contributing in other ways averaging 5.4 rebounds and 5.8 assists.
The Lakers have been able to rely on their two superstars LeBron James and Anthony Davis but the same question remains on who else is going to step up to help this team finish off the Heat. 
Jimmy Butler and the Miami Heat
There have been two major storylines with Miami in these finals. The first has been injuries to point guard Goran Dragić and center Bam Adebayo in game one of this series. Dragić has yet to come back and is doubtful for game six but Adebayo was able to return for game four giving the Heat some much-needed size against Lakers star Anthony Davis.
The other storyline has been Jimmy Butler who has delivered a couple of sublime performances in games three and five to help Miami force this game six. In both games, he scored a triple-double scoring at least 35 points. On top of that, in those games, he was very efficient shooting 64% from the field and making 24/26 free throws.  In game five, he was at his best in the most crucial moments. With the game tied at 101, Butler would score the next 8 points for the Heat and each time it was to give the Heat the lead.
Duncan Robinson has also found his stroke from a distance as he was shooting just 25% (5/20) in the first three games but is shooting 52% (10/19) from three in the past two games. Note that only seven players saw the floor for Miami in game five and Jimmy Butler played 47 minutes.
Lakers coming out strong
The Lakers have lost five games in these playoffs but have yet to lose back to back games. The Lakers have won the first quarter by margin after each loss. After losing game one to Portland, the Lakers won the first quarter 27-19 in game two. After losing game one to Houston, the Lakers won the first quarter 36-20 in game two. After losing game three to Denver, the Lakers won the first quarter 37-30 in game 4. After losing game three to Miami, the Lakers won the first quarter in game four 27-22.
That is an average first-quarter score of Lakers 31.8, opponent 22.8 easily making the Lakers 4-0 against the spread and 3-1 to the 'under' in the first quarter off a loss. 
Market Adjustment
The Lakers lead this series 3-2 but from a betting perspective, Miami is 4-1 against the spread. Both Dragić and Adebayo were available in game one when the spread was Lakers -4.5. When both were out, the Lakers were -10.5 and -9.5 favorites in games' two and three. When Adebayo came back, the spread was Lakers -7.5 in games 4 and 5. Despite Miami not having Dragić, Los Angeles is currently only a 5 point favorite as the markets have adjusted toward Miami. The Lakers are only -1.5 point favorites in the first quarter compared to the -3/-3.5 they were laying between games two and six.
LA Lakers vs Miami Heat Pick:
Miami were underdogs to beat Milwaukee and Boston and got past both. They have been underdogs this entire series and after getting blown out in game one and losing two starters, it looked like the series would be over quickly. Yet, here we are in game 6. The issue with taking Miami full game is the tighter number. Dragić is still out and after seeing Lakers -7.5 the past two contests with Adebayo in, the adjustment is made to Lakers -5. Questioning Miami's resilience, however, has worked out for nobody in these playoffs. What I am most interested in is the way the Lakers have responded after a loss and I expect them to punch first in this contest. Take Los Angeles first quarter -2 at -115 (via BetMGM)